A university city and a cultural hotspot in Norway it does not come as a surprise that Trondheim has a number of places to source organic and eco-conscious products. However, although the availability of organic products had been increasing in the years before the covid-19 pandemics, the political will to foster planet-friendly consumation is low. As a consequence it requires a lot of individual effort to plan every-day life in the city if you want to restrict yourself to organic and sustainable food and goods.
Many inhabitants get some of their organic groceries (if omnivore also their meat) from market gardens, community-supported agriculture or farm subscription schemes, but since I do not live here this is beyond the focus of this blog.
Organic groceries and general stores
There are only three all-organic groceries in town, all crammed and pleasant if you like small owner-run shops, with friendly shop assistants who usually have time for a chat, often the owners themselves. All three of them have been here for many years, with ups and downs, sometimes at the edge of bankruptcy. You may expect to find all types of dry and a good selection of canned food, all you need to fill your store cupboard, sweets, natural body care and sustainable cleaning products. If available fresh fruits and vegetables are not pre-packaged in plastics.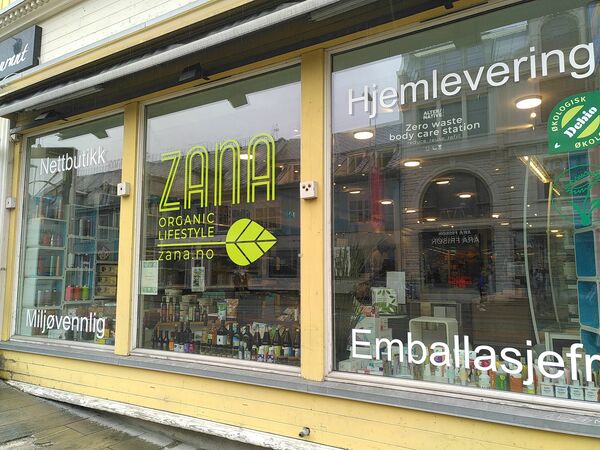 The city's first address for zero-waste shopping is a crammed organic dry food shop, Zana: Bring along your bottles and boxes to refill organic detergents, grains, pasta, herbs and spices, sweets, dried fruit and more. In addition there are shelves crammed with pre-packaged preserved organic food (including vegan alternatives), household chemistry and body care products.
The shop started many years ago under the name Etikken, with a focus on fairly traded organic products, and due to its nice interior design had the air of a signature store. Despite its stylish appearance it was a not-for-profit company partially run by volonteers. In a period of time the shop was run by one of the founders under his name, and continued to be a reliable source of organically certified make-up, skin and hair care, organic wipes, tampons and menstruation cups. In 2023 there was again a change in the economic foundation of the shop, the window front got a new and fresh decoration, advertising it as organic mom-and-pop store.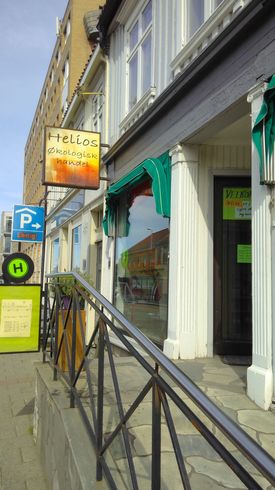 For fresh food head for the city's organic pioneer, the Helios convenience store in Prinsens gate. At the end of 2016 the shop closed down but was taken over by new owners immediately and is now as reliable as before. You will find all daily necessities – food, toiletry, detergents etc. – in organic quality, including frozen pizza, ice-cream, unhomogenised fresh milk and Norwegian caramelized brown cheese. The frozen "lefser", Norwegian "pancakes" topped with butter, cinnamon and sugar and folded together, are not organic but nevertheless worth trying – simply defrost and enjoy.
Outside the city centre, a few minutes from the Rotvoll trainstation, you find a small organic farm shop cum general store, the Rotvoll Landhandel. It's part of the antroposophically driven Camphill village and biodynamic farm, an inclusive project of people with and without disabilities. The shop in a small farm house with light and wooden interior does not only sell products produced on the farm (among others tasty organic juices, cookies, bread and textiles), but also offers all you need of organic dry food, sweets and preserves, both of Nordic, European and international origin as well as detergents and body care. There's a freezer with bread and rolls of the village bakery and a fridge with dairy products, occasionally also meat. During the harvest season there may be fresh organic vegetables, too.
Make sure to have sufficient cash with you as the card reader refuses cards issued by foreign banks (at least none of mine were accepted, an issue often experienced in smaller shops in Norway, probably due to a restricted service subscription).
Farmers' market
At Trondhjem torv a farmers' market, Bondens marked is being held every second week on Saturday. Local small scale farmers sell their produce, but it takes a little effort to find the organic ones.
Bakeries
None of the above mentioned organic groceries are what you would call economic success stories, some of them were even about to shut down in the past. Likely the biggest economic success in the Norwegian organic sector is Godt Brød, a bakery which started here in town, as of today with three cafes cum bread shops in town. There's also a artisanal bakery, Isaks, attached to Sellanraa bar using organic ingredients.
Organic food at conventional food retailers
In conventional supermarkets you cannot expect to find all you need in organic quality, usually you will have to shop in different supermarkets and see what you are able to buy. Moreover organic vegetables are often wrapped in plastics, to separate them from conventual produce.
At the beginning of the century the (now) Meny hypermarket Solsiden offered an impressive range of organically certified food seen with Norwegian eyes. However, there has not been any noteworthy increase for the past years, and there's no effort to guide you towards organic products.
In Coop supermarkets watch out for the Änglamark own brand (see also here), in Rema shops for Kolonihagen, but most supermarkets do not stock more than a very basic selection, with the notable exception of Coop Mega shops like the one in the Sirkus shopping mall at the Strindheim bus hub where I found such exotic products as organic aubergines, cream, not homogenised milk and lime.
To avoid green-washed products and misleading marketing while cherry-picking through supermarkets check for the "økologisk" keyword and organic labelling (mainly Debio, KRAV and the European organic label, but you will also find Soil Association and USDA certificates). Dairy products by Røros meieriet, meat products by Grødstad Gris (though no longer certified organic as this decreased their ability to sell their products), ice-cream and beer from Reins Kloster, "Helios" and "Manna" products as well as "Go green" grains and pulses are all safe. Some of them can also be found in Sunkost or Life healthfood shops.
Permanently closed
Before the covid-19 pandemics there were two cosy special shops offering organic body care and wool products, but unfortunately none of them did not survive:

Trondheim, organic, fair, vegetarian, vegan, zero_waste, grocery, market, supermarkets] Link