For an organic day out into the countryside around Munich you might as well choose a destination with plenty options for organic food and even an overnight stay with organic breakfast at the destination: The Panoramaweg Isar-Inn bicycle route starting at Marienplatz allows you to reach such an area by bike in only 30-40 kilometers. Simply follow this route to Moosach and from there to the organic hamlet of Herrmannsdorf as part of the municipality of Glonn. Don't expect a bicycle highway -- the parts of the route shared with cars have a tarmac underground, but the rest are sufficiently wide gravel pathes with occasional pitholes. Nevertheless it is much more pleasurable to go here and marvel at the moraine landscape instead of using the main roads where you may be scared for your life as cars will frequently overtake you too fast and often with too little margin. It's also advisable to have a navigation app or map with you as the signage especially within build-up areas is sometimes insufficient.
Public transport isn't much faster -- an up to 1.5 hours affair (one-way) by public transport from Ostbahnhof station. Take a regional (faster) or urban train (S4) to Grafing Bahnhof, and continue with bus no. 440 to Westerndorf stop. You may take your bike on the train when buying a separate MVV-Fahrrad-Tageskarte bicycle day ticket, but not on the bus.
The Herrmannsdorf organic farm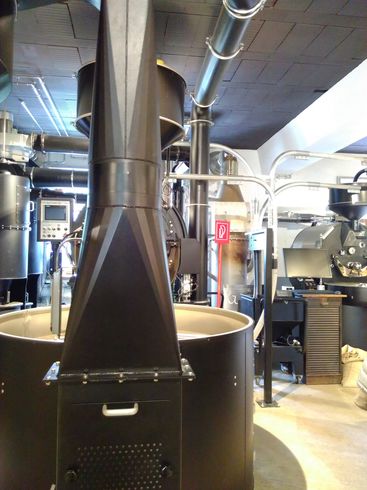 From Westerndorf its only an about ten to 15 minutes walk (or a few minutes on bike) over the fields to the Herrmannsdorf farm, founded by meat-industrialist-turned-organic-farmer Karl Ludwig Schweisfurth and now run by his family. In addition to the organic farm with pigs and chicken roaming before the eyes of the visitors the hamlet houses an artisanal bakery, brewery and butchery, a coffee roaster's shop cum cafe dubbed Merchant & Friends, a kindergarden for the employees and a cooking and practise school offering day courses for visitors who want to learn the basics of the trades practised here at the farm. There's also an organic farm market, the Herrmannsdorfer Hofmarkt with an outdoor garden café open when the weather is nice.
In the entrance area to this beautiful delicatessen store cum upmarket supermarket you'll find the market booth of nearby organic market gardener Gärtnerei Schmid. Depending on the season you may walk over to pick organically grown flowers from their fields and pay into the provided cash box.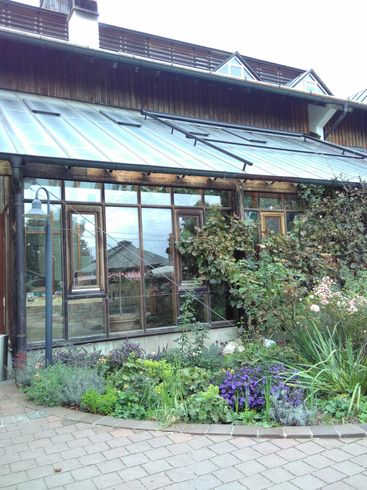 The farm also has its own upmarket 100% organic restaurant, the Wirtshaus zum Herrmannsdorfer Schweinsbräu, for meat lovers definitely worth the troubles of getting here. The rustic and newly refurbished restaurant offers high-standard traditional Bavarian and Austrian cuisine based on the freshest ingredients including the farm's famous own beer and assorted spirits. The elaborately hand-written menu may be difficult to decipher, and even if you can read it you may have difficulties to understand what you read as it is deliberately flavoured with Austrian food terms. So better ask if you don't feel adventurous. It is also advised to book your table for the restaurant (ring in on your way here if you forgot to do so a few days in advance), and mandatory if you plan to come on weekends or on public holidays. The restaurant which also has an outdoor sitting area is closed 30th December through 14th January, 2020.
If you are wondering what you are going to eat stroll through the farm and greet the pigs and piglets. During the warm season you can also sit outside under horse chestnut trees: There are food stalls, but as the Bavarian tradition of beer gardens goes you may also bring your own food (not the drinks though!). For the home-made ice-cream in a cone (only available in the warm season) walk upstairs to the restaurant. A single serving comes at 1.80 EUR.
In May, before Easter and Christmas the farm gives host to its traditional arts and crafts markets. Especially the advent market is a pleasant alternative to commercial Christmas markets in town. On these days a free bus transfer is provided from and to Grafing Bahnhof, and you may book a tour through the farm or one of the workshops. There are also special tours for kids. All tours and workshops (also outside the festivals) can be booked in advance at the website.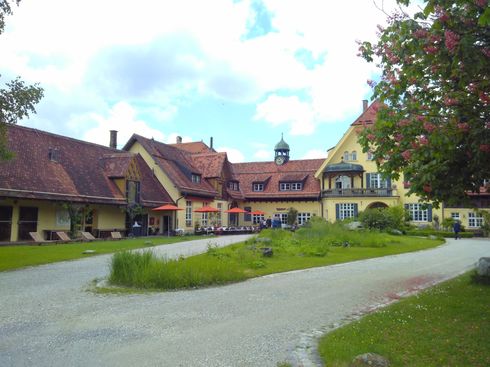 Sonnenhausen
If you feel that a day tour isn't sufficient turn to the right instead of to the left at the bus stop Westerndorf, and follow the way to Gut Sonnenhausen, an organic and sustainably driven Bio-Hotel located in a carefully and tastefully restored manor. Although conferences, weddings and other celebrations are their main business bed and breakfast guests are welcome, too.
More to try: Westerndorf, Piusheim, Oberpframmmern, Glonn and Grafing
If you're looking for a cheaper place to stay the Schmiedhof organic farm in Westerndorf has a guesthouse where you can enjoy eggs and cheese (and most certainly also milk) from the farm for breakfast. Simply let the farmers know in advance that you wish to have breakfast.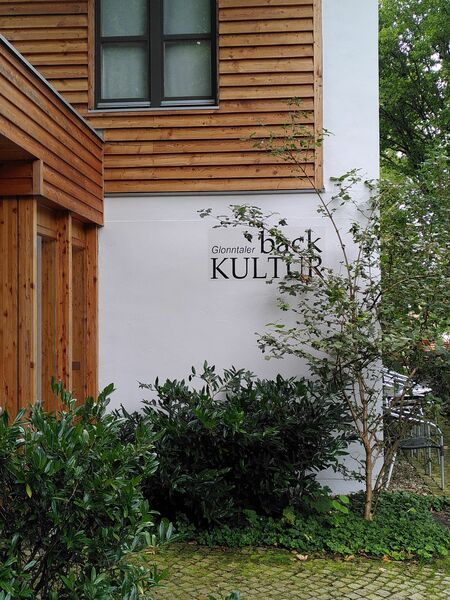 For something different take a bicycle ride to Piusheim: On Thursdays, Fridays, weekends and public holidays the Glonntaler Backkultur organic cafe cum restaurant keeps open and serves 100 percent organic lunch, dinner and snacks using the gorgeous products of their artisanal bakery as well as other locally produced delicacies like the cheeses of the local organic dairy Hofkäserei Stroblberg. Each Friday it's pizza evening starting at 5 o'clock, and if you're lucky you may step by while one or another cultural arrangement is taking place. During the warm season there's also a spacious beer garden. The bakery shop is located in the entrance area at the opposite site of the house, and on weekday mornings you may head for the bakehouse in Mühlenweg ("mill lane").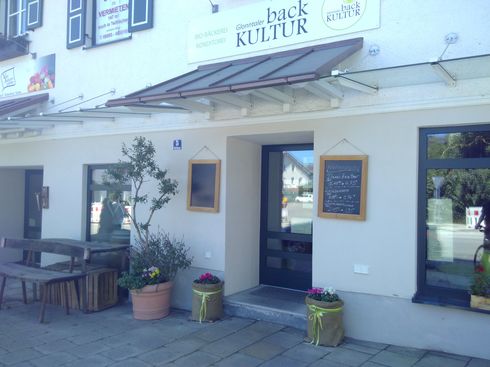 Glonntaler Backkultur also runs two Sunday-open bakery shops in Glonn and Grafing which are closed on public holidays that are Monday through Saturday. Both have in- and outdoor seating for a snack or coffee break. Next to the shop in Glonn there's a small fair-trade gift shop dubbed Handfairlesenes. On occasions you may find it open outside the quite restricted official opening hours, so step by for handicraft and other fairly traded products.
Coming from (or heading to) Zorneding or Höhenkirchen-Siegertsbrunn there's a good chance that you will pass the village of Oberpframmern on your bicycle route. Stop by the Maierei organic farm ("Dein Bauernhof" -- "your farm") with its 24x7 self-service shop. More products from the farm -- veges, eggs from hens of a dual purpose breed, home-made preserves, Christmas trees in December and more are available on Thursday evenings and Saturday mornings when the shop is serviced.
Merchant & Friends, Herrmannsdorf 6b, Mon–Fri 8–13, 14–18, Sat–Sun 11–17 (closed on weekends within the Bavarian school summer holidays)
Herrmannsdorfer Hofmarkt, Herrmannsdorf 2, Mon–Fri(Sat) 9(8:30)–18(14)
Hofladen Gärtnerei Schmid, Herrmannsdorf 2, Mon–Fri(Sat) 9(8:30)–18(14)
Gärtnerei Schmid, Herrmannsdorf 1a, daily 0-24 (self-service flower field)
Wirtshaus zum Herrmannsdorfer Schweinsbräu, Herrmannsdorf 7, Glonn, Wed–Sat(Sun,PH) 11(12)–22(18)
Glonntaler Backkultur, Raphaelweg 14, Piusheim, Thu(Sun,PH) 9–18(20), Fri–Sat 10–22
Backstube Glonntaler Backkultur, Mühlenweg 5, Piusheim, Mon–Thu 7–13
Glonntaler Backkultur Glonn, Marktplatz 5, Mon–Fri(Sat) 6–18(12:30), Sun 6:30–12
Handfairlesenes, Marktplatz 6, Glonn, Tue, Thu, Fri 9–12,15–18, Wed,Sat 9–13
Glonntaler Backkultur Grafing, Kirchenplatz 6, Mon–Thu(Fri) 6:30–13(18), Sat(Sun) 6:30(7:30)–12
Maierei, Glonner Str. 9 , Oberpframmern, Thu, Sat 16(10)–19(12), self-service 24x7
Munich, Glonn, Grafing, Herrmannsdorf, Oberpframmern, Piusheim, Westerndorf, organic, fair, lunch, dinner, market, bakeries, deli, coffee, hotel, accommodation, cafe, restaurant, pizza, ice-cream, Bavarian, German, cycling, farms] Link