While buying organic requires little effort in Salzburg, minimising waste is an entirely different issue. If you wish to carry home your purchases in your own re-usable containers you depend on the cooperation of the shop, which even in organic supermarkets can be surprisingly little. The covid-19 pandemics was the beginning as well as the end of the (to my knowledge) only dedicated organic pay-by-weight grocery, GenussProGramm (a pun which can be translated as both, "pleasure by the gram" or "pleasure program") in the neighbourhood of Andräviertel.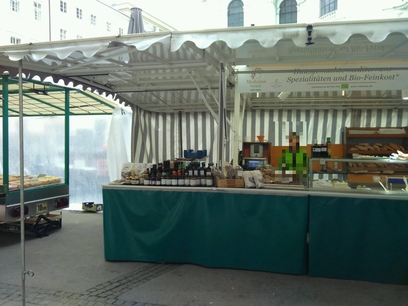 So what's left? As in other cities farmers' markets are a good bet: The Medousa market booth at the Grünmarkt opposite Fabi's Frozen Bio Yogurt within Mozart's birthplace offers to fill Italian-style antipasti and other mediterranean and vegetarian delicatessen into your jars, provided you ask for it. Although the market at Grünmarkt is held daily, there are no organic boothes on Mondays and Thursdays; the Medousa booth is here on Saturdays only. On Thursday mornings you can find it at the Schrannenmarkt opposite Mirabell castle.
Offsite tourist tracks but on your way to Hellbrunn castle or zoo you'll find the only Salzburg branch of the organic supermarket chain Basic which allows you to shop most daily necessities without producing non-compostable waste.
To refill milk around the clock head for the milk vending machine at the Erentrudishof organic farm in Morzg, a pleasant bike ride from the city. There's also a farmshop, of course with more restricted opening hours, where you also can buy eggs, spelt, wheat and rye produced by the farm.
Artisanal bakeries
When buying bread, rolls, cake or snacks from organic bakeries you should by now no longer meet strange looks when presenting your bag or container. But organic bakeries in town seem to be afraid of advertising themselves as "bio", so it can be difficult to spot them.
The most stylish one of them is the Salzburg branch of Joseph Brot vom Pheinsten with its open baker's workshop a few steps away from the Mönchsberg elevator. Apart from deliciously smelling bread, rolls, cakes and snacks there's a small selection of dairy products, jams and preserves. You can also order organic (coffee) drinks and sit down on a table to have a snack or enjoy their patisserie. The bakery keeps open on Sunday mornings and public holidays.
Elisabethen-based artisanal bakery Pföß has a shop next to the Sternbräu area in the old town. Unfortunately only the bread is promised to be organic, the white rolls tasted bland as if they were made of conventional flour. On the other hand the Krapfen doughnuts were a real delight, crisp and still a little warm, filled with fruity apricot purree instead of oversweet jam. If you come here for a snack stay away from the conventional softdrinks, and you may wish to ask whether the sandwiches are made with organic toppings.
If you want to be sure to get 100 percent organic bakery products, visit the Grünmarkt at Universitätsplatz: Three days a week you'll find the booth of Bio-Bäckerei Itzinger on its Eastern side, near the Ritzerbogen hallway. The bakery also offers vegan bread and rolls and has a focus on wholemeal products. On Thursdays you can find it at the Schranne Biomarkt.
Plastic-free lifestyle
Zero waste starts with the food, but does not end there: In order to reduce the amount of plastics ending up as microplastic in our environment and finally in ourselves it's crucial to reduce the use of the (undoubtedly useful) polymers in general: Don't throw them all away at once (as the biggest part of the carbon footprint of goods is in their production), but replace your plastic household items or clothes with plastic-free alternatives as soon as they are about to degrade.
In Salzburg there's a store to help you with that: Damn Plastic in Münzgasse (around the corner from the Joseph bakery) offers almost the entire range of plastic-free (or recycled) non-food, for inspiration or replacement.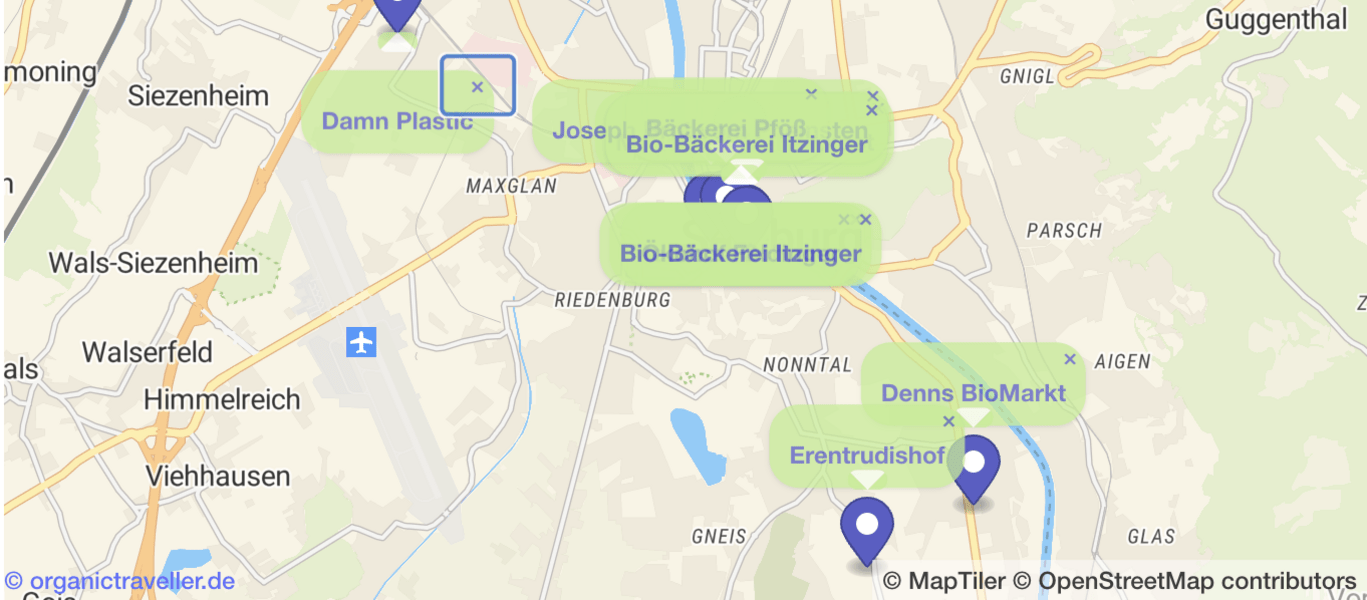 Medousa Bio-Feinkost, Grünmarkt, opp. Universitätsplatz 14, Sat 6–15, on the four Saturdays before Christmas 6–19
Basic, Alpenstr. 75, Mon–Fri(Sat) 8–19(18)
Erentrudishof, Morzger Str. 40, farm shop Mon–Fri(Sat) 9–18:30(12), 24/7 milk vending machine
Joseph Brot vom Pheinsten, Münzgasse 2, Mon–Fri(Sat) 8–6(5), Sun,PH 8:30–12:30
Bäckerei Pföß, Griesgasse 21, Mon–Fri(Sat) 7(8)–18(12)
Bio-Bäckerei Itzinger, Grünmarkt/Universitätsplatz, Tue,Wed,Fri 6:30–18
Bio-Bäckerei Itzinger, Schrannenmarkt, Hubert-Sattler-Gasse, Thu 6–12:30
Damn Plastic, Münzgasse, Mon–Sat 10–18
Closed
Salzburg, organic, vegetarian, zero_waste, unverpackt, cafe, grocery, supermarkets, bakeries, deli, market, breakfast, coffee, snacks, farms, fashion, bodycare, household] Link