The bigger conventional supermarkets seem to have at least a small selection of organic dry food, often conveniently assembled in a dedicated and marked shelf. But while obtaining a package of organic biscuits and tea bags is easy, you may wander a long way without spotting any opportunity to buy fresh fruits and veges, leave alone dairy products.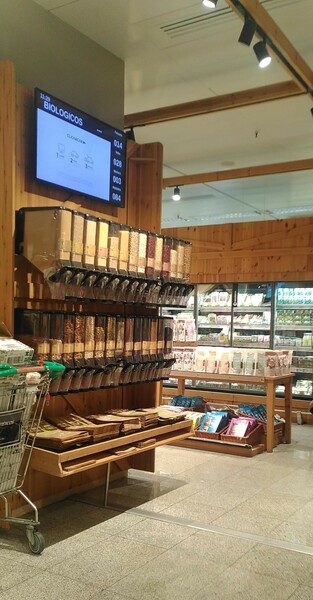 The first solution which may come to a traveller's mind is the upmarket department store of Sunday-open El Corte Ingles at São Sebastião tube stop. And indeed: In the middle of its food court there's a small organic shop-in-shop area with a separate fridge and a fresh fruits and vegetable section. Here I found the most expensive bottle of UHT milk I've seen so far, at a price tag of about 3.65 euros (fresh organic milk seems to be completely unavailable in Lisbon). Needless to say that the selection of dry food is very upmarket, including organic advent calendars before the Christmas season, so you will easily find a consumable gift, while you may breathe in deeply for the price tag of everyday food.
Good to know: There's a row of gravity bins from which you can fill unpackaged grains and nuts into your own containers, and the uncooled fruits and veges also come without packaging.
A small selection of shelled nuts as well as extremely tasty olives can be bought by the gram from Pigmeu da Ribeira, an upmarket delicatessen stall located in the central aisle between TimeOut and the traditional market at Mercado da Ribeira. Their main business is to offer a snack of cured meats, cheeses and olives from small-scale organic farms or a sandwich together with a glass of wine, everything extremely tasty and a pleasant alternative to much of the heavy food served in town.
But you can also buy bottles of natural wines, vacuum-packaged cured meat and cheeses, a small selection of preserves and seeds of flowers and vegetables. Everything here is organic, many products even biodynamic, but the price tag is quite heavy: The average bottle of wine goes between 20 and 30 euros, while the wage slip of the shop assistants remains at 800 to 900 euros a month for eight hours shifts.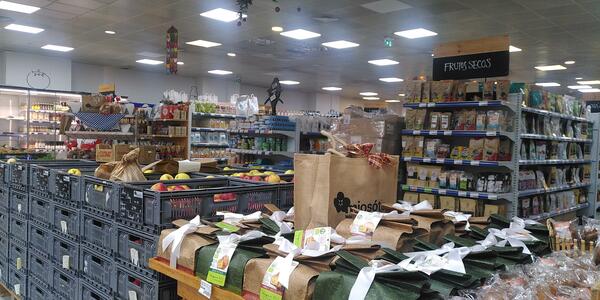 From one of the people working here I got the crucial information that there is a small chain of 100 percent organic supermarkets in and around Lisbon: Miosotis. One of their branches is only a few steps away from El Corte Ingles, and it is huge. The bakery booth, the fruits and vegetables section and a decent row of gravity bins with dry food support a zero-waste lifestyle. Whether you need body care products of household chemicals, want to buy a bottle of organic port wine, or seasonal sweets, this is the first address to go. They simply have everything organic you need – except for fresh milk.
As its counterparts in much of central Europe the supermarket has a self-serviced cafe cum restaurant offering lunch and snacks. It's however closed in the evening.
If you prefer small crammed health food shops, the Bomercado near Largo do Terreirinho (a mini tram stop of number 12E in the old town) may be for you. Given the size of the shop, the selection of fresh produce is limited, and there are probably more imported products from German organic producers than from Portuguese ones, but you will find both, sufficient food and body care to survive.
Clothes and textiles
Zero waste is not only about the packaging of products to consumate, but also about re-using and up-cycling of long-living goods such as clothes. When I walked the streets of São Antonio/Misericordia I noticed a shop window presenting linen shirts which at once left the impression of being both, comfortable and long-living. I came back to Stró the other day to discover that there was more to it: beautiful caps, scarfs and pillow cushions made from natural fibers only, linen, wool, and cosy cotton jersey. For the scarfs, caps and home textiles traditional re-used fabrics and fibres as well as vintage dead stock fabrics made in Portugal are being used. Given the quality and longevity of these products made by small-scale producers in inner Portugal, they are very reasonably prized, even cheap if you're going to use them for a decade or longer.
There's a second Stró shop almost around the corner, and if you should be unlucky enough to arrive at one of the shops during lunch break, head for its sister shop as their breaks are not overlapping.

Lisbon, Lisboa, Lissabon, organic, zero_waste, unverpackt, cafe, grocery, supermarkets, deli, market, breakfast, lunch, coffee, snacks, bodycare, household, fashion] Link