A serious university city Esslingen sports a small package-free self-service supermarket where you can fill your boxes, bottles, bags and jars yourself, and any pre-packaged item either comes in glass or paper packaging. Ohne Ebbes (the Swabian dialect word "ebbes" refers to "anything", hence the name can be translated as "without anything") is located near Hafenmarkt, with its entrance facing Milchstraße. Missing a glossy window front it can appear nearly invisible. The clean and welcoming shop offers dry food, sweets, cleaning detergents, household items, and sustainable body care. All non-packaged items are organic, but since the shop is missing an organic certification it is not allowed to advertise this. Only some pre-bottled regional beverages are not organic. The shop follows a German tradition among organic shops in university cities to offer a 10 percent discount to students on Thursdays.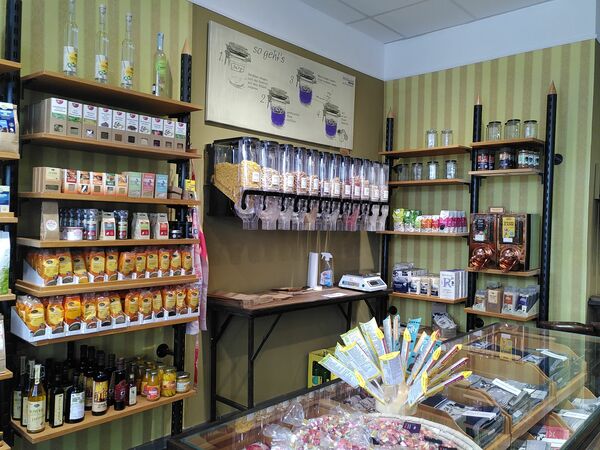 For fairly produced gifts, fashion and dried food fair-trade world shops always are a good bet. But the Weltladen in Esslingen is even better: At its left-hand site it has a small zero-waste shop-in-shop with gravity bins containing nuts, cereals, pasta, sweets, coffee and more, not all of them certified organic, though. Bring your own jars, boxes or re-use clean paper bags from previous shoppings. As long as covid-19 requires stricter hygiene ask one of the helpful volunteers who are running the shop to fill them for you – and use the time for a chat. The shop also offers a small assortment of fresh fruits and vegetables.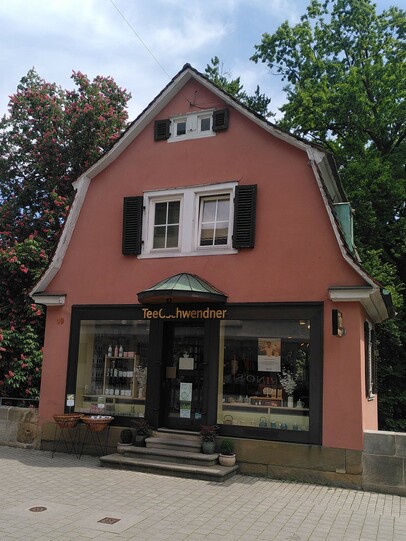 To buy loose weight tea take a stroll over Germany's next to oldest stone bridge, the Innere Brücke ("inner bridge") over the Neckar canals and the Maille park: In a beautiful pavilion integrated into the bridge you'll find Esslingen's branch of the Tee Gschwendtner franchise. If you present your tea box to the shop assistant before you decide on the tea of your choice they are happy to fill customer receptables.
A few steps north of the train station you'll find a branch of the nation-wide operating Alnatura supermarket chain inside the ES shopping mall. It's far from being dedicated zero-waste but offers a basic assortment of preserved food, wine, beer, juices and soft drinks, dairy products and vegetable alternatives in retour glasses or bottles as well as package-free bakery products (provided you sport a bag), fruits and veges.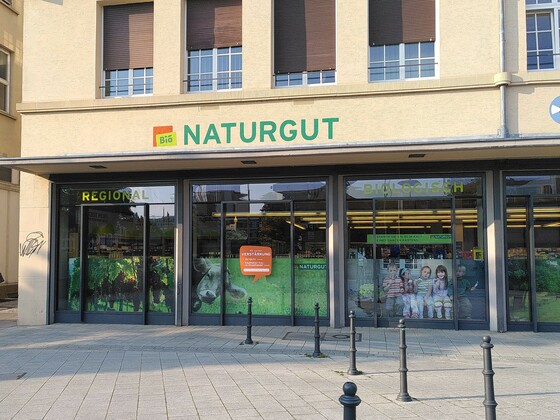 If you prefer a regional chain of organic supermarkets head for the Naturgut branch inside the old fire warden. Apart from diary products and beverages there's no focus on returnable deposit bottles and glasses, but you may of course buy package-free fruit and greens. For bakery items turn to the right at the entrance: The bakery counter is located inside the attached self-service day cafe, Brot & Cafe.
Although Germany's arguably largest organic bakery chain, Munich-based Hofpfisterei ("bakery with appointment to the (Bavarian) court") traditionally restricts its branches to Bavaria (and the German capital Berlin), there's a Hofpfisterei shop in the pedestrian area of Esslingen's old town, too. As in all Hofpfisterei branches, there's not need to argue with the shop assistants when you present a bag or box to take your breads, rolls and pastries home – they will happily comply.
Outside the city, in Sulzgries, you'll find the organic farmshop of the Eglisenhof farm, a grower of both, veges and grapewine. They also have a (local) delivery service. Unfortunately the vinification of their grapes by a local co-operative does not (yet?) seem to happen according to organic standards, at least I was not able to find any organic local wine and even met strong resistance when I asked for it at local wine specialists.
The farm also has a booth at the farmers' market on Wednesdays and Saturdays. However, you have to rise in time to get there as the market closes already around noon.
Ohne Ebbes, Hirschstraße 2 (no longer Unterer Metzgerbach 7) , Mon–Fri(Sat) 10–18(16)
Weltladen Esslingen, Küferstrasse 12 , Mon–Fri(Sat) 10–18(16)
Tee Gschwendner , Innere Brücke 19, Mon–Fri(Sat) 9:30(9)–18(15)
Naturgut, Adlerstr. 6 (inside Alte Feuerwache), Mon–Fri(Sat) 8–20(18)
Alnatura, Berliner Str. 2 (inside the mall "Das ES"), Mon–Sat 9–20
Hofpfisterei, Pliensaustr. 1, Mon–Fri(Sat) 9(8:30)–18(14:30)
Eglisenhof farm shop, Bergstr. 200, Tue,Fri(Sat) 9–19(13)
Eglisenhof market stall, Marktplatz, Wed,Sat 7–12:30
Esslingen, organic, coffee, vegan, zero_waste, fair, unverpackt, cafe, grocery, market, supermarkets, farms, bodycare, household, corona, covid] Link