For (re-)filling your kitchen cupboard and shop for un(pre)packaged food head straight to the northern shore of the Neckar river, to the Neuenheimer Markt market place. On Wednesday mornings (until 1 pm) a farmer's market is held here, but a few steps away you will also find the city's only package-free supermarket dubbed Annas Unverpacktes ("Anna's unwrapped goods") which with its outer wall made of turquoise tiles looks like a converted butcher's shop from the outside. As all zero waste convenience stores I've come across so far it's strictly vegetarian, but omnivores simply walk outside and turn left to find an artisanal butcher's shop at the next corner.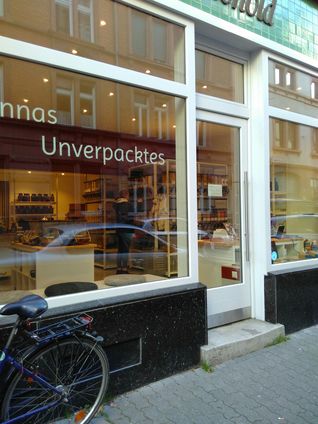 Until some years ago the Metzgerei Blatt was working according to the Neuland principles of animal welfare in meat production which are close to, but not fully organic, and in 2015 turned to fully organic principles. The shop was closed when I went there (as it's generally closed on Wednesday afternoons), but the owner assured me that the staff would fill my purchase into my own clean boxes as long as they were intended for personal consumation (instead of catering a bigger crowd). Ready-to-eat meat dishes are also available to take away.
Directly opposite the Neuenburger Markt there's also a shop of the local wholefood bakery Mahlzahn named after the dragon in Michael Ende's famous children's novel "Jim Button and Luke the Engine Driver". Here the shop assistants will happily put your bread, rolls, sweet and savoury pastries into the bags or containers you present.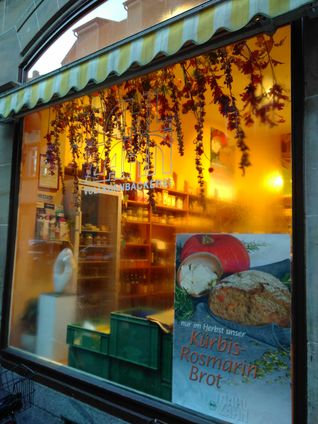 The bakery workshop itself is located in the Weststadt neighbourhood where you also can buy a small selection of loose-weight seasonal fruit and veges and assorted pre-packaged organic food items to supplement your breakfast, lunch or coffee table. When I went there in hope for an early organic breakfast it however turned out that this bakery doesn't follow the zeitgeist to serve coffee and snacks to eat on the spot everywhere -- no coffee machine here, no bar tables. (The rolls were delicious nevertheless.) Mind you that this bakery does not use white flour at all.
Altogether there are four Mahlzahn shops, all with identical opening hours, the third one located in the neighbourhood of Rohrbach, and the fourth in Handschuhsheim (literally: "glove's home").
To buy all items for a zero waste breakfast at one stop head for the city's branch of the Denn's organic supermarket chain: The staff at its meat, dairy and bakery counters offers to fill cheese, cured meat products, sausages and bakery items into your containers. If you buy a coffee drink on the go in your own cup you'll receive a 30 cents discount, and you can also buy lunch to take away in your own jars instead of having it at the self-service bistro.
The other nationwide operating organic supermarket brand, Alnatura, operates three branches in town. They do not have a dedicated focus on zero waste, but there's a slowly increasing assortment of food in returnable glasses (e.g. mayonnaise, "canned" corn and other preserves, or vegetable spread) apart from unpackaged fruits, vegetables, and bakery produce. Unfortunately you must be familiar with the glass types to find them, and they are always among the most expensive options.
If you prefer independent shops the two Fair & Quer supermarkets in the neighbourhoods of Handschuhsheim and Wieblingen are worth a try. Unfortunately I did not have the chance to visit them (as advised by my Mastodonbubble), so I cannot say whether their waste and package reduction measures exceed those of comparable dedicated organic supermarkets in Germany. The shop in Wieblingen offers organic lunch Monday through Friday from noon to 2pm.
Student initiatives
I wasn't much surprised to hear from my Mastodon bubble about zero-waste and repair initiatives run by the university's students' parliament. Unfortunately I have not had the time to visit the campus, but I happily list them here: The self-service bike repair shop Urrmel and the package-free organic food co-operative Appel un' Ei. The latter is located between "Chez Pierre" and "Café Botanik" at the university's main refectory and is regularly offering lunch made with produce from a communal market garden.

Annas Unverpacktes, Ladenburger Str. 37, Tue-Sat 10-18:30
Bio-Metzgerei Blatt, Ladenburger Str. 41, Mon-Fri(Sat) 8(7:30)-13, Mon-Tue,Thu-Fri 15-18
Vollkornbäckerei Mahlzahn Neuenheim, Ladenburger Str. 15, Mon-Fri(Sat) 8-18:30(13)
Vollkornbäckerei Mahlzahn Weststadt, Gaisbergstr. 74, Mon-Fri(Sat) 8-18:30(13)
Denn's, Bahnhofsstr. 33, Mon-Sat 9-20
Alnatura, Langer Anger 7-9, Mon-Sat 8-20
Alnatura Weststadt, Rohrbacher Straße 73, Mon-Sat 8-20
Alnatura Altes Hallenbad, Poststraße 36/5, Mon-Sat 8-20
More to try
Here are a few more shops which I found during my research but didn't manage to visit myself:
Vollkornbäckerei Mahlzahn Rohrbach, Rathausstr. 1, Mon-Fri(Sat) 8-18:30(13)
Vollkornbäckerei Mahlzahn Handschuhsheim, Mühltalstr. 2, Mon-Fri(Sat) 8-18:30(13)
Fair & Quer Wieblingen, Adlerstr. 1, Mon-Fri(Sat) 8-20(18)
Fair & Quer Handschuhsheim, Steubenstr. 52, Mon-Wed(Thu-Fri) 8-19(20), Sat 8-16
Appel un' Ei, Im Neuenheimer Feld 304a, Mon-Thu 16-18 plus usually 12-14 outside the semester break
URRmEL, Im Neuenheimer Feld 706, Tue,Thu 16-20 outside the semester break, Thu 14-20 during semester break, PH closed
Closed
You may still find references to the following organic grocery on the web, but be assured it's no longer there:

Heidelberg, organic, vegetarian, zero_waste, unverpackt, cafe, grocery, supermarkets, butcher, lunch, snacks, coffee, bodycare, household] Link