The easiest way to reduce waste is to buy directly from artisanal producers. So far all (organic) bakeries have been willing to fill my purchase into the (obviously clean) cotton bags I present for years, and – the times are changing – most shop assistants seem to be used to the concept by now. Providing a container for cakes and pastries (or meat and cheese) may occasionally be met with a raised eyebrow, but when explained, most shop assistants comply, sometimes clumsily, with this request.
Butcher shops
Munich still has a traditional butchers row on Viktualienmarkt, but unfortunately none of these shops is certified organic. And unlike in Berlin, I am not aware of any artisanal organic butcher start-ups in town (yet).
Nevertheless meat lovers will be happy to learn that the city, home of Weißwurst sausages and Leberkäse, still has an independent organic butcher shop: The Biometzgerei Pichler in Haidhausen does not only offer these Munich specialities to buy home or to eat on the spot but will happily fill your boxes with all kinds of meat cuts, sausages, cured and processed meat (both, German and Italian style), including tongues, ox tails, offal and other low-graded parts of the animals, allowing you to follow the nose-to-tail principle. They also have a proper cheese counter and offer lunch (and warm snacks) on weekdays.
In the Maxvorstadt, the family-owned butcher runs the meat counter within the Landmann's supermarket. This one offers lunch items for take out, too, and often has pickled herrings and other traditional German fish preserves, from sustainable sources. Note that its opening hours are shorter than the supermarket's.
To my knowledge Pichler is the only dedicated organic butcher shop in town. Other organic butchers from the region either run their own farmer's supermarkets (Herrmannsdorfer) or mobile boothes on farmers' markets (Tagwerk). Their products are readily available in organic supermarkets, too.
You may also buy meat and meat products directly from organic farmers: either from a market booth or from their own farmshop. And last but not least: Some organic butchers sell their fare through other market traders like the Hofbäckerei Steingraber.
Bakeries
For bakeries the picture is much more versatile: While older surviving organic bakeries in the city have been growing in size, built bigger workshops and centralised production, a new generation of artisanal bakers revived the traditional concept of a combined bakehouse and shop. Here you can buy bread and rolls still warm from the oven, and often even catch a glimpse of the bakers at work. Direct trade at farmers markets probably is the most social option: Market traders are ever so happy to strike up a brief conversation.
The easiest way to tasty organic German (sourdough) bread and rolls is to find one of the numerous branches of Hofpfisterei ("Baker with appointment to the court"), with a history dating back almost 700 years and about 150 shops in Bavaria (plus a few in Baden-Württemberg and Berlin) likely to be the biggest organic bakery (chain) in Germany. Much of the baking is done by contractors, and while the company is transparent about their production standards the question "Who made my bread?" remains unanswered. Given the sheer number of Hofpfisterei shops in Munich, I only list the ones open on Sundays.
Compared with this giant all other organic bakeries are dwarfs with no more than a handful of shops. Coffee-lovers better stay away from the coffee at Hofpfisterei branches, but the automatic coffee machine (run on organic milk and coffee beans) and one or more high tables for a quick lunch or snack are standard facilities in all bakery branches as are returnable coffee mugs if you insist on a coffee drink to take with you. Your own mug will be accepted widely by now, at least as long as it is clean.
The Augsburg-based family-run Bäckerei Schubert is running two owned shops within Vitalia health food shops, one of them next to the Viktualienmarkt, the other in Laim.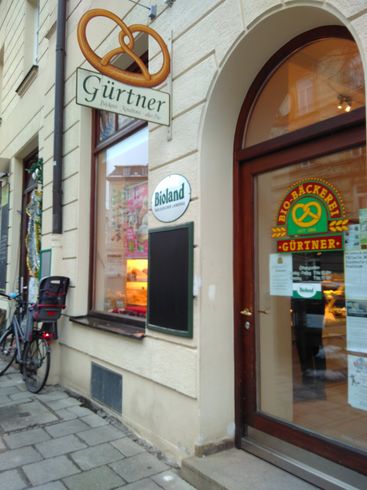 The Munich branch of the Dachau-based family-run organic bakery Gürtner is located opposite the Lebascha grocery in Haidhausen. They mill the flour slowly using a Zentrofan wholefood mill resulting in wholemeal croissants tasting fresher and almost as light as those made from pastry flour. For lunch the bakery offers the standard that can be expected from Munich bakery shops: readily prepared sandwiches or "Butterbrezn" (buttered pretzls). There's a second Gürtner branch on the Pasinger Viktualienmarkt near the Pasing train station.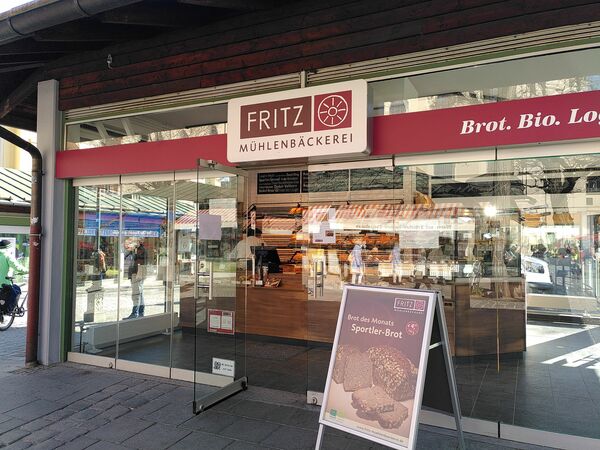 With roots in Munich, and since 2020 back baking in town, Fritz Mühlenbäckerei will not only provide you with fresh bread, cakes, and rolls on Sundays: The shop in Haidhausen where everything started does no longer act as a bakehouse, but it still sports well-assorted fridges and shelves with all organic food you may have forgotten for the Sunday breakfast. In spring 2021 the bakery took over a market booth in the Northern part of the Viktualienmarkt, next to Heilig Geist church which however is closed on Sundays.
To avoid food waste, if you are on a small budget and as long as you aren't out for a special type of bread or roll I recommend the Fritz bakery's yesterday's bread shop, Zweitbrotladen, in Haidhausen. However, this small shop has a disadvantage: by the end of its quite restricted opening hours you may find that everything you fancy has been sold out.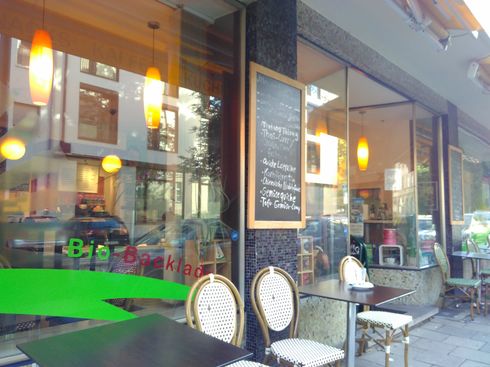 A short walk from Sendlinger Tor, within the hospital area, you'll find Bio Backs, an organic bakery store where you also can get organic coffee drinks, tea, hot chocolate and snacks. Unfortunately the Asian lunch served here is not organic. Only the butter, the flour used in savory quiches, sugar, milk, soy drink and vegetable broth are promised to be organic. Pro-actively insist on your own bags and containers when you buy to take with you. Mind you that the shop closes quite early in the afternoon.
All of the aforementioned bakeries (except the Hofpfisterei) sell good home-made cakes. But if you are out for the art of pastry and tarts there's one bakery not to miss, a bakery not only founded within the city boundaries but still a true native: The Brot- und Feinbäckerei Neulinger with its gorgeous Café Reichshof and four more shops.
While the Fritz bakery relocated its main factory to a new-built complex in the Bavarian municipality of Aying and only has a small artisanal bread bakery in town, the Neulingers are baking everything in a light and open, pleasantly humming workshop in Sendling, and all of their shops are open both, on Sundays and most public holidays (except January, 1).
The Munich revival of the (German) bread bakery in its traditional sense of bakehouse and shop sharing the same address started in the posh municipality of Grünwald with Lokalbäckerei Brotzeit. These guys also run a small sales counter inside the zero waste shop Ohne in Maxvorstadt, and frankly: No other bread in town keeps the taste of fresh sourdough bread as long as theirs.
Others followed: The luxurious artisanal organic bread of Julius Brantner is being served at the most upmarket fine-dining restaurants in town – and you can buy it from the bakery in Schwabing. Make sure to come in time – especially on a Saturday you may find the shop closed after the last bread was sold.
If you do not succeed, try the Brotraum bakery, conveniently located near Münchner Freiheit.
For gluten-free organic breads and pastries your first stop is Echt jetzt, a decidedly gluten-free shop cum cafe near the Pinakotheken museums, with production on premise.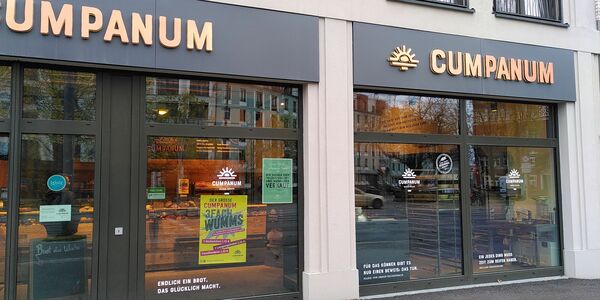 And last but not least there is an organic bakery chain with an integrated open bakehouse (run on sustainable energy) as part of the shop concept: Cumpanum, based in the small town of Bobingen, south of Augsburg, combines a shiny bakery counter (with friendly service) with a delicatessen (and a cafe corner). If you are on your way to a Sunday brunch with friends and family and are looking for a little something you'll find hand-made organic preserves, herbs and condiments and other eatable luxury on their shelves.
"Neverending bread" may sound funny, but the master mind (and master baker) of Cumpanum and his team are also running two organic bread shops with this name, Unendlich Brot: one in Munich's Maxvorstadt, and one in Landsberg am Lech. Also here all doughs are free from wheat.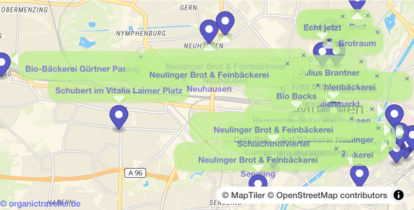 Munich, Trudering, Haidhausen, Maxvorstadt, Schwabing, Landsberg_am_Lech, Bobingen, organic, zero_waste, unverpackt, cafe, lunch, bakeries, butcher] Link