Organic supermarkets may introduce a larger audience to sustainable organic produce and thus spare the environment, but do not necessarily help to reduce the amount of one-way packaging, save plastics. As a conscious consumer you will without doubt prefer non-prepackaged fruit and veges, available from all organic groceries, supermarkets and market boothes, and hand your bag over the bakery counter, making it verbally clear that you do not need a paper bag, to avoid paper waste when buying bread and rolls.
You're also safe if you restrict your shopping of dairy products, juices and soft drinks to returnable glass bottles. Some organic shops (such as Vollcorner) offer a small selection of wine in deposit bottles.
Starting in 2017 the more dedicated organic supermarket chains have been introducing measures to reduce packaging and allow customers to bring their own containers to fill with selected goods. Unless stated otherwise all shops mentioned in this post will help you out with clean and empty reusable glass jars or organic cotton bags which you -- depending on the shop -- can either buy or lend if you forgot to bring your own.
Package-free food and household necessities
Four years ago, on February 20th, 2016 the city's first crowd-funded vegetarian zero-waste supermarket Ohne ("without") opened its doors in the neighbourhood of Maxvorstadt. Pleasantly furnished with wooden benches and self-made dispensers this modern version of a generously spaced mom-and-pop store gives you a pleasant vacation from brands and logos. It is offering bread, rolls and sweet pastries from a local artisanal bakery, dairy products and vegan alternatives in returnable bottles, a small selection of fresh fruit and greens, spices and dried herbs, a huge selection of pasta, legumes, flour and cereals, but also baking powder, coffee, tahin, honey, locally distilled gin, vodka and bitter, oil, toothpaste tablets and assorted solid shampoos and soap bars. Most sweets, toothpaste tablets, protein powder, matcha and other expensive products the staff will fill into your containers at the till.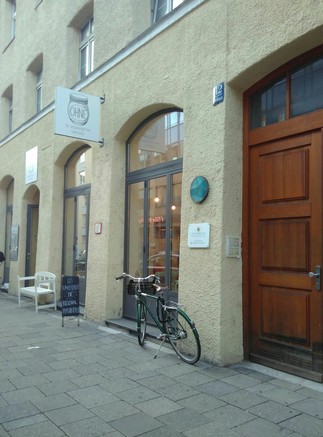 There are also refill stations for washing detergents, cleansers and liquid hair and body washes, and you can shop from an ever increasing range of household and bodycare products (including environment-friendly condoms which are the only items in shop prepackaged in non-reusable wrapping). Preserves (like mustard, pestos and pickles) are sold prepackaged in reusable glass containers.
Your shopping starts by measuring the weight of your glasses, boxes and bags on the scales next to the entrance door. Now you can fill them from the dispensers and finally pay by net weight. During the covid-19 restrictions you are also asked to wash your hands when entering the shop.
When the shop is crowded waiting time at the till is a little longer than you might expect, but take your time and have a coffee and home-made cake in the small cafe corner. Lunch is served Monday through Friday from 11 am.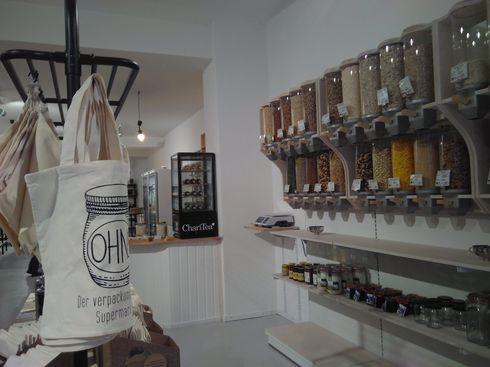 A second branch opened January 23, 2019 in the neighbourhood of Haidhausen, a few steps from Rosenheimer Platz S-Bahn station. This shop is also equipped with a proper espresso machine, and offers snacks -- you can have a sandwich, a slice of cake or a buttered pretzl. However, neither lunch nor fresh fruit and veges are available in this clean and pleasantly light shop. It's usually less crowded which also explains why you may find it closed for some days during school holidays, especially in the summer.
If you prefer a crammed and cosy corner shop where the shop keepers will fill the jars and boxes for you pay a visit to the Mutternaturladen in Harlaching, next to the Biowelt convenience store. What you can buy here: a small selection of predominantly regional fruits and veges, all types of dry food, herbs and spices, everything you need to bake and cook vegetarian food, coffee, tea, drinks, sweets, antipasti and dairy products, the full set household chemicals and body care products, everything arranged with love in a tiny space and topped with a little chit-chat. You may also come here for a cup of coffee or tea or -- Tuesday through Friday -- for lunch. Every Monday students get 10 percent off on all loose-weight items.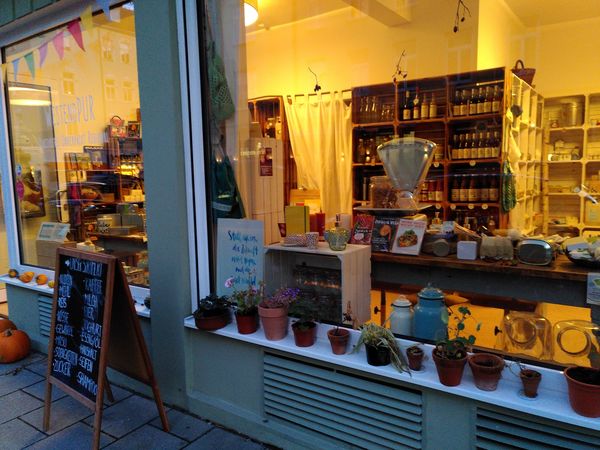 With Westend Pur a neighbourhood grocery in the Westend opened as a franchise partner of Mutter-Natur-Laden which means you will be served most of the loose weight products, with a chit-chat if you wish, just like in the old days. If you are short of time order in advance, and come to fetch your pre-filled shopping bag. Apart from (dry) food there's also a huge selection of plastic-free household and body care items, including solid and liquid household chemicals. All products are selected to be organic, sustainable, plastic-free, with short delivery chains, but there are no fresh fruit and veges. The entrance points towards Bergmannstraße.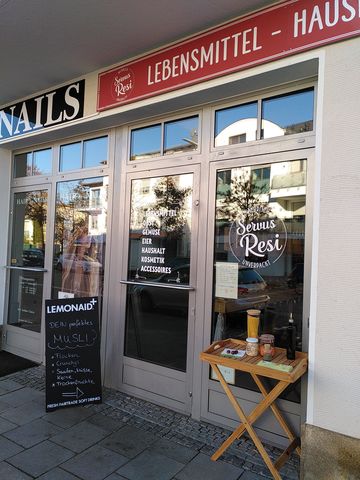 The pandemic spring and summer of 2020 saw a blossoming of zero-waste groceries in the South and West of town: Approximately at the same time as the Westend got its neighbourhood shop, Servus Resi opened in Obersendling right before the lockdown in March 2020, in a non-descript middle of no-where near the Siemenswerke former industrial area. But don't let you fool from the uninviting environment at a noisy car road -- what you'll find here is a busy neighbourhood gem nicely furnished in light wood, with a superb selection of dried herbs and spices aside the usual dry food, and a nicely arranged selection of household items. The greengrocery section is rather limited -- local organic apples and potatoes in late autumn 2020 --, and there are no dairy or other food requiring cooling, but the shop offers both, liquid body care products and household chemicals from refill stations. Everything is supervised by the friendly shop-owner, Chrissy (not Resi) herself, and if you wish to get in touch with people from the neighbourhood take the burden to come here even from other parts of town.
In Laim Nebenan unverpackt ("package-free next door") followed in summer 2020. The latter is organised as a co-operative (though the location next to a co-operative bank is purely accidental) and sports a small neighbourhood coffee place. They offer a slightly bigger selection of dry food than the Ohne shops, fresh fruit and veges, but less dried herbs and spices and no spirits. You can however buy wine and their selction of condiments and preserves in one-way glasses have the effect that you can do all the regular daily shopping here in one place if you don't come with more advanced expectations.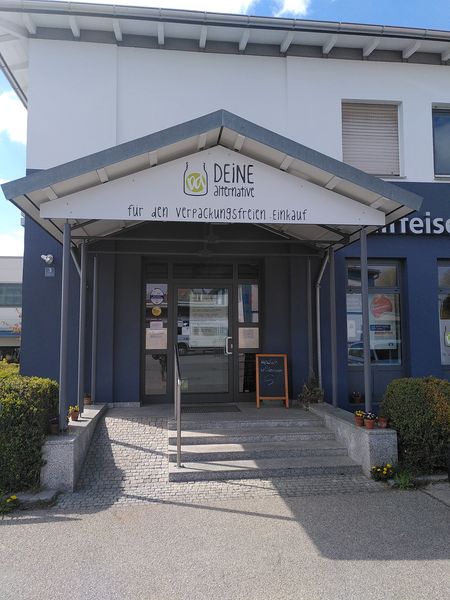 Half a year earlier, in January, 2020 another co-operative, Deine Alternative ("your alternative") in Zorneding, opened on the premises of the former Raiffeisen co-operative bank, just a few steps from the urban train station. When you get inside you will however immediately forget about its past as a bank, the shop is carefully and pleasantly decorated, with wooden furniture and equipped with a proper Italian coffee machine for a break in between. Most of the often local produce sold here is organically certified or at minimum sustainably produced, though it would be nice if conventional loose-weight products were clearly marked. In addition to the gravity bins and containers with dry food there's a decent selection of dried herbs and spices, sweets, bread, some confectionery, a small selection of fresh organic greens and veges, cheese and milk from the Nirschlhof organic farm (but interestingly enough no whole-meal flour or oils, vinegars or spirits by the litre). In a separate room you can buy toiletries, household chemicals and items supporting a zero-waste lifestyle. Everyone is welcome, but members of the co-operative pay less. If you live in the municipality of Zorneding you can pre-order a daily changing lunch dish to take home on weekdays or a covid-19 emergency food box that will be delivered home for those in quarantine.
In opposite direction, at the Western end of the Munich's S-Bahn (line S8) urban train network Evis ab ins Glas ("Evi's off-into-the-jar") opposite the town hall of the municipality of Gilching opened 27th July, 2020, sporting a lot of package-free artisanally produced food, natural body care and household items, predominantly delivered by small-scale farmers and manufacturers in the greater Starnberg area. If you have wine corks bring them along for upcycling by a Rosenheim-based manufacturer of shoes. The shop is closed on Wednesdays.
South-South-West of Munich, the city of Wolfratshausen (the endpoint of the S7 urban train) likewise sports a package-free shop centrally located at the Obermarkt market place: Ohnverpackt, another zero-waste shop opening within the corona lockdown in the spring of 2020, is even certified organic. The few conventional products of regional origin are clearly marked as an exception. It does not only offer the usual dry food and household chemicals, but also a good selection of cheese and antipasti. What you won't find are fresh fruits and veges, meat and sausages. There's a small day cafe, unfortunately all closed on Mondays.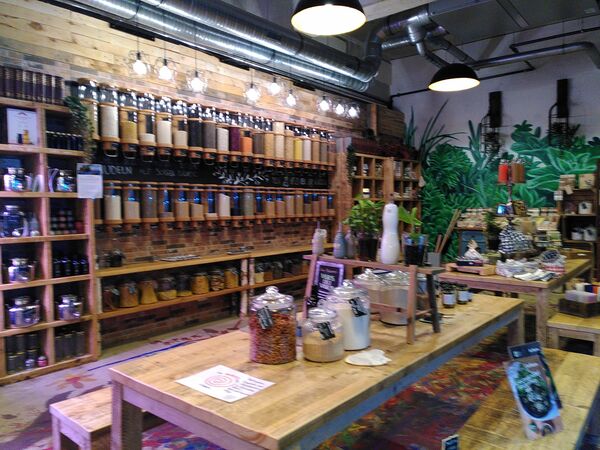 South of Munich, directly located at the S-Bahn station of Neubiberg the owner of the conventional Edeka supermarket opened a side project next door, Hertscheck Unpacked which hopefully attracts people who usually wouldn't buy off the conventional supermarket tracks. Although not marked most of the unpackaged dry food is organic -- the shop assistant explained that since the shop itself isn't certified but fills the gravity bins and glass jars from bigger packages it isn't allowed to declare the products as "bio". There's also a good selection of loose-weight natural body care (both, in solid and liquid form) and household chemistry from brands I haven't found elsewhere. You can refill organic gin and regional (though not organic) whisky. The highlight of the shop are grow cabinets with special lamps where a good selection of herbs is grown, naturally free from agrochemicals. For city dwellers the place most certainly is worth a little bicycle ride (through the beautiful eco park Umweltgarten Neubiberg where an organic farmer's market is held on Thursday afternoons) or urban train tour even though the place has less liberal opening hours than the conventional supermarket next door. Fun fact: The former premises of the Edeka supermarket now host a Vollcorner organic supermarket.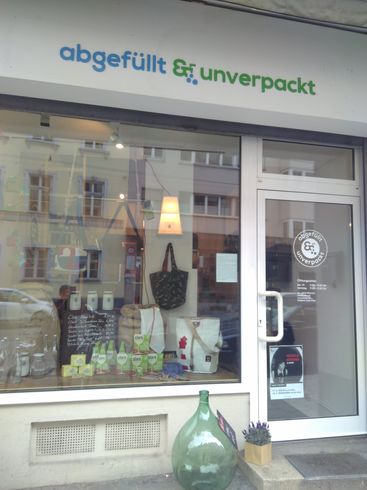 Plastic-free household
In March 2019 a tiny neighbourhood shop specializing in natural home cleaning opened in the Glockenbach neighbourhood: At Abgefüllt & unverpackt ("bottled and unpacked") the singer of the Munich-based band "Cat Sun Flower" warmly welcomes customers and passers-by and helps to (re)fill empty bottles with organic liquid household detergents. At the time of writing this shop was the only one in Munich selling washing powder by weight. In addition there are eco-friendly dishwasher tabs, body and hair soaps, fairly traded natural facecream in returnable glasses, towels, as well as upcycled and fairly traded bags and toiletry accessories.
While many of these owner-run shops report to have gotten a lift by the covid-19 pandemics the zero-waste pioneer in town, Naturlieferant, usually referred to as Plastikfreie Zone, and renamed to Der plastikfreie Laden closed its pleasant intimate shop in Haidhausen by the end of February 2021. The shop (which started as Germany's second package-free grocery) with a focus on sustainable household items, ranging from tooth brushes and toilet paper to glasses, lunch boxes and jute strings is however still there as a web shop.
Supermarket chains to follow
In autumn 2016 the local Vollcorner supermarkets received an official permit by the Munich Department of Public Order (Kreisverwaltungsreferat) to fill their customers' jars and boxes with cheese, antipasti, processed meat products or cake. The Basic supermarket chain followed in summer 2017, while independent convenience stores often have done so anyway. So take appropriate containers with you when you go out to shop for food or ask the staff to fill your order into returnable glass jars (Vollcorner, Lebascha, ...) or stainless steel containers (Basic). As during the corona pandemic most shops are no longer allowed to fill customer-provided containers make sure to order deposit containers as there's still no nudging from the shops' side.
To avoid misunderstandings it is advisable to clearly point to your box (or ask for the deposit container) before placing your order at the sales counter and tell the staff to tape the receipt to it. Otherwise you may end up not sparing any waste: In the beginning the staff at the Basic butcher's disk would use the sheet of plastic-covered paper they'd usually wrap the purchase with to hand it over to you, along with the receipt taped onto the paper bag they otherwise would have used as outer packaging. In the mean time they got used to the procedure but were ordered to decline customer requests to buy meat this way. Since they started to provide stainless steel boxes for a deposit of 7 EUR there's however no excuse for one-way packaging here anymore. Artisanal organic butcher's shops will also fill meat into boxes you provide (though not necessarily during covid-19 measures). The Herrmannsdorfer groceries (e.g. the one at Max-Weber-Platz) reward you with a 4 cents discount per saved packaging.
All Basic supermarkets have installed gravity bin dispensers by now which reliably offer a selection of pasta, nuts, dried fruit, sweets, and grains, but the number of goods may vary from basic to covering most of your store cupboard except for dried herbs and spices, coffee and tea. To buy these dry goods measure the tax weight of your containers before filling them. The scales next to the gravity bins will print out a receipt which you must hand in at the cash desk for tax weight detraction. Some branches may still follow the scheme formerly employed at the one near Isartor where you were expected to fill provided scaled measuring jugs from the dry-goods dispensers, pay, and refill the content into the packaging you brought along (which was quite tricky as funnels were not provided). In this case you were not allowed to use your own containers for loose-weight dried fruit from the cardbox displays in the green-grocery section.
Some Basic branches like the Basic Bogenhausen also offer freshly ground nut butt:w ers. In the past the latter also had a refill station for frying and salad oils, shampoo and shower gel as well as tea and coffee dispensers but unfortunately no longer.
The Alnatura chain takes a different approach and, in 2020 has been continously increasing the range of products in returnable jars and bottles - among others fairly traded nut butters, a number of dry products and even ketchup.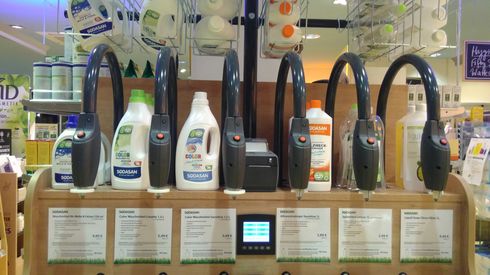 The Basic supermarkets in Munich (and no longer only the ones selling toiletries and household chemicals like the Neuhausen and the Bogenhausen branches) are also equipped with dispensers for detergents of the eco-friendly Sodasan brand. To refill here you must either come with an empty original bottle or buy one the first time. Your purchase will be weighted at the checkout and the weight of the original bottle will be detracted. When I asked the staff why I no longer was able to use a blank bottle they explained to me that a label with correct chemical declaration was required by law.
Prior to April 2019 you could take one of the empty bottles from the shelf and scan its label before tapping the standard volumes the choosen detergent was sold by to your own bottle, and I cannot say whether Basic markets in other cities still run the dispensers in this mode.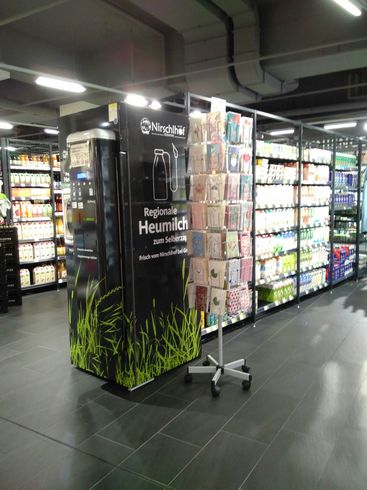 For refilling fresh milk the Vollcorner supermarket near Theresienwiese has a vending machine which (as of November 2019) unfortunately is out of order as the local farm can no longer deliver milk for family reasons. The shop is working on a replacement and is trying to find a new local farm to step in as soon as possible. This huge Vollcorner branch also has a butcher's counter and a lunch cafe.
And before I forget to mention it: All Vollcorner supermarkets stock package-free toiletpaper.
By the end of 2020 a number of conventional supermarket chains had introduced refill stations for dry food, too, but since you still have to do a lot of careful reading in front of the shelves to shop climate-friendly products, I won't mention them here, with one exception: the huge Tegut branch that opened in the Elisenhof shopping centre next to the main train station in December 2020. This supermarket chain really gives their customers a choice -- all organic products are easily to recognise thanks to a light-green label on the shelves, and there's a great number of them in all product categories. Given the sheer number of products on sale the impressive refill rack at the left-hand side of the entrance aisle comprises only a negligible fraction of total sales, but it's a good start, and the best: All products in the gravity bins are organic, and they have the biggest selection of package-free organic chocolate-covered sweets I've come across so far. There are grains, cereals, nuts, dried fruit, legumes and sweets, but no flour and surprisingly almost no pasta.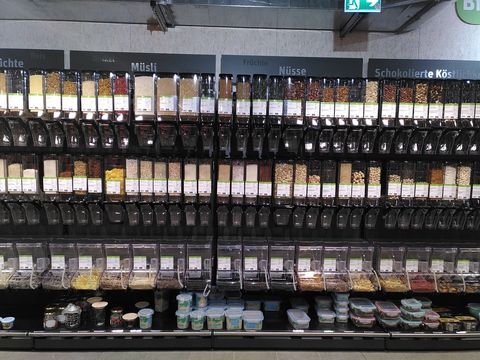 Although the supermarket has its entrance next to the Sunday-open (and if you ask me generally more pleasant) organic supermarket Biokultur in the Hauptbahnhof basement Tegut is closed on Sundays and public holidays as well as in the evening. When you have at minimum half an hour to change trains you will however reach to refill some of your dry food containers as long as you know how it works: Put your box onto the scales and choose "Tara-Bon". This will print a label. Fill the box and remember the product id on the lower end of the gravity bin. Put the filled box back on the scales and press the second "Bon" button beneath the "Tara-Bon" button. Now you will be asked to type in the product id. Scan the bar code on the previously printed label with the hand scanner, and there you go: A receipt with a price tag will be printed for you. Seal your box with this second label and hurry up to the cash counter.
Neighbourhood groceries
In Haidhausen the Lebascha neighbourhood grocery offers to fill all loose-weight products (cakes and bread, eggs, cheeses, olives, jelly gums and liquorice -- only the latter is not organic) in bottles, jars and boxes you bring along. Ask for a deposit box (1 or 3 EUR according to size) in case you forgot to bring your own, and make sure to return it thoroughly cleaned. When buying eggs don't forget your own container as there will be a small surplus for a cardboard one filled on the counter.
For home-made dried fruit stroll a few more steps down the street and step by Haidhauser Oase.
Household chemicals can be refilled at the Echt Bio Markt in Neuschwabing and at the Biochicco supermarket in the Au near Mariahilf-Platz. At the latter you can only refill original bottles of the Sonett label.
In Harlaching, the independent Biowelt supermarket has a small zero-waste corner with dispensers for dry food, a good selection of loose-weight dried fruit and a dairy and butchers' counter where you can hand over your containers.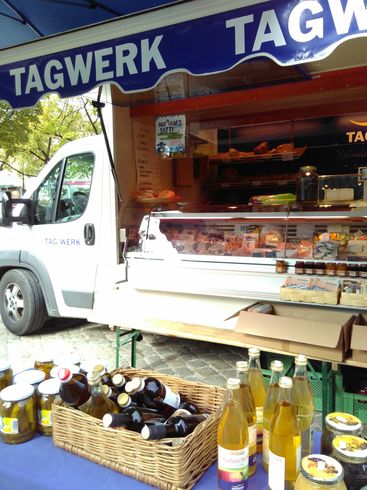 Farmers' markets
Once, sometimes twice a week farmers' markets are installed in many Munich neighbourhoods. Loose fruits and veges prevail here, and boothes selling organic produce (watch carefully for "bio" and "demeter" logos) will usually fill bread, cakes and pastries, antipasti, meat and dairy products into the containers you present. Notably at the boothes of the Tagwerk co-operative and the Hofbäckerei Steingraber you may be surprised to see that you're not the only one coming with her own boxes and jars. On Saturday mornings you can find them next to the West-facing entry of Mariahilf church, in the neighbourhood of Au where all boothes (except the French fish monger) in the market block next to the church, right below the carillon, are organic. If you feel adventurous on Thursday afternoons take the urban train S7 in direction Aying/Höhenkirchen-Siegertsbrunn/Kreuzstraße (or a bike ride) to the suburb of Neubiberg and pay a visit to the communal organic market on the pleasant premises of the Umweltgarten eco park, a true oasis within ugly suburbanity, with a small zoo, popular not only among kids. On Thursdays there's also an all-day market at Rotkreuzplatz. As on Mariahilfsplatz about half the boothes here are organic, though scattered all over the market area, with a cluster in direction Nymphenburger Straße.
Needless to say that the organic boothes on the famous Viktualienmarkt in the Munich city will happily support you when you make it clear that you want to use your own bags and containers. And the spring of 2021 did not only see the opening of an organic bakery in one of the solid market stalls in the northern part of the market, but also a tiny organic food shop for organic dry food grown and produced in the nearby Chiemgau region: Satt und gut ("full and good") sells staple foods like grains, flour, eggs, honey and oil but also cookies, both pre-packaged and loose weight, partially from the smallest gravity bins I've seen so far. Note that this shop, unlike the market itself, is closed on Mondays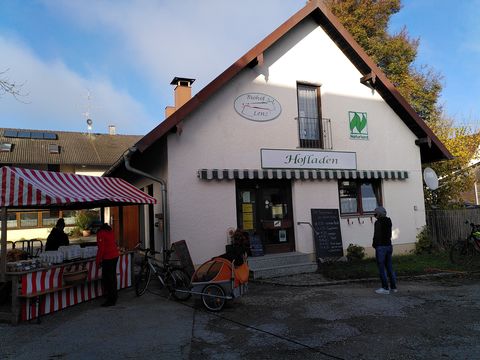 In Zorneding a small farmers' market is being held every Friday on the premises of the Biohof Lenz organic farm. Here you can buy local organic meat and meat products, cheese, bread, veges, and occasionally honey and bee products, wines and spirits. Although most stalls are organic there are a few exceptions offering conventionally produced specialities. The Lenz family's own farm shop keeps open at the same time and on Saturdays, but for buying their exceptionally good meat you should subscribe to their newsletter and order beforehand according to availability (you should be fast to answer). Unfortunately all the Lenz meat and sausages are vacuumized in plastic.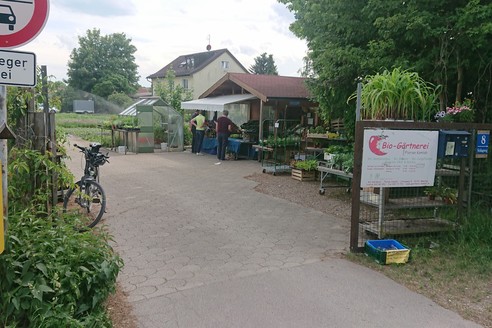 At the Western edge of town, in Pasing the organic market garden of Bio-Gärtnerei Kamlah has a farm shop open on Monday, Wednesday and Friday afternoons. You can not only buy salads and vegetables grown here but also organic seedlings for your balcony or garden patch. The farm has also a market stall at the Pasinger Viktualienmarkt which keeps open all days except Sunday offering a huge selections of organic fruit and veges, but no seedlings.
Artisanal bakeries and butchers
Meat lovers will be happy to learn that Munich, the home of Weißwurst sausages and Leberkäse, still has an independent family-run organic butcher's shop: The Biometzgerei Pichler in Haidhausen does not only offer these Munich specialities to buy home or to eat on the spot but will happily fill your boxes with all kinds of meat cuts, sausages, cured and processed meat (both, German and Italian style), including tongues, ox tails, offal and other low-graded parts of the slaughtered animals, allowing you to follow the nose-to-tail principle. They also have a proper cheese counter and offer lunch on weekdays. If you are in the Maxvorstadt, the Pichler family also runs the meat counter within the Landmann's supermarket which offers lunch items to take away and often has pickled herrings and other traditional German fish preserves. However, during the covid-19 lockdown in winter 2020/21 the shop is refusing to fill purchases into customer boxes.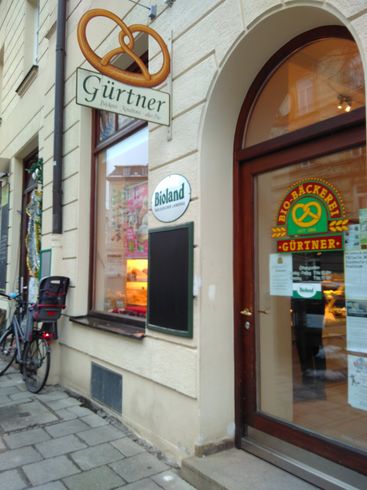 At the Munich branch of the Dachau-based family-run organic bakery Gürtner opposite the Lebascha grocery mentioned above in Haidhausen the staff is also used to fill cakes, rolls and bread into boxes or bags handed over the counter. They mill the flour slowly using a Zentrofan wholefood mill resulting in wholemeal croissants tasting fresher and almost as light as those baked with white flour. If you come here for an organic coffee or lunch break don't expect wonders from the automatic coffee machine and insist on using your mug if you order coffee to take along. For lunch the bakery offers readily prepared sandwiches or "Butterbrezn" (buttered pretzl). There's another Gürtner branch on the Pasinger Viktualienmarkt near the Pasing train station.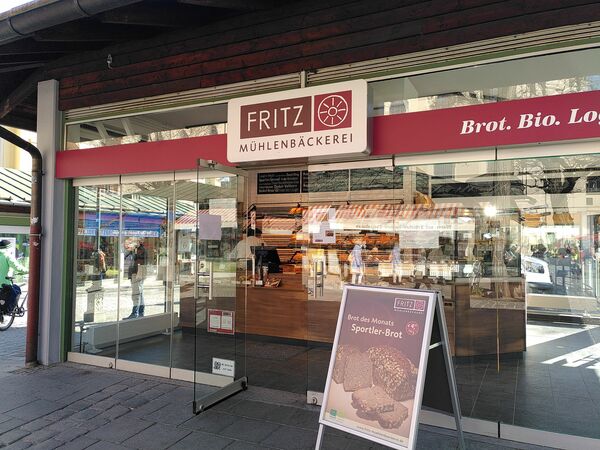 With roots in Munich, and since 2020 back baking in town, the Sunday-open shops of Fritz Mühlenbäckerei are not generally zero-waste, but their bread, cakes, and rolls will be filled in the bags and boxes you provide, even with restrictive Covid-19 hygienic measures in place. In spring 2021 the bakery took over a market booth in the Northern part of Viktualienmarkt, next to Heilig Geist church which is closed on sundays, though. If you come here for a coffee to take away, don't forget to order a recup deposit mug or bring your own.
To avoid food waste, if you are on a small budget and as long as you aren't out after a special type of bread or roll I recommend the Fritz bakery's newly established yesterday's bread shop, Zweitbrotladen, in Haidhausen. The small shop has only one disadvantage: by the end of its quite restricted opening hours you may find that everything you fancy has been sold out.
Another artisanal bakery that happily supports your efforts to reduce waste is the Brotraum in Schwabing, conveniently located near Münchner Freiheit.
Not very far away, in Türkenstraße you'll find another source of luxurious artisanal organic bread -- the bakery of Julius Brantner. Make sure to come in time -- especially on a Saturday you may find the shop closed after the last bread was sold.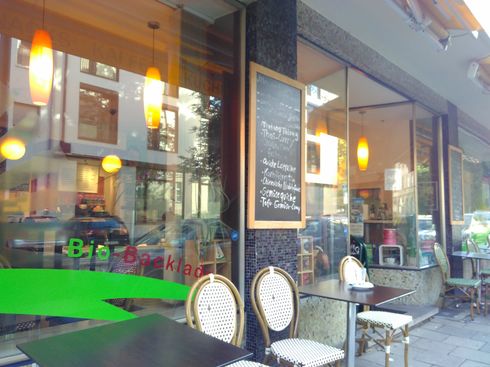 A short walk from Sendlinger Tor, within the hospital area, you'll find Bio Backs, an organic bakery store where you also can get organic coffee drinks, tea, hot chocolate and snacks. Unfortunately the Asian lunch served there is not based on organic ingredients -- for the home-made snacks only the butter, the flour used in savory quiches, sugar, milk, soy drink and vegetable broth are promised to be organic. Pro-actively insist on your own bags and containers when you buy to take with you. Mind you that the shop closes quite early in the afternoon.
Tea shops
While coffee is readily available from loose weight convenience stores, tea drinkers aren't well catered for: Usually you will find some tisanes and one or two types of black tea. Fortunately specialist tea shops still exist, and as they sell loose weight teas by the gram don't be shy and ask them to fill your tea box.
In the Tee Gschwendner shop in the Asamhof backyard a few meters from the new pedestrian street of Sendlinger Straße this will work as long as the opening of your jar or box is wide enough for the shop assistant to fill it without touching it with her shovel. The franchise also sells conventional fare, so make sure to insist on organic quality – "Bio-Qualität" is the keyword. You'll find a decent selection of both, green, black and herbal teas, with and without aromatics. Bring a little time to stroll through the light and pleasant shop that has been at this place since the 1980ies, ask the assistant to show and suggest teas according to your taste and tell a little detail. When all your teas are filled into your jars you will be asked whether you fancy a tea sample, so it is smart to bring an additional small glass or jar. Mind you that green tea doesn't store well in classic metal tea boxes as this material supports further oxidation processes.
Coffee and food to take away
At Basic self-service cafes, the Ohne supermarkets, Siggis coffee bar and restaurant and an increasing number of other coffee places you may lend a Recup coffee cup for a deposit which you can return at any other shop participating in the retour scheme.
Some like the Neulinger bakeries and the Basic self-service lunch bars will even give you a small discount for sparing the environment.
Most of the eateries reviewed here will fill your food into the boxes you provide for take-away as long as you make this clear before they start their usual routine which still means one-way packaging. Sushi to take away is available from Sushiya, and they will happily accept your bento boxes with your order.
Abgefüllt & unverpackt, Fraunhofer Str. 23, Mon–Fri(Sat)11:30–19(15)
Ohne, Schellingstr. 42, Mon–Fri(Sat) 9:30–19(18), Sun(PH) closed including Dec 24, Dec 31, 2020: 9:30–13
Ohne, Rosenheimer Str. 85, Mon–Fri(Sat) 10–19(18), Sun(PH) closed, summer-closed until (including) August, 30 2021
Mutternaturladen, Grünwalder Str. 244, Mon 15–19, Tue–Fri 10–13,15–18, Sat 10–15
Naturverpacktes Westend Pur, Heimeranstr. 51a, Tue-Fri(Mon) 10(12)-18, Sat 9-15
Servus Resi, Kistlerhofstr. 111 , Tue–Wed,Fri(Thu) 10–18:30(20), Sat 10–16
Nebenan unverpackt, Willibaldstr. 18, Mon–Fri(Sat) 10–19(15:30)
Deine Alternative, Anzinger Str. 3, Zorneding, Mon(Tue–Fri) 12(8)–18, Sat 8–14
Evis – ab ins Glas, Pollinger Str. 11, Gilching, Mon–Tue,Thu–Fri 9–12:30, 14:30–18:30, Sat 9–14
Ohnverpackt, Obermarkt 29, Wolfratshausen, Tue–Fri(Sat) 9(19)–18:30(15)
Hertscheck Unpacked, Bahnhofspl. 3, Neubiberg, Mon–Sat 7–19
Basic Bogenhausen, Richard-Strauss-Str. 48, Mon–Sat 8–20
Basic Neuhausen, Nymphenburger Str. 82, Mon–Sat 8–20, cafe cum bakery opens at 7 am
Basic City 1, Westenrieder Str. 35, Mon–Sat 8–20
Herrmannsdorfer Haidhausen, Max-Weber-Pl. 2, Mon–Fri(Sat) 8–18:30(13)
Vollcorner Schwanthalerhöhe, Schwanthalerstr. 111 (w/in Forum Schwanthalerhöhe), Mon–Sat 8–20 (9-20 during covid-19 restrictions)
Tegut Elisenhof, Luitpoldstr. 3, Mon–Sat 7–20
Wochenmarkt Au, Mariahilfsplatz (during the Auer Dult fun fair 17/10–25/10/2020 the market is relocated to Hans-Mielich-Platz), Sat 8–13
Biomarkt im Umweltgarten Neubiberg, Äußere Hauptstr. 10, Thu 14:30–18
Wochenmarkt Neuhausen, Rotkreuzplatz, Thu 10–18:30
Satt und gut, Viktualienmarkt 3 shop no. 8 dep. V, Tue–Fri(Sat) 9–18/16)
Biometzgerei Pichler, Weißenburgerstr. 39, Mon–Fri(Sat) 8–(19)18
Biohof Lenz, Münchner Str. 23, Zorneding, farmers' market Fri 14–18, farm shop also Sat 9–12
Bio-Gärtnerei Kamlah, Schlagweg 8, Mon, Wed, Fri 12–18
Kamlah Pasinger Viktualienmarkt, Bäckerstr. 7, Tue–Fri(Sat) 7–18:30(14)
Bio-Bäckerei Gürtner Haidhausen, Breisacher Str. 13, usually Mon–Fri(Sat) 7–18(13), during Covid-19 lockdown Mon,Fri(Tue–Thu,Sat) 7–17(13)
Bio-Bäckerei Gürtner Pasing, Pasinger Viktualienmarkt, Bäckerstr. 7, Mon–Fri(Sat) 6:30–18:30(12:30), during covid-19 measures Mon–Fri(Sat) 6:30–16(12:30)
Fritz Mühlenbäckerei, Viktualienmarkt shop no. 2/dep. V, Mon–Fri(Sat) 7:30–18:30(18)
Fritz Mühlenbäckerei, Pariser Str. 17, Mon–Fri(Sat) 13(10)–17:30(14)
Julius Brantner, Adalbertstr. 25, Tue–Fri(Sat) 8–18(16)
Bio Backs, Mathildenstr. 7, Mon–Thu(Fri) 7:45–16:30(15)
Tee Gschwendner Asamhof, Sendlinger Str. 28, Mon–Sat 10–18
Closed (online only)
Munich, Neubiberg, Gilching, Wolfratshausen, Zorneding, Au, Haidhausen, Harlaching, Laim, Maxvorstadt, Pasing, Westend, organic, vegetarian, zero_waste, unverpackt, cafe, grocery, market, supermarkets, lunch, bakeries, butcher, tea, bodycare, household, sushi, covid, corona] Link