When dedicated zero waste convenience stores started to bloom in bigger cities like Munich during the covid-19 spring of 2020 Bremen already had three established package-free shops, with a fourth one that opened its door early in 2020. Back then some of the shop keepers were afraid that there might be too many to survive in a city of the size of Bremen, and after the pandemic years it's not all sunshine for these small businesses. However, Bremen hasn't seen the same series of zero-waste shop closings cities like Munich have. Even when you run out of food on a Sunday you can grab your jars and boxes and set out for refill.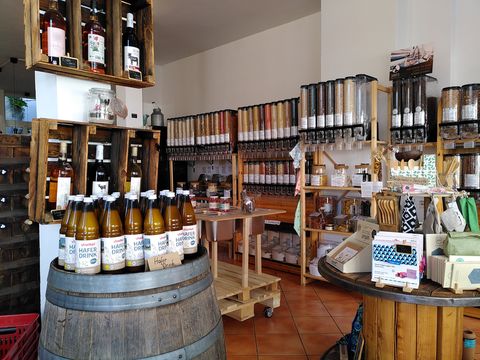 Dedicated package-free supermarkets
My favourite is crowd-funded L'Epicerie Bio in the Neustadt neighbourhood, just across Wilhelm Kaisen bridge. Lovingly decorated in the style of an old colonial shop you would find an abundance of food, spices, sweets and wine, body care and household items here, including fresh fruits and veges and pet food by the gram. Since 2021 the shop has also been offering organic frozen food by the gram: samosas, falafel, French fries, veges, berries and more. As you marvelled at the interior you could also buy a coffee or refreshment.
Unfortunately this will be history from around mid of October, 2023: To make ends meet the shop keeper had to find a less expensive location, and the good news is: Anne Marie is moving to the neighbourhood of Walle. The new shop will have another name, but she wouldn't tell me yet. The new shop will be smaller, offering all the food stuff as before, but only a basic set of toiletries and bodycare.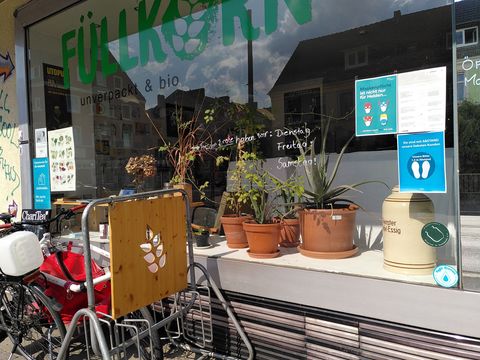 While L'Epicerie was as far as you get from the carrots-and-dungarees cliche of a traditional organic grocery of the 1970ies, the second package-free shop in the Neustadt looks exactly like a traditional Bremen organic cornerstore 2.0: The dusty shop window of Füllkorn, with some wilted potted plants makes it difficult for passers-by to even spot the place. Inside everything is spotlessly clean of course, and there's also a coffee and refreshment option. Unfortunately the shop was closed when I was there, but I'm sure it's friendly and welcoming, too. They have a milk tapping machine from the Kaemena farm.
The youngest package-free shop in town is Die Füllerei in Findorff which opened in February 2020. With a beautiful flower-bed in front of it you cannot miss the shop even though I couldn't make it here during their opening hours. Unlike the two shops in the Neustadt there's a vending machine for fresh milk from the Blockland. Just from the looks clearly my second favourite which, in 2023, wants to turn into a co-operative. Note that the shop is closed on Wednesdays.
The tram stop "Am Schwarzen Meer", (in)famous for a fastfood-and-beer kiosk popular among the city's enthusiastic football fans has become a destination for conscious eaters: At the end of the Steintor road you'll find both, a Sunday-open package-free convenience store and a friendly CSA farm shop.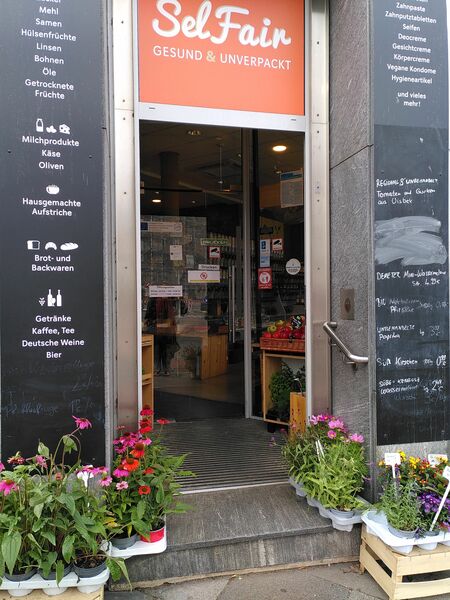 The first one, Selfair, has by far the most liberal opening hours of all package-free supermarkets I've visited so far. It's a pleasant combination of a traditional organic cornershop, a contemporary package-free supermarket and an immigrant shop with a good selection of oriental-style bread, baklava, pickles and mezze. The latter aren't organic, nor are about 3/4 of the fresh fruit and greens. However, there's an abundance of loose-weight and pre-packaged organic food items, spices, sweets, beverages and more. There's tinned food and preserved food and dairy products in glasses, and almost all beverages come in returnable bottles. They also have a section with zero-waste household items and sustainable toiletries, and in general the shop is free from plastic foil packaging. Many of the organic veges, bread and cheeses are bio-dynamic and local, and most of the conventional food is produced in the region, with little agrochemicals.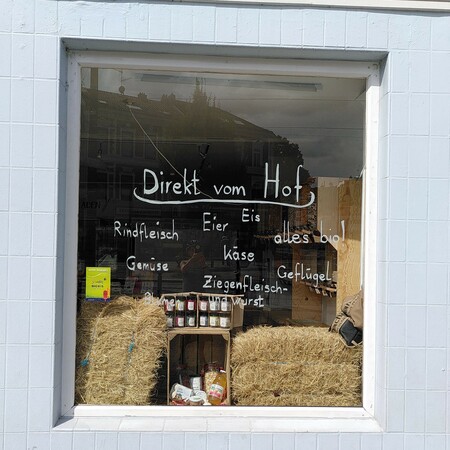 Direct trade
On the Northern side of the tram tracks you'll find a small and inviting farm shop, the Solawi-Hofladen. Despite the name it's not only a pick-up point for the members of the community-supported organic Sophienhof farm, but a cosy farm shop run by two bio-dynamic farms, the Sophienhof and the Lütjenhof, and an artisanal fair-trade coffee roasters', all from the greater region. Needless to say that you can have a coffee after having filled local grains and pulses from gravity bins and bought meat, eggs, cheese, veges and more.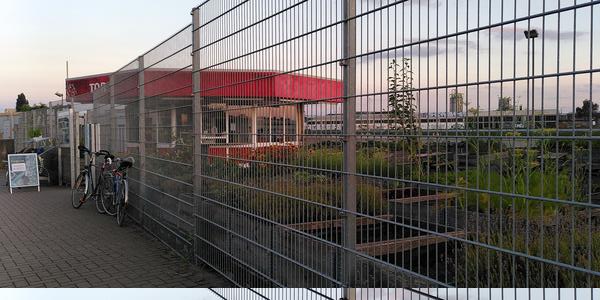 On a former parking lot inside the disused production areal of the Kelloggs company you now find an urban gardening project producing organic veges and hops in raised beds: During the warm season the Gemuesewerft is not only a nice beergarden, but also sells fresh organic greens according to the season just a few meters from where they are harvested.
Organic corner shops and supermarkets
Package-free sale of bakery items and cheeses over the counter, loose fruit and veges as well as dairy products and drinks in returnable bottles and glasses are of course the norm in all traditional organic convenience stores like the co-operative Oecotop in the Neustadt, the Bio-Eck in Grohn with some gravity bins for unpackaged grains, or the Kornkraft supermarket in Habenhausen which offers a day cafe and is part of a small local supermarket chain.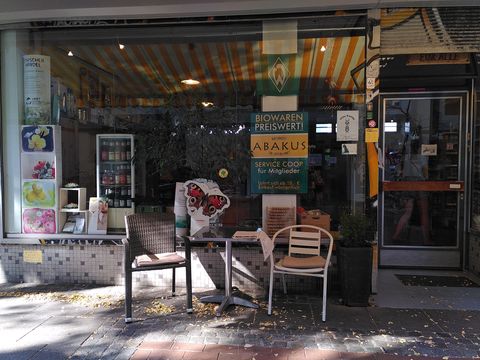 Traditional co-operatively driven convenience stores in Bremen are all open to the general public by now, and so is Abakus in Steintor founded in 1998 which in 2020 repeatedly was voted one of Germany's best organic groceries. The shop which doesn't hide its political views doesn't have a working web site, but sells loose-weight grains and cereals. When I was there again in summer 2020 there was however an information that they wouldn't order more muesli unless the demand by members of the co-operative was bound to increase.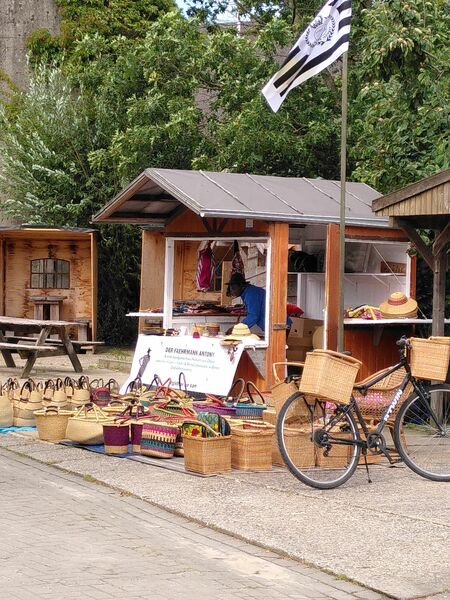 Body care and nice things
During the nice season Der Fährmann Antony ("Antony the ferryman") sells hand-made natural shea and cocoa butter from Ghana on a mobile booth on the Kaemena farm in Blockland. Come with your own jar, and he will happily fill it for you. The opening hours below should however be taken with a grain of salt – when the weather is too cloudy or even rainy Anthony may decide that the effort of his bicycle tour out into the Blockland wouldn't match his sales expectation. In summer 2022 there were also shortcomings as deliveries from Ghana took weeks longer than usual, and during our stay in August 2022 we met him not before 4 pm.
Out of Bremen
If you take a bicycle tour to Lilienthal (which – despite the fact that the Bremen tram no. 4 ends there – isn't a part of Bremen, but a municipality in the adjacent state of Lower Saxony) you have even more options – check out the Lilienthal post.
Closed
Bremen, organic, lunch, coffee, cafe, grocery, supermarkets, vegan, vegetarian, zero_waste, unverpackt, bodycare, gifts, butcher, fashion, solawi, CSA] Link