Every organic supermarket big enough to be equipped with a freezer will sell you iced-lollies or pre-packaged cups of ice-cream, at least during the warm season. But for the real thing you need to know where to find your small scale artisanal organic ice-cream parlour. Fortunately there are sufficient options to find your favourite one, unfortunately only a few of them sell their fare in organic wafer cones. The covid-19 pandemic introduced ice-cream seasons starting as early as February (e.g. at the Bartu shops and True & 12 at the Gasteig), often restricted to nice spring afternoons, but usually you can expect the ice-cream to appear at the beginning of April.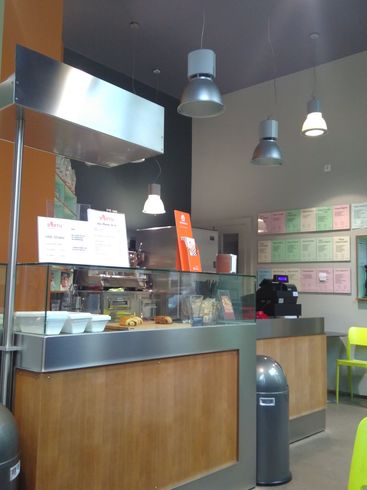 Arguably the best ice-cream in town is made by former shoe-pusher Thomas Bartu and his crew in Schwabing – and the best: Unlike all other ice-cream parlours they run their shops the entire year around. Just like the best ice-cream parlours in Italy they cover their 24 types of ice-cream hygienically instead of displaying them for show-off. All ingredients are listed on big and nicely layouted wallpapers, leaving no questions open for vegans or people with allergies. Children under 13 years pay less (1.70 €) for the scoop than adults (2 €). You can also have a good (though not organic) cup of Italian-style coffee or an organic soft-drink, and a yummy organic pizza. If you haven't had enough you can choose from an ever changing selection of Bartu ice-creams to take away in reusable containers. And the best: They don't close their shop during the cold season. On the other hand don't count on opening hours longer than the regular 10 pm; in fact they often close about ten minutes before.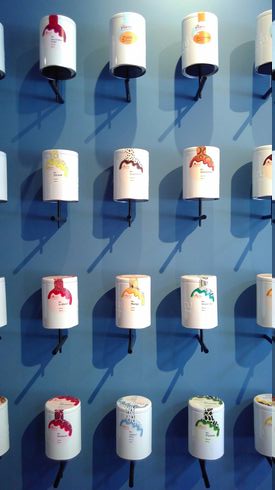 Summer 2018 saw the opening of a second Bartu ice-cream parlour in the Maxvorstadt. The nicely styled cafe – with tables and all – is located next to the Gratitude restaurant. If you fancy a caffe affogato (Italian espresso with ice-cream) have it the Italian way, with Fior di latte instead of vanilla ice-cream. They also serve organic tea, soups and soft drinks, and since the covid-19 winter of 2020/21 you can also have a one-pot organic lunch. Fortunately the the wafer cones are back, so are no longer inclined to produce waste. Although the shop is closed on Mondays and Tuesdays during the cold season you may be lucky on nice weather Mondays and Tuesdays in spring when the shop nevertheless opens at noon.
While Thomas Bartu occassionally extends his sales with various pop-up stores he doesn't seem inclined to expand his business into a chain. So here was a niche which Stefano di Giglio of Del Fiore tried to fill: He and his team started with three gelaterie at once in 2017, of which only one was left by 2021. You'll find it in Schwabing, near the university quarter's entrance to the Englischer Garten, and I am inclined to say that it is run by independent owners.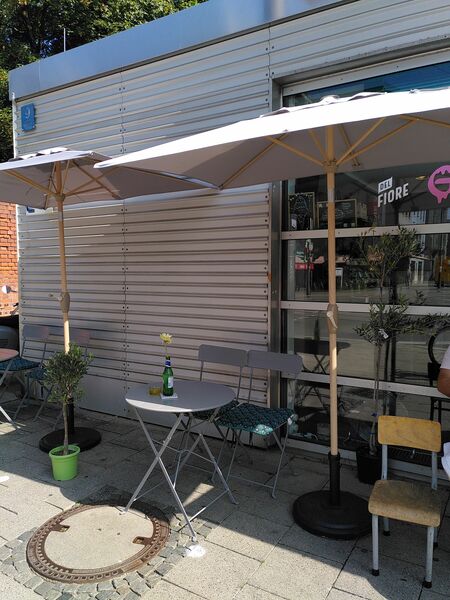 Di Giglio seems to concentrate on ice-cream making for local third-party vendors like organic supermarkets and cafes. In the summer of 2021 I found the NY-style Occam Deli in Schwabing to sell Del Fiore ice-cream to passers-by, and since 2022 the tramstop cafe Il Chiosco at the Ostfriedhof graveyard has not only been beautifying an ugly crossroad of Tegernseer Landstraße, but allowing for an organic ice-cream while you wait for the tram. Both, the milk-based flavours and the sorbets, are fully organic and extremely palatable, though quite pricey. Il Chiosco concludes the ice-cream season at the beginning of November.
A stroll along the Isar river to the Western shore of Wittelsbacher bridge gives you another opportunity for a partially organic ice-cream stop: The ChocoLab cafe cum chocolaterie at Baldeplatz is not organic in general, but the dairy ice-cream sold here is made from organic milk.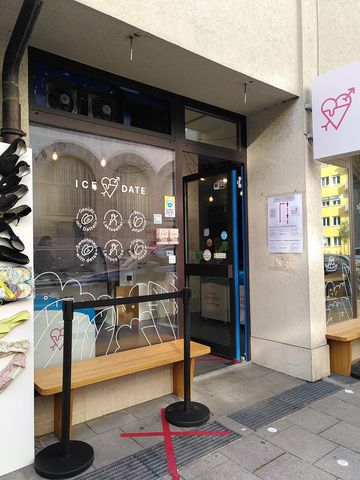 Where would you expect organic and vegan ice-cream to go if not in the university quarter? A two-minutes walk from the Northern exit of the tube station "Universität" in the Maxvorstand neighbourhood you'll find IceDate serving date and cashew-based ice-cream varieties. I prefer their strong flavours like the chocolate varieties or coffee; the more subtle ones like hemp or green tea often need polishing. A scoop goes for 2.50 EUR in 2023, and every serving is topped with a small quantity of an additional flavour. Bad weather is no issue since they have a pleasant indoors sitting area.
Amid the covid-19 spring of 2020 a second branch opened next to the Tushita tea house, in humming Glockenbachviertel, and a mobile IceDate booth can also be found on many street festivals in the city.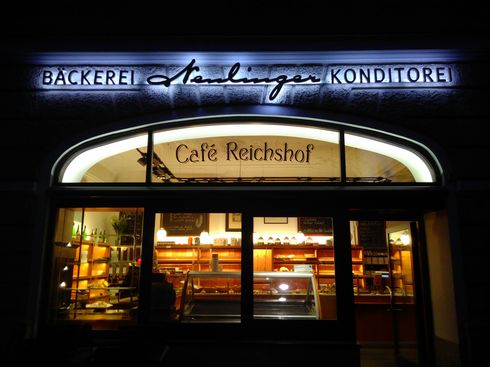 In the neighbourhood of Haidhausen you have three possible targets: Cosy though buzzing Café Reichshof a five minutes brisk walk from Ostbahnhof station offers home-made ice-cream spring through early autumn, though you may be tempted to indulge yourself in one of their gorgeous cakes instead (or have both?) The stuccoed ceiling with candelabras play well together with the wooden shelves of the bakery display, making for an inviting yet not overwhelming interior. During the warm season you may prefer to sit outside facing relaxing Bordeauxplatz. Be prepared to queue on nice-weather days, but since the service is swift, efficient and friendly waiting will usually take shorter time than expected. The Neulinger's ice-cream season ends in October; the scoop in 2023 went for two euros quit and is served in organic wafer cones. Since the shop participates in the Hey (formerly Brot am Haken) campaign you may buy a coffee, bread or cake voucher for someone in need as you go. If you buy a coffee drink to take away in your own or a Recup cup you'll get 10 cents off for sparing the environment.
November 2019 the entire location underwent major work to re-establish the coffee house of old on the premises of the former bakery workshop (the work is now done in the new facilities in the wholesale market area of Sendling), and now that it's ready it turns out to be a true jewel. Spacious and family friendly, in the tradition of the great coffee houses of the 1920ies it's a recommended hideout, both for breakfast, lunch, weekend brunch or a coffee break. Before 9 am you can order your breakfast at the counter and take a seat in the front part, service starts at 9 am.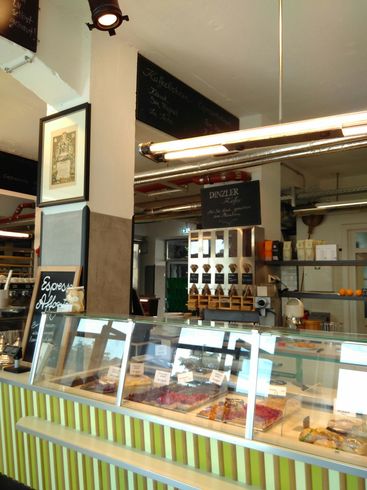 Café Reichshof is not the only branch of Bäckerei Neulinger, an artisanal organic bakery: There are two older shops in the neighbourhood of Neuhausen and a new cafe cum bakery located in the former meat-packing district, the Schlachthofviertel. In 2018 the Neulinger family moved its "headquarter" from Neuhausen to Sendling, to the premises of a former banana ripening facility – a light and quiet place to have lunch while watching the bakers working the dough. Have an ice-cream on top as you leave. Since 2022, all Neulinger shops have been open on Sundays and public holidays, though the smaller shops only in the morning, for breakfast rolls.
For a very special treat step by Oliver a few steps from Café Reichshof at the south-eastern end of Bordeauxplatz: freshly prepared hand-rolled vegan organic ice-cream.
If you fancy an ice-cream during your evening stroll head for fancy True & 12 opposite the Gasteig cultural centre. Their milk comes from a family-run organic farm keeping grass-fed cattle half an hour away by urban train (plus five minutes by bus plus half an hours walk). Other ingredients like hazelnuts and eggs are also organic, the non-organic ingredients of course all natural. The lip-smacking delicious result comes in original flavours like lavender and cassis (dubbed "Haidhausen") as well as standard flavours like chocolate or vanilla, both of unusually high quality. The scoop in 2023 goes for 2.30 €. For an additional euro you will be served in a hand-rolled cinnamon-flavoured cone or shell, so ask for availability! To much regret also this place is closed from end of October to mid of March.
In Neuhausen organic ice-cream to go can also be had from Café Ruffini, described in my restaurant post.
The classical Italian ice-cream parlour – ice-cream to go, and not much ado – you'll find with Gelateria Artefredda in Giesing near Ostfriedhof on busy Tegernseer Landstraße. The right-hand side of their display features their organic varieties for 2.20 EUR the scoop – about eight ones to choose from. With its unpretentious eco-styled walls the cafe makes a light and pleasant place to have a short coffee break (prepared with organic milk). Most sundaes can be had with organic ice-cream, but unfortunately neither fully organic nor in re-usable cups. Artefredda keeps closed during the cold season. On bad weather days they often open up a quarter of an hour past their announced opening time, nice weather provided they will often keep open longer than announced.
Their ice-cream season usually stops with the German national holiday October, 3rd. From mid of October, 2023 the shop is hosting a cinnamon roll pop-up store, the Zimtschneckenfabrik, offering all natural artisanal cinnamon rolls, cakes and sourdough bread and rolls Tuesday though Saturday 12–approx. 18 (until sold out), and on Sundays 12–15. Whether they use organic ingredients I did not have the opportunity to find out yet.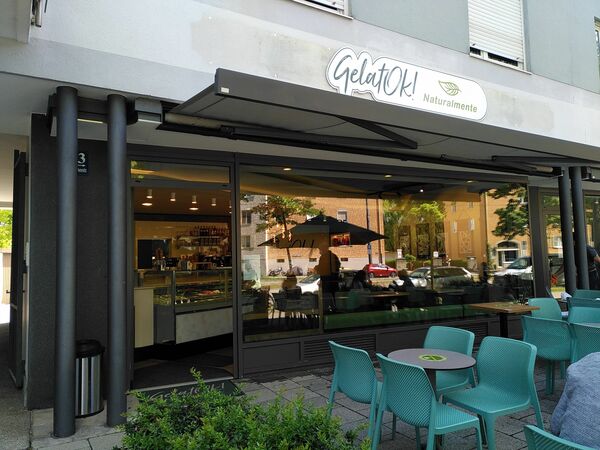 Not far away, a five minutes walk downtown from Giesing Bahnhof station, a new modern ice-cream parlour opened its doors on the premises of a conventional one in 2021: GelatOk! promises all natural ice-cream, with as little organic life-style as possible for an audience that does not usually frequent organic supermarkets. The milk for the creamy and exceptionally tasty ice-cream however is organic and comes from the Berchtesgadener Land dairy, and if you order a coffee drink, it's made with organic milk, too. Another good sign for the ice-cream is that it is produced in small batches – most of the containers weren't filled to the brim.
In the Glockenbach neighbourhood you'll find Das Eismeer, Munich's first self-proclaimed climate-neutral ice-cream parlour. Although the egg-free ice-cream here is all natural the main ingredients like sugar and milk are not organic. Single organic flavourings like vanilla or poppy seeds are however advertised in big letters so that you may get the impression that the entire ice-cream was organic. Looks a bit like a dark pattern to me. If you fancy a hot drink: coffee and cocoa are both organic (and the latter also fairly traded). Kids pay less for the ice-cream than adults.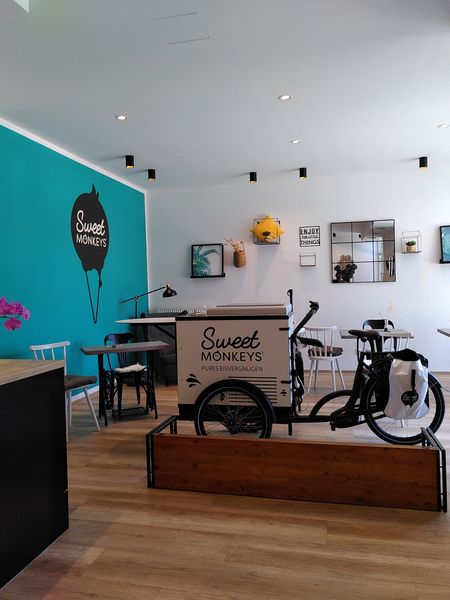 In the Western neighbourhood of Pasing you may set out for a stroll to Sweet Monkeys. Next to the graveyard, tucked away between a stonemasonry and a flower shop the clean and pleasantly decorated ice-cream parlour serves lip-smacking ice-cream made from organic milk from the Berchtesgadener Land dairy and veges from the nearby organic gardener Florian Kamlah. Not all ingredients are organic, but there's a commitment to avoid transport by buying local and energy emissions by using sustainable energy. This ice-cream shop offers some unusual flavours like cucumber-pineapple, white coffee or lime yogurt and you can also order sundaes like the children's favourite spaghetti ice-cream (spaghetti-like pressed vanilla ice-cream with berry sauce). Unfortunately the place is too far from the Pasing train station to be reached while waiting for a connecting train. There's a second branch in Moosach.
Markets and street festivals
If you happen to attend a street festival in Munich like the semi-annual Streetlife on Leopoldstraße or the annual Munich Sports Festival on Königsplatz watch out for a pink-blue food truck selling Cramer's Speiseeis in cones. The Cramers run a family-driven organic bakery cum pastry shop in Gauting near Munich, where they also make their ice-cream, so be brave when you're in the vicinity and give their spicy ginger or chocolate-chili varieties a try.
While there's no more organic ice-cream at the Viktualienmarkt the weekly Saturday farmers' market at the Seehaus within Englischer Garten has a heart for those with a sweet tooth: During the summer monthes the Biohof Butz does not only sell organic fruits and veges, but also ice-cream made from milk by the farms' own cows.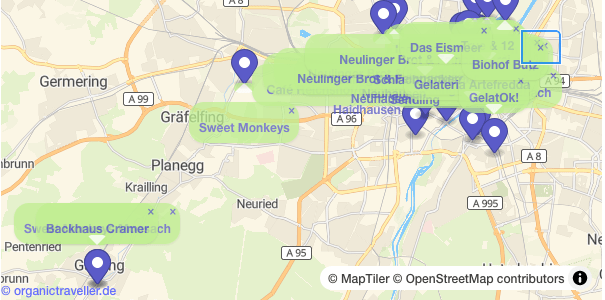 No more ice-cream
When you take a stroll about the famous Viktualienmarkt food market the desire for an ice-cream may come natural. Unfortunately the Trübenecker organic fruits and veges booth does no longer offer organic ice-cream in the summer – instead you can have freshly made all-organic smoothies.
No longer organic
Ceased to exist
The following places do no longer exist, even though you still might find references to them on the web:

Munich, Haidhausen, Giesing, Moosach, Pasing, Schwabing, organic, vegan, ice-cream, coffee, cafe, Italian, bakeries] Link