The Bohemian kitchen serves a lot of (conventional) meat, and vegetarian places usually do neither use organic ingredients -- eating out can be quite a challenge in beautiful and historial Prague. My favourite restaurant from many years ago unfortunately does no longer exist, so I had to start almost from scratch, and my time in the city was limited. The good news: You have no longer to be a strict follower of a wholefood diet if you prefer organic food. But compared with capitals of neighbouring countries there's still a gap to close.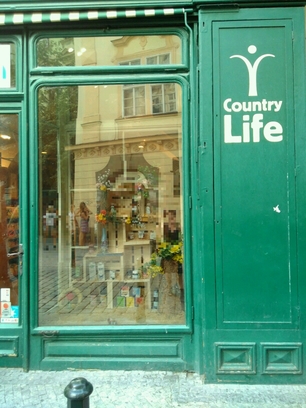 Daily necessities
Founded in the 1990-ies the organic grocery Country Life has developed into a small organic supermarket chain since. The shops still look like small health food shops and concentrate on wholefood, but provide you with a sufficient selection of fresh and dry organic food, dairy products as well as vegan alternatives. Bread, rolls and pastries bought by the piece as well as fruits and veges aren't pre-packaged, and there is a good selection of dry food available from zero-waste dispensers, so come with your own bags and containers. Note that, except for the one in the old town, all Country Life shops are closed on both, on Saturdays and Sundays, and all of them close as early as between 6 and 7 pm.
Also in Prague you will find a number of franchises of the German DM chemist's chain which will provide you with a good selection of organic dry goods and natural bodycare. Their own brands "DM Bio" (food) and "Alverde" (body care) are affordable even if your budget is tight.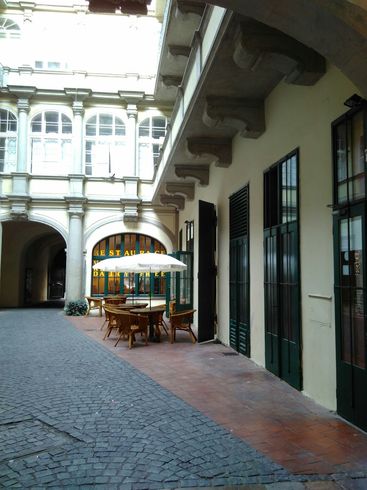 Eating out
If you found the Country Life grocery in the old town, Stare Mesto, head into the small alleyway to its left, where you find Prague's eldest still existing organic restaurant, the Restaurace Country Life. The interior resembles a typical Czech beer restaurant, and the place serves hearty Bohemian food indeed, however all vegetarian and dairy-free. Note that this self-service place -- just like the grocery -- is closed on Saturdays.
There is also an eatery on the premises of the Country life shop in Dejvice (Mind the quite restricted opening hours), and the convenience store in Jungmannova street will provide you with snacks.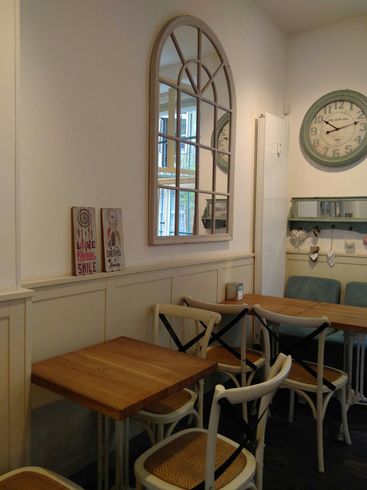 Coffee and ice-cream
For the hip coffee bar cum ice-cream parlour head for one of the Puro shops in town who decidedly do not sell "zmrzlina" but "gelato". The one nearest to tourist tracks is located two street corners from tube stop Staromestska, where you almost cannot miss the red-white checkered window front which hides a pastell-coloured self-service cafe. Queue, order, pay and pick up your certified kosher ice-cream made from organic milk. A small scoop (one flavour) comes at 50 crowns, a medium one (two flavours) at 90 crowns. If you ordered coffee drinks, milk shakes made with organic milk or cakes they will be served later on the seat you choose. Coffee and chocolate unfortunately aren't organic, only certified by the Rainforest alliance, and it is not quite clear whether the shop also uses the organic brown sugar which is on sale as the sugar served with the coffee is not organic.
More to try
During my research I found the following places that seemed likely to sell or serve at least partially organic food and drinks, but I did not had the time to check them out myself. If you do I'd appreciate if you let me know whether they actually do so!
Eco but not organic
The following hotel, located in a former baroque monastery claims to be an eco hotel but confirmed not to serve any organic breakfast items. If you intend to stay there ask for it in the hope that customer demand may have the power for change.
Ceased to exist
The following places are temporarily closed, shut down or were replaced by other, not organic ones, and are listed here as you still find them on the web:

Prague, Praha, Prag, organic, vegetarian, vegan, kosher, zero_waste, cafe, grocery, supermarkets, coffee, ice-cream, snacks, lunch, bodycare, household, hotel, accommodation, eatery] Link