The easiest way to get around in Heidelberg is by bicycle, and whether you need to repair your own bike, to rent or to buy (a cheap) one, you can do this right on arrival at the main train station: Follow the signs to the exit and descend the stairs at the right hand (eastern) side to track 1b. Here, in rather unpolished surroundings you'll find the Radhof bike repair shop, a socially responsible enterprise which will happily help you. To rent the bike at 15 EUR/day present your ID card or passport, hand them your mobile number and a deposit of 50 EUR, and off you go with a well-kept second hand bike. On return you will not only get your deposit back but also the paper copy taken from your ID. Unfortunately the workshop is closed on weekends.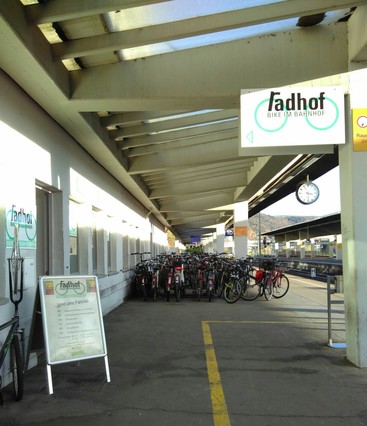 Cocooning and body care
As a tourist you will most certainly head for the old town, walking down the Hauptstraße ("main street") pedestrian street. While the western part of this street is inhabited by the ever-boring major chains, the eastern part with its small-scale owner-run shops is definitely worth a shopping spree, preferably to enterprises striving to sell sustainable, often fairly traded goods. Looking for dedicated environment-friendly kitchen and bathroom utensils, toys, fashion accessories, stationary, gifts or design items you must not miss out the green design department store GOODsHOUSE a little west of Schiffsgasse. The shop itself isn't visible from the main street -- walk down a little aisle into the backyard to find a lovingly arranged two-storey shopping paradise. The staff is friendly and helpful, yet not intrusive and will happily offer to order items not in stock.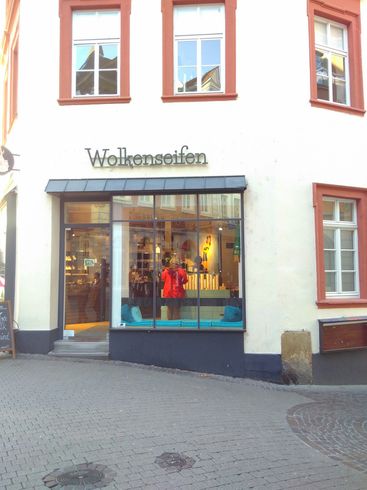 A few steps further west, at the corner with Heumarkt an equally carefully designed cosmetics boutique dubbed Wolkenseifen ("cloud soaps") is the flagship store of a local near-natural cosmetics manufacturer. In addition you'll find (certified) organic and natural cosmetics brands usually not to be found in your nearest organic supermarket -- among them Chia, Madara, or Khadi --, and a great selection of zero waste body care like hair and body soaps, solid shampoos or solid toothpaste.
Shoes and fashion
Fair and slow fashion seems to be quite strong in Heidelberg where even otherwise conventional clothes boutiques like Bofinger in the main street trade in fair and organic labels like Armedangels. My stay was too short to pay a visit to all the places on my short list, but I managed to have a glimpse inside Tutta Natura selling sustainably produced French shoes and women's clothes for lovers of classic eco-design in the Plöck running parallel with the main street.
A larger selection of natural shoes is to be found at Die Ahle Naturschuhe which can easily be missed with its modest shop-window front hiding a pleasant shoe shop in Sankt-Anna-Gasse linking Plöck and Hauptstraße at the western-most border of the old town. During the cold season you may also step by for knitted organic head and foot wear and other woolen accessories.
If you prefer German sculptural shoe design to French elegance Heidelberg also has a shop of the sustainably and socially responsibly producing Berlin-based shoe manufacturer Trippen. Their carefully designed store can be found at Heumarkt.
November 2018 sae the re-opening of former fair fashion store cum cafe Friedrich as a Glore concept store offering organic fashion for all, women, men and kids as well as a small selection of organic body care.
Fair trade shops
Unsurprising Heidelberg is home to a number of community-driven one-world shops selling fairly traded fashion accessories, household items, dry food, sweets, coffee and tea, the latter often certified organic. One of them is Una Tierra at the market place Neuenheim, another one the Weltladen in the old town with a small cafe, offering fairly traded coffee drinks, cocoa or tea while you crawl the shop or let you inspire by the bookshelf.
More to try
Here's a list of shops which I had on my list for research but didn't manage to visit myself. Let me know about your experience!
Coccon, Brückenstr. 10, Mon–Sat 11–19 (fair fashion)
Freudenhaus, Plöck 7, Mon–Fri(Sat) 11–19(18) (fair fashion, including interesting labels like widda berlin which partially use eco-friendly textiles like tencel, but also viscose, and conventional cotton)
Closed
Heidelberg, shopping, organic, fair, fashion, spices, herbs, delicatessen, gifts, upcycling, bodycare, coffee, cafe, cycling, shoes] Link