Meat-lovers, be brave in Verona: All the places I found serving organic food are vegetarian or even vegan.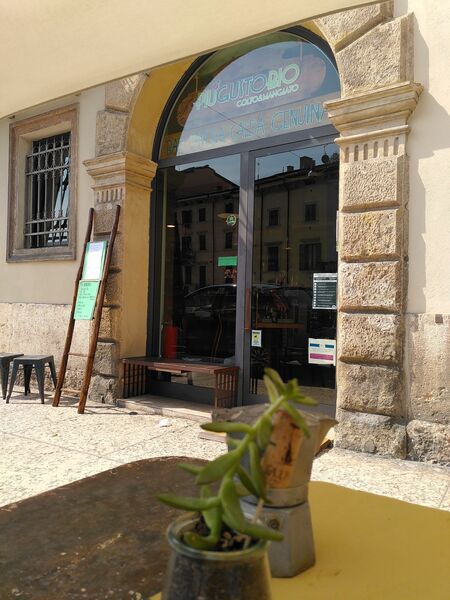 Piu Gusto Bio offers organic breakfast, health food for lunch as well as coffee and cake. They have outdoor seating on the main street, so unless the corona virus forces you to avoid closed rooms it's nicer to sit inside in the pleasantly decorated air-conditioned cafe. For lunch there are tasty sandwiches and daily changing plates with wholefood preparations inspired by the suggestions of the Havard School of Public Health for a healthy eating plate. Around 2pm choice was limited, but the broiled zucchini and fennel, the aubergine-bean mixture and the falafel-style bean balls were very nice and not as bland as health food often uses to be. All food is vegetarian, most of it vegan. While the coffee was nice (well, it's Italy after all), the chocolate cake was dry and crumbly.
More to try
Satisfied there was no need to proceed to the Ziga bar north of the Adige river, in the neighbourhood of Borgo Trento which promises a little more elaborated vegetarian, though only partially organic lunch and dinner, natural wines and organic beer.
For vegan sweets, coffee, a soup or savoury snack I have Dulcamara bakery cum self-service day cafe on my list, but my time between two trains did not allow for more than one lunch and an ice-cream.
For vegan organic pizza and pasta try La Laterna. Their signature dish is bigoli (thick "spaghetti-like" pasta) alla carbonara, and I'm curious how they interpret this rather un-vegan recipe in a vegan style.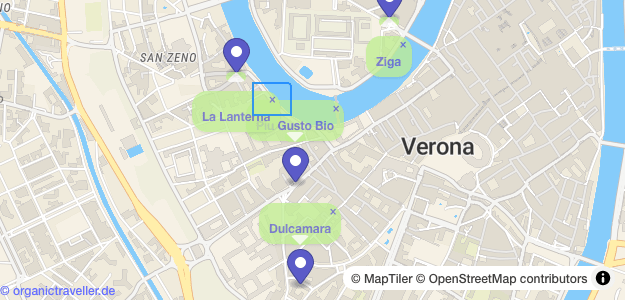 Piu Gusto Bio, Stradone Porta Palio, 36, Mon–Fri(Sat) 7:30(9)–15 until end of September, Sat closed in August
Ziga, Via IV Novembre, 1/B, daily 11–15:30, 19–22:30
Dulcamara, Via Francesco Berni 7, Tue–Sat 9–15
La Lanterna, Piazzetta Portichetti 6, daily 12:30–15, 19–23
Probably closed
Some years ago I found the following pizzeria in Borgo Trento on the web, but all references to opening hours have been gone, so I suppose that the place shut down:

Verona, organic, biologico, vegan, vegetarian, breakfast, lunch, dinner, restaurant, eatery, cafe, coffee, bakeries] Link