Restaurants in Stockholm may surprise the foreign visitor with practicalities: Most places have unisex toilets, and an increasing number of places trade entrepreneur safety against customer's data privacy and the right to pay her bill anonymously: They do no longer accept cash, only cards. Given the high resolution of current cameras which make it easy to spy your pin code it sounds fun when shop owners argue with customer safety here, but alas, it is the sad reality, so be prepared.
Nordic fastfood
Eating out at lunchtime in Sweden often means "smørgås", in the restaurant version a slice of bread heaped with salads. Its modern interpretation with fusion influences can be found at fully organic Kalf & Hansen at Mariatorget. Choose a set menu and organic, partially home-made drinks from the fridge, pay, sit down and be served. Five of the menus ("Oslo", "Stockholm", "Nuuk", "København", and the children version dubbed "Vimmerby") are variations of the same theme: Swedish "falafels" made of fish, meat or vegan -- you choose. What's different is the bread, the veges of the season and condiments to go with. If this is not what you're up to you may opt for the soup of the day or a cheese sandwich or simply step by for a coffee and (vegan) cake. Rhubarb lovers will be delighted by the rhubarb lemonade -- less sweet than elsewhere a refreshing delight. Note that the place does not have a public toilet and closes early in the evening. There's a second branch in Hammarby Sjöstad which keeps open during lunch hours only.
Summer nights may be long in Stockholm, and everybody is enjoying themselves outside. At this time of the year an evening with a light predominantly organic meal at a terrace overlooking the waterways is one of the most pleasant things to do. So head for Koloni Strömparterren, a summer only self-serving kiosk at the northern end of Helgelandsholmen next to Norrbro bridge. Have a refreshment, a sumptuous salad, smörgås, baked potato, or cake and coffee drink. If you are in the mood for a traditional shrimps sandwich: Here's the place to try. And if you insist you'll get a real drinking glass instead of a disposable plastic cup for your water or soft drink.
There's another self-service kiosk inside Skansen theme park, located next to the dance floor. If you can tolerate the musical accompaniment it's the best option to get decent food (including pancakes with berries and whipped cream) and coffee in the park, although everything is served in one-way dishes.
The third Koloni summer kiosk is located on Saltsjö beach, and they run three indoor branches all the year around, too.
Nordic gourmet
For a posh evening out head for the Fotografiska museum's ambitious restaurant sporting a nice sea view to Djurgården and Skeppsholmen. It's a short (though ugly) walk from Slussen traffic hotspot which is currently being rebuild in a cyclist friendly and human way. The restaurant's focus is on 100 percent organic ingredients and zero food waste, although the first does not apply (yet?) to the contents of the bar. During the restaurant's summer break an informal and easy-going outdoor grill takes its place, the Veranda with a simple vegetarian set menu (one for children and a bit more elaborated one for grown ups) which you can complement with grilled sweet water fish (røding), a pork steak or sausages. The aperitif cocktail ("grogg") was nicely balanced although based on inferior Beefeater (the bar has better gins on offer), and there's a non-alcoholic version, too. Wine and other drinks can be choosen from the bar's menu. Unlike the museum itself the restaurant still takes cash.
Vegan
It's easy to be vegan at the places mentioned above, but if you fancy a purely vegan restaurant playing with a bunch of cliches mount the flight of stairs behind Fotografiska to Hermans Trädgården. Before you take a seat in- or outdoors to adore the fine sea view be reminded that an all-you-can-eat place run with the slogan "Give peas a chance" most certainly is somewhat special. During rush hours (between 6 and 7:30 pm when I was there) you may find yourself confused in a crowd of people queuing inside. There are two queues: One for the organic self-service buffet, and one for the cash desk. Find the end of the last one (the one made of people without plates), tell the friendly staff how many grown ups, children and students you are, order your beverages and pay. During lunch hours (11-15) the set menu goes for 135 SEK, at dinner time and on weekends you pay 195 SEK per person, students are entitled a 50 percent discount (as long as they sport a valid student ID and buy a drink), and children pay according to age.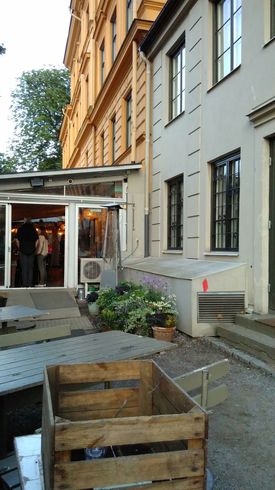 You are provided with a plate, so now it's the time to join the second queue which will lead you to a richly laid table offering soup, bread, warm and raw salads and dishes, a hearty mingle-mangle inspired by European and Asian cuisines. Organic tea, tisanes and coffee from a self-service side-board come free with your menu, with oat milk if you like. Help the staff to clean the tables -- as soon as the rush is over it's easy to have a small talk, and try a vegan cake for dessert.
International
In the heart of Gamla Stan, directly located at Stortorget with its bloody history you'll find Grillska hus which got its name after its former owners, the Grill family. Today it is run as a socially responsible enterprise and houses a cafe cum restaurant sporting a one star certification from KRAV ("matboden") as well as a bakery cum pastry shop ("brödboden"). The one star makes it the restaurant in this post scoring last in the percentage of total organic ingredients. If you don't mind the touristy buzz in general here's a responsible place for lunch, early dinner or coffee amidst the crowd.
More to try
Here's a list of (partially) organic restaurants I found during my research but did not have time to visit or found summer-closed. I'll be happy if you'd share your impressions with me!
Ceased to exist
The following places shut down and were replaced by other, not organic ones even though you find references to them on the web:

Stockholm, organic, lunch, dinner, vegetarian, vegan, bar, restaurant, eatery, coffee] Link