The good news: As long as your organic supermarket is equipped with a freezer (which applies to all exceeding the size of a corner shop) you will be able to find some frozen pizza, and even if you feel the urge while most shops are closed, don't dispair! But come on, who really wants to feast on frozen pizza?
Italian pizza
If a bar stool will do, head for Bartu in Schwabing, a short walk from Münchner Freiheit. It's actually an ice-cream parlour with a hole in the wall to a pizza kitchen. Gorgeous, 100% organic pizza, and if you are lucky enough to live no more than three kilometers away they also will deliver home.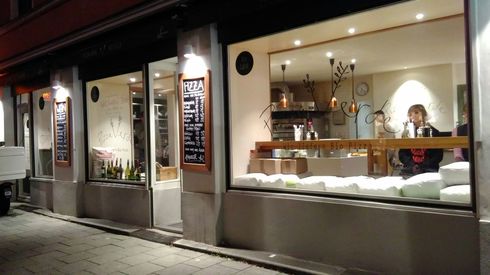 Those living in the Neuhausen neighbourhood may do the same with Pizza Verde delivering by e-bike within a radius of two kilometers. The pizza of course tastes much better when eaten directly from the (Italian) pizza oven, either on a bar table or in the guest room cum wine shop next door which has a table for twelve. Book this table in advance if you plan to come in company, it's a pleasant place to chat away an evening. The impressive menu offers all the classics, in addition to seasonally changing specials and creations of the house. Among the latter is a delicate combination of gorgonzola cheese, pears and walnuts, a white pizza with lardo fat and olive oil and a delightingly hot pizza diavolo. Since all ingredients (and all drinks) are of high, purely organic quality, and the pizze made with great skill (The pizza base is pleasantly thin and crispy made of dough that was allowed to rest for a minimum of 24 hours.) it's hard to be seriously disappointed. Even the "Nutella" pizza for dessert (of course made with superior organic hazelnut spread) is palatable for those who are beyond thirty. You may also have a classical tiramisu or panna cotta, or simply step by for an Italian coffee shot.
If you prefer a livelier, more crowded place there's now a second, bigger restaurant in Schwabing, with an organic wine shop next door and pleasant outdoor seating.
While there are almost no organic pizza restaurants in other parts of Munich, Schwabing, by 2021, has almost three of it: A few street corners from the Bartu pizza take away the small German chain of NineOFive opened a restaurant during the covid-19 pandemic. Unlike Pizza Verde and Bartu it's not fully organic, but offers organic spritzers ("Schorle"), home-made organic pickles and uses organic eggs for the home-made egg liqueur, so there's hope though no guarantee for more organic ingredients elsewhere on the menu.
Early in 2020 the neighbourhood of Sendling got a fully organic pizza restaurant: La Trattoria serves the full spec of Italian lunch and dinner, 100 percent organic, including a proper selection of pizze which you can also order to take away.
Now that it has gotten quite easy to get the real thing I'm unsure whether I should continue to include the following place which for many years has been the only pizzeria in town serving partially organic and truly Italian pizza: If you prefer a waiter who is approaching you in mock-Italian, and TV screens on all walls Lo studente in Maxvorstadt near tube-stop "Universität" is still the place to go. Remember to specify that you want the organic pizza bun made with emmer wheat for your pizza. The toppings -- apart from fresh basil -- usually are not organic, but you may order a bionade organic soft drink.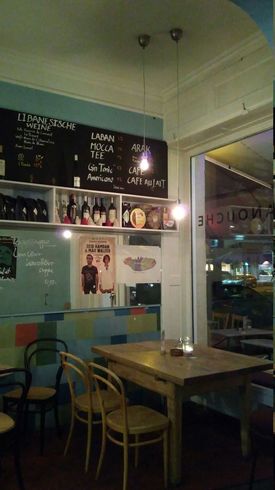 Lebanese Manouche
For the Lebanese version of a pizza head for the neighbourhood of Sendling. A few steps from tube station Implerstraße you'll find a tiny restaurant named after this Levantine breakfast special, the Manouche, where it can be had all day around, alongside Lebanese soups, savoury pastries, mezze, Lebanese wine and sweets. All meat is local and certified organic, and most of the vegetables come from farms in the vicinity which, although not certified, embrace organic principles. Some of the beer ("Neumarkter"), juices and soft drinks are also organic. Unfortunately the flour is not organic which explains the tastelessness of the bread when eaten on its own but fortunately the mezze are full of flavour and cover up for it. Place your order at the desk, and help yourself with drinks from the fridge; your food, wine and coffee will be served. It's advisable to book in advance when coming as a group, to enjoy a glimpse of oriental atmosphere and friendliness in Bavaria. Note that the place is closed on Sundays, just like the falafel restaurant Beirut Berut a few street corners away, run by the same owners.
Alsatian Tarte Flambe
The Alsatian version of a pizza, Tarte Flambe or Flammkuchen is a popular fast food on street festivals like the biannual Streetlife on Leopoldstraße or the triannual Auer Dult fair where you will find boothes selling it in organic quality.
Bartu Bioeismanufaktur/Pizzeria, Wilhelmstraße 23 (corner Kaiserstr.), daily 11-21, phone: +49 89/384 760 40 (for delivery orders between 16 and 21 o'clock)
Pizza Verde, Blutenburgstr. 50, Mon-Fri(Sat-Sun,PH) 11:30(17)-22
Pizza Verde, Franz-Joseph-Str. 35, Mon-Fri(Sat-Sun,PH) 11:30(17)-22
NineOfive, Herzogstr. 29, daily 17–21:30
Lo studente, Schellingstr. 30, daily 11-24, during covid-19 restrictions 11-22
Manouche, Valleystr. 19, Mon-Sat 9-22
Shut down
The following (partially) organic pizza places can still be find on the web but forget about them: They do not exist any more.
Blizzeria, Berg-am-Laim-Str. 82a (Berg am Laim)
Bozo & Loui, Pariser Str. 17 (Haidhausen, Alsatian Flammkuchen)
Pasta e Basta Bio, Amalienstr. 87 (Maxvorstadt)
Sicilia Naturkost, Altmühleck 1 (Altstadt)
Sweekies, Wendl-Dietrich-Str. 4 (Neuhausen)
Pizza Zodiac, Schulstr. 42 (Neuhausen)
Munich, Schwabing, Maxvorstadt, organic, fastfood, lunch, delivery, coffee, pizza, wine, Italian, Lebanese, covid, corona] Link