To find a place for an organic lunch, snack or a coffee break, both served and self-served, requires not more than keeping your eyes open. But the cultured evening out or a sumptuous weekend brunch can be a challenge if you don't know where to head for.
If you opt for 100 percent organic food and drinks, without compromises, within the city boundaries the TL;DR is La Trattoria and Josef.
French
Given the French love for quality food one would expect all self-respecting French restaurants to use organic ingredients to a certain extent, but to actually find those which do proves to be harder than expected. In Munich head for brasserie La Bouche in Schwabing, a tastefully decorated place a few steps away from Münchner Freiheit. They promise to use organic ingredients throughout the menu, with three quite excusable exceptions: snails, seafood and Marsala wine.
In fact the exception list varies depending on daily supplies – when I went there the lamb and the duck liver had been added – but since it is all transparent and clearly stated on the menu you can adapt you order accordingly. The food itself is hearty French countryside fare, apart from the risottos (together with the Italian coffee the international touch to the menu) most dishes focus on meat or seafood. Since the main courses are very generous compared to other French restaurants, come hungry or skip the starter. In the meat-based stews we had – coq au vin and an ox liver ragout – the flavours of the ingredients were perfectly amalgamated and harmonic. The entrecote marinated in a pesto of fresh herbs – although perfectly cooked rare – however, did not live up to expectations, too perfumed, too imbalanced (and way too big) for my taste. Although the side dishes – salads, stewed root vegetables, fried potatoes, and similar – clearly play a supporting role they were well done and tasty. And the baguette served together with the starters was clearly one of the best I ever had.
Sadly the wines aren't organic, the soft drinks however are, and the bar offers organic pastis, gin and vodka. Note that the place is closed on Sundays.
German/Bavarian
With its rustic and cosy flair and garden tables under horse chestnut trees during the warm season Zum Kloster in the heart of the former village of Haidhausen a short walk from Wiener Platz makes the perfect surrounding for a laid-back chat with friends. They serve a selection of organic non-alcoholic beverages and up to three dishes on their meat-centric hand-written menu are marked with a star as made with organic meat, eggs and flour, one of them being Spaghetti Bolognese. The dishes are simple, but perfectly eatable home-made fare. Only the salad should better not have been as soaked in rapeseed oil as it was. For take away come with your own container to avoid extra waste. (The covid-19 delivery service was discontinued.)
If heading for the classical Bavarian Wirtshaus – rustic, but certainly missing the air of the students' and artists' pub present in "Zum Kloster" – the Klinglwirt at the opposite end of Haidhausen near Rosenheimer Platz is the place to go. They serve organic meat from the nearby farm in Herrmannsdorf, organic cheese, bread, coffee, tea as well as Cramer's ice-cream. Unfortunately the side-dishes – mainly potatoes, dumplings, sauerkraut, red cabbage and rustic salads – usually are not organic, and there are no organic cold beverages on offer which is a pitty as it destroys the overall positive experience. The one notable exception is a delicious organic lager dubbed "Dachauer Schlossbräu", an organic brand of the Anheuser-Busch subsidiary Löwenbräu-Spaten, which goes perfectly well with the Klingwirt meat dishes. It does not appear on all menus yet but the friendly and helpful staff knows about it. Little guests are welcomed warmly, among others with a decent menu of their own (most kids will accept happily that the dishes listed there are almost free of greens). The restaurant is a member of Green Chefs, a network of eco conscious and socially responsible chefs.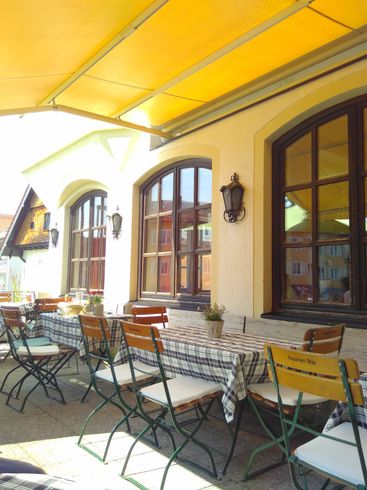 For the 100% organic experience of Bavarian cuisine take the tram no. 25 from Rosenheimer Platz to its final destination in the suburb of Grünwald. A five-to-ten minutes walk from there you'll find the only organic hotel in reach, Alter Wirt, with its rustic, yet up-market restaurant. Children are welcome and often even allowed a visit to the kitchen, but the place is spacious enough that occasional little guests won't spoil your romantic candle-light dinner. There's a beergarden under horse chestnut trees, and the entire place is a real oasis in suburbia. The menu focuses on the meat- and fish-centric Bavarian Sunday kitchen completed with dishes of Italian origin. The food is extremely tasty, home-made, yet peppered with pleasant little twitches of ambitious chefs. Not the natural place for vegetarians, but if you happen to be the only vegetarian in a group of omnivores, there's a tasty meal for you as well. In addition they offer a range of assorted organic spirits. Early risers may also step by for breakfast.
If you prefer a sandwich and coffee on the go turn to the co-located artisanal Brotzeit bakery.
If you fancy a day out in the Bavarian countryside take the chance and head for the Herrmannsdorfer farm about 30 kilometres from Munich, and its up-market 100 percent organic restaurant, the Wirtshaus zum Schweinsbräu.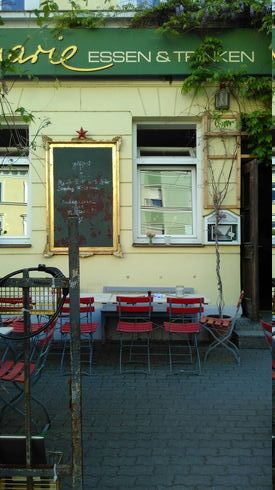 At tube stop Poccistraße in Sendling, just across the street from the Vollcorner branch in Lindwurmstr. 80 the Goldmarie restaurant serves classical and modern versions of seasonal Bavarian, Austrian and North-Italian dishes – quite palatable, but also a little boring. It's very obvious that the quality of the ingredients makes the difference here rather than the skills or visions of a chef: Usually the meat is organic and – in this case – marked "bio" on the menu. The veges are often organic, too, though not marked. Not organically certified meat and greens come from small-scale conventional farms in the region. Unfortunately the drinks (except for the gin and the herb tonic water) aren't organic. The place itself is often quite crowded.
Located directly on Leopoldstraße, a little south of Münchner Freiheit, a rustic all day gastro bar dubbed Bapas is the perfect location for aimless city dwellers: Whenever you come during daytime, you will be served a hearty Bavarian "Brotzeit", consisting of cheese or cold cuts served with organic bread, and other filling meals of Bavarian, German and Austrian origin, though usually in smaller, comprehensible "tapas" size, hence the name of the place — Bavarian Tapas. From 9 am to 2pm breakfast is being served, lunch between 11:30 am and 4 pm, and full-fledged evening meals from 5 pm.
Bread and rolls as well as eggs are always organic, and if you stick to Riedenburger and Isar your beer is, too. The organic ice-cream is made in walking distance, and there are organic teas, herbal teas, lemonades and soft drinks (by Vio and the local Aqua Monaco). If you order your gin & tonic with Duke gin and Aqua Monaco or Red Bull organics tonic you even get a fully organic cocktail. Given these efforts the kitchen surely uses more organic ingredients but you have to ask about it.
They advertised "Highclass organic food" in the 2015 print issue of Spy city guide, and you will find them listed as organic on the web, too, but when I rang them up the staff ensured me repeatedly: No, we do not use organic ingredients. Since they themselves do not mention the word "bio" neither on their German website nor on the menu it's likely that lack of command of the English language lead to this misconception. So even though Roecklplatz restaurant is a socially responsible enterprise employing young apprentices in difficult life situations and/or without formal education and thus deserves support, I can't recommend it in this guide.
Eight years ago this blog would also have featured the Ratskeller townhall restaurant at Marienplatz: Back then they had a separate organic menu. What is left of it today are organic fried potato patties ("Reiberdatschi"), spaetzle, some organic juices and softdrinks. But since this meat-centric restaurant does no longer serve any organic meat, I do not feel like recommending the place anymore.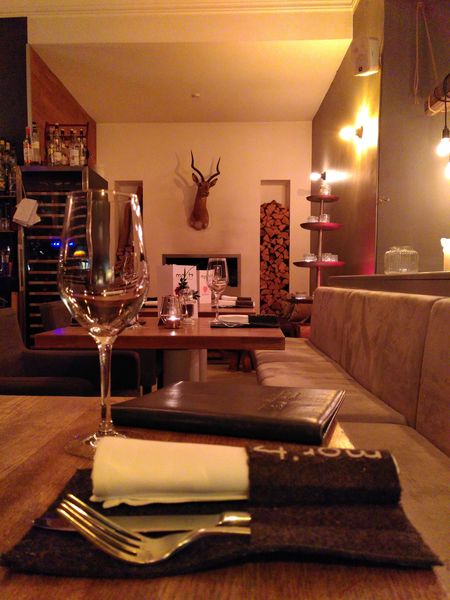 International
Not a single word on their menu suggests that Miss Lilly's kitchen in Giesing prefers organic ingredients. But when tasting their huge and extremely yummy home-made burgers or Wiener Schnitzel it's perfectly reasonable that not only the meat (as confirmed by the staff) but also a good deal of the side-dishes are at least partially organic. Although vegetarians are catered for it's very obvious that Miss Lilly's chef prefers meat and does it perfectly. If you come with kids and ask for fries they will be served huge portions – so don't order too many. The place near tube stop Kolumbusplatz serves breakfast until 5 pm and is famous for their home-made American cheesecake – I had the peanut butter variety which was very palatable, but to my taste not as exceptional as I had heard, together with a proper Italian-style coffee. Tuesday to Saturday evening it turns into Moritz bar and restaurant, with a likewise tempting menu specializing in the South-German and alpine cuisines. If you are after an organic alcoholic drink you have to stick to The Duke gins – the wine and gin menu unfortunately does not leave you with much choice.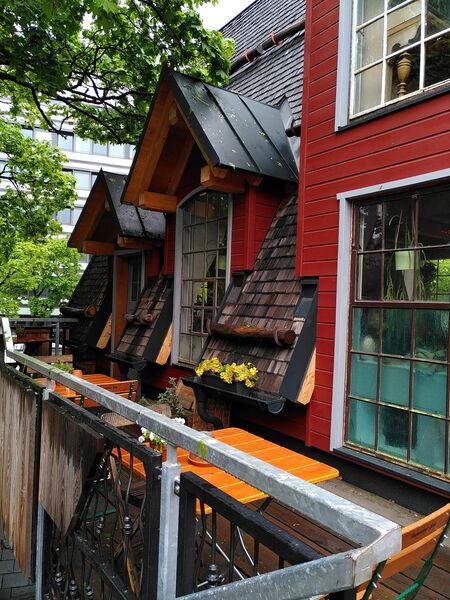 A wooden witch cottage, with several hideaways, balconies, verandahs to almost get lost in, indoors and outdoors, an open cultural stage, magical sourroundings (almost) under a train bridge – no, the appearances of the bar Gans Woanders near Kolumbusplatz are deceptive: This is not an ancient building, but a brand-new construction opened in 2020. Although the quantity of organic ingredients used in the menu dominated by pizza and cake does not entirely live up to the sustainability promise of the place, you'll find at least organic coffee, tea and lemonades, and I was assured that the potatoes always were organic. Note that the place is self-services and accepts cash only.
In the South-Eastern part of Giesing, near congested Tegernseer Landstraße yet tucked away in a pleasant neighbourhood at Alpenplatz you will find another rustic place, Das Edelweiß. Since it started as an organic restaurant about six years ago you will still find business cards and references describing it as organic, and you can still order organic softdrinks. Unfortunately the concept did not work out, and the focus has shifted from organic towards supporting local and small-scale businesses. Some of the ingredients such as the milk of the Sternenfair brand are produced according to near-organic principles, the tasty artisanal bread may sometimes be made from organic flour, if you come for breakfast on weekends you can have organic chocolate spread, maple syrup and hot chocolate, but you should rather expect artisanal conventional food. When I questioned the owner about it she assured me that she's trying to find a new chef with love for local and seasonal high-quality food, and hopefully a renewed focus on organic principles will follow.
A dedicated family restaurant in the queer and hip neighbourhood of Glockenbachviertel dubbed Kaiser Otto is the place in Munich closest to the cafe latte moms cliche. You may step by for a coffee break during the day, or have breakfast, brunch, lunch, and dinner while your kids may disappear to a dedicated playground room next to the cafe. The latter is however closing at 7 pm. Weekend brunch with child care has been discontinued during covid-19. The food is not very elaborate, but often made from at least partially organic ingredients. Reliably organic items on the menu are coffee, eggs, bread, a selection of soft drinks as well as the meat served with one of the dishes to have for dinner. Greens, veges and pulses may or may not be organic, so you have to enquire, meat items served until 3 pm are definitely not.
The contrary of a family restaurant, i.e. a decent (American-style) bar cum burger restaurant is The Potting Shed near Münchner Freiheit, a few steps from Brasserie La Bouce. Instead of french fries you're served yummy rosemary-flavoured potatoes, instead of prefab mayonnaise delicate home-made aioli, and the coleslaw was crisp, showing off the (organic) quality of the cabbage. The top of my burger bun was caramelised, adding an interesting twist to the taste, and the patty, announced as medium, still gorgeously pink. Unfortunately they do not do rare burgers which indicates that the meat is minced in advance. All meat products come from a organic-only local butchery, and the delicacy of the food indicates that most of the vegetarian ingredients are organic, too. For those not feeling like having a sumptuous high-calory burger plate (there's one veggie option) there was a tasty seasonal salad (with goat cheese) and a range of tapas, mezze and small starters, decidedly omnivore. Unfortunately the rich bar sports only a few organic drinks, namely an organic Cabernet Sauvignon, The Duke and Lyonel gins (the latter made a nicely balanced jasmin-tea flavoured gin and tonic) and fairly traded cachaça. Soft drinks including the tonic water however aren't organic at all. The bar itself values traditional bar etiquette: an observant yet not obstrusive waiter (who took care of our jackets when we came in), a skilful professional barman, pleasant background music at a volume allowing for effordless conversation (though I cannot say anything about the noise on a Friday or Saturday night), the walls adorned with interesting and tasteful art. Definitely recommended for a civilised evening out.
Italian
Mix the interior of a trattoria in Italy with a Bavarian Wirtshaus, and you'll end up with Hostaria Rò e Buni, a certified organic Italian restaurant in the heart of Schwabing. The name alludes to the dialect words used in the area of Bologna to steer bullocks to the left and to the right, and the tasty food served here has its roots in the country kitchen of the Emilia Romagna - not too fancy, hearty, receiving its fulfilling taste from high quality organic ingredients, many of them (especially the meat) sourced from farms in the greater region. Unlike in many other certified restaurants almost all ingredients are organic indeed, those coming from conventional agriculture are clearly marked with a star on the menu. Vegetarian and vegan drinks and dishes can be easily distinguished by a leaf or flower label, respectively. Although the owner has Italian roots don't order a four course menu (antipasti, pasta, primo e secondo) a la carte unless extremely hungry – the sizes of the dishes are adapted to the German habit of ordering a pasta or main course and perhaps a starter. If you feel Italian stick to the four course tasting menu suggested by the menu, or discuss with the affable publican. Don't leave without having tried their fresh home-made pasta, and an organic grappa to finish. If you fancy slow-cooked Italian meat classics like Osso Buco – here's the place to try. The kitchen closes half an hour before closing time, and the place itself keeps open evenings only.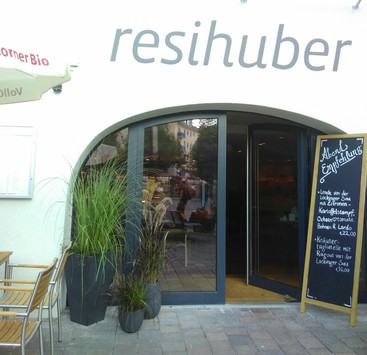 If you do not want to compromise at all when it comes to organic food and drinks find your way to Sendling: Former Bavarian-Italian restaurant "resihuber" went fully Italian and consequently changed its name to La Trattoria early in 2020. The place is run and backed by the founders of the local Vollcorner supermarket chain and can easily be reached by tube (stop Brudermühlstraße). Unfortunately they do no longer serve breakfast, instead you may also order pizza home or (at a small discount) to take away. The place is also a convenient choice before or after a concert at (or other visit to) the Gasteig HP8 concert hall and cultural centre, with truly Italian food and predominantly regional ingredients catering for all: vegans, vegetarians and meat lovers. After a concert or stroll at the Isar shore you may also step by for a high quality, fully organic drink, both with or without alcohol.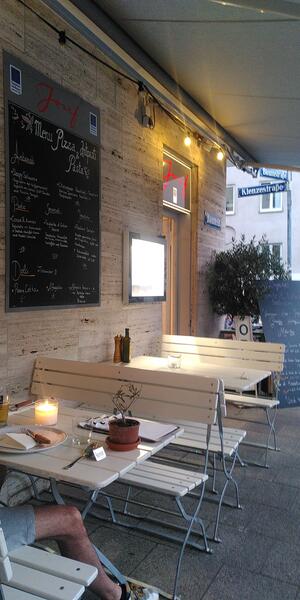 In 2023 the Trattoria got a sister restaurant, the Osteria Biologica Josef which, located in the Glockenbachviertel, is much better accessible from the inner city. During the summer everyone would sit outside in the so-called "Schanigarten", on white garden furniture in lieu of parking lots along the street. The Italian street feeling is matched by excellent food and drinks. An exciting selection of aperitivi and a relatively short menu offering pizza, salads, pasta, and few main courses ensure absolute freshness and tastiness. Most dishes are vegetarian or meat-based (all of them have full meal size), but there are also a few (fully qualified) vegan options – given the shortness of the menu these make up for a higher relative percentage than you may realise at first. As everything is organic, prices are rather up-market, but a delicious pizza with a gorgeous crust (at around 15 EUR) is sufficient for a very satisfying evening. The staff is cheery and helpful. During the colder season there will be brunch, too. Ring in to order a table during opening hours, especially on weekends I strongly recommend this as the online booking system seems to not cover all available tables.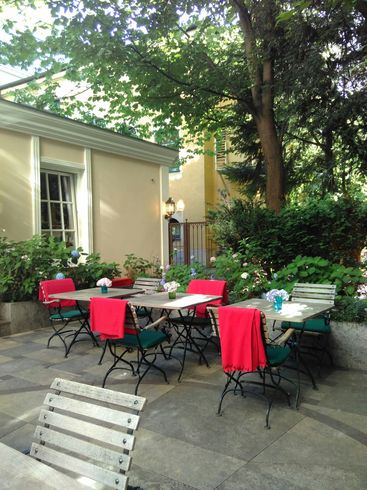 A hidden gem in very upmarket locations, quietly located in a backyard of Maximilianstraße next to the Kammerspiele theater is Max Trenta, a small Italian restaurant with an open kitchen where organic ingredients, often from small-scale farms, are frequently used, though neither promised nor advertised on the menu. Some of the courses are Italian dishes well-known outside Italy but since the friendly owner values the kitchen of his childhood his guests are so fortunate to taste Sardinian specialities like the fregula pasta type and the typical pane guttiau crisp bread which is served as an appetizer. Unfortunately these crackers tasted very bland, not comparable with the organic ones readily available in Munich's organic groceries. The extremely tasty and characterful natural open wines come from a Sardinian winery co-driven by one of the owner's relatives but aren't organically certified. In the summer you can sit outside where there's a little space for kids. Note that the kitchen closes already at 9pm.
Mediterranean/Oriental
No bosses and driven by consensus: Its unusual organization qualifies the Neuhausen based restaurant cooperative Ruffini for a recommendation on its own. Their Italian and Mediterranean food looks and tastes like mother's – it is prepared with love though without the ambitions of a trained restaurant chef. Although they cater for vegetarians and omnivores alike only meat and eggs are organic. Which is sad – the Imam Bayildi I had tasted bland as the eggplants did not have the concentrated flavour of organic ones. On the contrary their home-made croissants – organic or not – are without doubt worth a sin: You'll have to travel far to find equally full-flavoured ones, so take away (or come to shop at their bakery a few meters away). Have an organic ice-cream for dessert – during the warm season it's also offered to take away.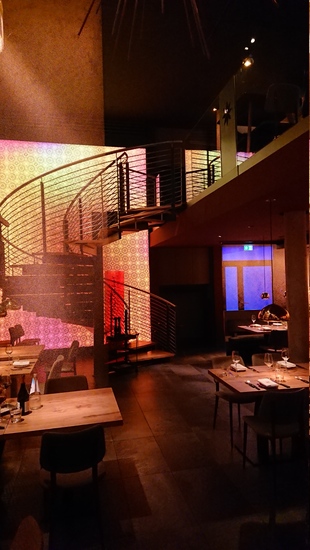 If you love the cooking books by Sam&Sam Clark of the London-based restaurant Moro (which I unfortunately have not had the opportunity to visit) or simply are in the mood for refined yet down-to-earth oriental mediterranean food head for The Spice Bazaar tucked away in a big void between the ticket office of the Bayrische Staatsoper opera house, the Spanish Instituto Cervantes and the Hofgarten garden. In the evening you often won't find a soul on the place before the restaurant, but when you enter a breathtakingly decorated space prided with gold and ornaments is welcoming you – not the bling-bling of an oriental bazaar, but its Bauhaus-inspired interpretation on two floors, the upper one an almost intimate but open gallery. All the meat is certified organic, and you can pick organic wines and soft drinks on the menu, but although many other ingredients most certainly are organic there's no promise to it. The menu and the staff encourage you to share your food with those you came along – in this case all dishes will be placed in the middle of the table and an empty plate will be put in front of each of you. Be warned: the servings here are generous and deliciously spiced so that it's easy to eat far too much. A main course – meat, seafood or vegetarian – with a side dish will satisfy a hungry eater, so rather order less and share, especially if you also opt for one of the tempting first courses. At my first visit we made the mistake of ordering too much (delicately spiced caramellised nuts and bread with gorgeous olive oil as starters for our hungry crowd) so that I cannot say anything about the desserts yet. Prices are upmarket, but if you take into consideration the quality and the quantity they are more than fair.
Opposite the "Osteria Josef" in the Glockenbachviertel you'll find Mary – or rather Das Maria. In fact the restaurant should be called "Maryam" as it specialises in mezze and food (and coffee) from the Maghrib and the Levante. Moreover it has been a famed breakfast spot for many years, serving oriental and orientally inspired occidental breakfast varieties throughout the day, on oriental dishes. The majority of ingredients, staples and drinks are organic and marked as such on the menu, either with an asterisk or with the "bio" keyword.
The place is quite small, so despite its very reliable opening hours and especially during the cold season when outdoor seating isn't an option pre-booking is advisable. Families with babies and toddlers should find a different spot for a family meal as there are no changing facilities, and both, changing and prams are not welcome inside the restaurant.
Japanese/Sushi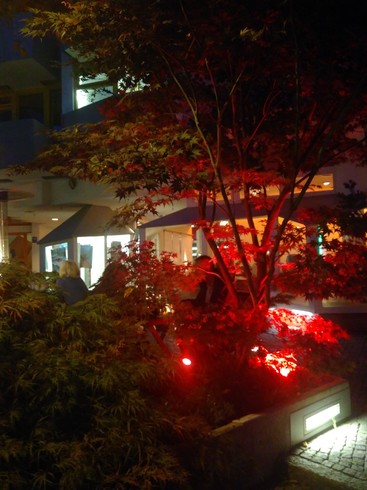 With the explosion of sushi take-aways you may have to kiss many frogs on the quest for sushi worth its name. Arguably one of the best sushi restaurants in Munich is the Sushiya Sansaro in the Amalienpassage backyard passage in Maxvorstadt, a three minutes walk from the Northern exit of the Universität tube stop. As you might expect from a restaurant with love for – in this case – Japanese – food they use some organic ingredients (eggs, spinach and pork for example), the soy sauce is organic and you can order organic beer, juice and some wine with your meal. The menu does not stop with sushi, instead you can get a good impression of the Japanese kitchen, both in its vegetarian and its meat-based variety. The place itself is pleasant but often crowded. If you cannot get a reservation do not dispair: You can also order by phone or online and step by to take away, or even better: Bring your own (bento) box, and wait while your sushi is being prepared.
Lebanese
See here.
Mexican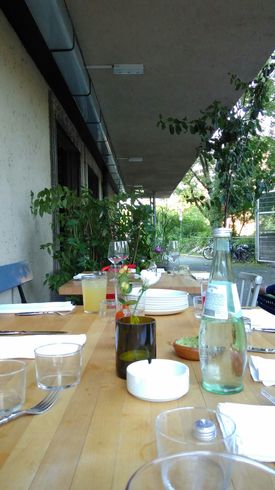 The latest enterprise of prominent Munich publican, club manager and cooking book author Sandra Forster, herself a vegan, is the Blitz ("lightning") club located within the entrance building to the Museumsinsel island housing Deutsches Museum, the congress hall finished in 1935, formerly used as a cinema. Attached to the club is a Mexican-vegetarian restaurant, with dancing skeletons in colourful costumes adorning the walls. During the warm season enjoy a sugar cane cocktail and yummy fajitas or quesadillas, on a peaceful terrace outside facing the river Isar. About 80 percent of all ingredients used in the kitchen are organic and – if possible – sourced from farms in the greater Munich area. Exotic ingredients difficult to find in organic quality usually make an exception. If you want to avoid eggs and dairy products (which come from animal-friendly farms) do not hesitate to request a vegan meal.
Vegan/Vegetarian
My favourite vegan place, the Gratitude in the humming University quarter of Maxvorstadt, once was fully organic except for alcoholic beverages. While in the beginning the food was simple – raw or inspired by ayurveda – and sometimes a little bland, the kitchen improved vastly over time, reaching the level of Munich's legendary first (though no longer existing) vegan restaurant Zerwirk. Around 2020 the place got into financial troubles, closed for refurbishment, and covid-19 did its job. Now it's back again, as The Gratitude Eatery, with international vegetable dishes, from Nigiri and Tempura to risotto and curries, using sometimes less, sometimes more organic ingredients. You can have organic beer, and there's also an organic white wine on the menu, but I love the place for its fairly priced and not too sweet cocktails (which unfortunately aren't organic).
Between Viktualienmarkt and Gärtnerplatz (i.e. no longer next to Isartor) you'll find Siggis vegan and fresh food, a 100% vegan place that from the outside looks like a coffee bar. In fact you can step by for a (cup) cake, vegan latte, organic coffee (in a recup.com retour cup if you're in a hurry) or partially organic sandwich but you may also stay and have lunch or dinner served. The kitchen uses a good deal organic ingredients for the quite casual menu offering pasta, sandwiches, bowls, and a few international main dishes. Most drinks are organic, though if you have a latte and specify your favourite vegan milk alternative be aware that the lupin milk isn't. Ask if unsure whether any of the ingredients are organic – the stuff is helpful and willing to enquire in the kitchen if they don't know. Note that the place is closed on Mondays.
An older vegan restaurant is the Max Pett near Sendlinger Tor, run by a former Zerwirk chef. Unfortunately it's only partially organic, which is probably why the kitchen does not live up to expectations. The place is 100 percent non-alcoholic.
My favourite vegetarian, vegan-friendly restaurant is the Blitz described above.
Vietnamese/Asian Fusion
Crisp and delicately spiced instead of greasy and cooked to death, this is how the Fei Scho eatery serves Vietnamese food with a Bavarian touch ("Fei scho" is a Bavarian dialect phrase indicating that the counterpart in a conversation should have known/done/recognised something already). The menu of the small place in the Glockenbach neighbourhood consists of a handful of rice and noodle dishes, as well as Vietnamese veg parcels. A few ingredients (namely eggs, chickpeas, and, during the summer, carrots, red cabbage, coriander as well as celery) are organic (unfortunately neither the meat nor the tofu), along with all the wines, the iced tea, the apple juice and the gin and tonic. For a while there was a second restaurant in Haidhausen with slow and forgetful service, but that's past.
La Bouche, Haimhauser Str. 8, Tue–Sat 17:30–24, order phone +49 89 265 626
Zum Kloster, Preysingstr. 77, Mon–Fri(Sat–Sun,PH) 11:30(10)–24
Klinglwirt, Balanstr. 16, Mon–Thu(Sun) 17(12)–23, Fri–Sat 17–24, pick up Mon–Sat(Sun) 17:30(12)–21
Alter Wirt, Marktplatz 1, Grünwald, daily 12–22, breakfast Mon–Fri(Sat–Sun) 6:30(7:30)–10(11)
Goldmarie, Schmellerstr. 23, Tue–Sat 18–23, Tue–Fri 12–15
Bapas, Leopoldstr. 56a, Mon—Fri(Sat–Sun) 10(9)—24
Miss Lilly's, Oefelestr. 12, Tue–Sun 10–18
Das Edelweiß, Edelweißstr. 10, Wed–Fri(Sat) 17(9:30)–23, Sun 9:30–18, order phone +49 89 649 137 80
Gans woanders, Pilgersheimer Str. 13, Mon–Wed(Thu–Sat) 10–23(24), Sun 10–21
Kaiser Otto, Westermühlstr. 8, Mon–Fri 11:30–15,17–22, order phone +49 89 21 01 96 97
The Potting Shed, Occamstr. 11 (entrance on Haimhauser Str.), Tue–Sat 18–22, order phone +49 172 799 0006
Hostaria Rò e Buni, Kaiserstr. 55, Wed,Thu,Sun(Fri–Sat) 18–23(24)
La Trattoria, Resi-Huber-Pl. 1, Sun–Tue(Mi–Sat) 12–22(23)
Josef, Klenzestr. 99, Fri–Sun 12–15, Mon–Thu(Fri–Sun) 17(17:30)–23
Max Trenta, Maximilianstr. 30 (backyard), Mon–Fri(Sat) 12–15(16:30), Mon–Fri 18–22
Cafe Ruffini, Orffstr. 22–24, Tue–Sun 10–24, the bakery/grocery shop next door is open Tue–Fri(Sat) 8:30(9)–18(17),Sun,PH 9–17
The Spice Bazaar, Marstallplatz 3, Mon–Fri 17–1, Sat(Sun) 15–1(22)
Das Maria, Klenzestr. 97, daily 9–23
Sushiya Sansaro, Amalienstr. 89 (Amalienpassage), Tue–Fri(Sat,Sun) 18(17:30)–22, order phone for take away: +49 89/2880 8484
Blitz, Museumsinsel 1, Tue–Sat 18–1
The Gratitude Eatery, Türkenstr. 55, Tue–Sat 17:30–22 (the bar may be open a little longer)
Siggis, Buttermelcherstr. 17 (no longer in Westenrieder Str. 37!), Tue–Fri(Sat–Sun,PH) 17(10)–23
Max Pett, Pettenkofer-Str. 8, Tue–Sun 11:30–23, kitchen closes at 21:30, Fri–Sat at 22
Fei Scho Glockenbach, Kolosseumstr. 6, daily 11:30–22
More to try
Of the following places I found testimonies and other evidence for use of organic ingredients, but I have not been able to verify them by a personal visit. If you get there let me know whether they should be listed here, and I'll do my best to eat there, too.
Greenwashed
An increasing number of Munich street festivals demands an organic certification of their food stalls: The Tollwood festival has been serving organic food only for many years while stalls at funfairs like the Oktoberfest and or the Auer Dult are required to offer at minimum one certified organic serving. Unfortunately some of the contractors comply only as long as they are forced to and do not even use a minimum selection of organic ingredients in their restaurants – a behaviour that potential guests of the following places should be aware of:
Ceased to exist
The following places shut down or were replaced by restaurants not using organic ingredients. So don't be confused when you find references to them on the web:
Arepas, Müllerstr. 44 (Venezuelan)
Cafe King, Müllerstr. 3 (vegan)
Daylesford Organic, Ledererstr. 3 (international)
Das Kranz, Hans-Sachs-Str.12 (gourmet)
Deli Dosa, Barer Str. 48
Emiko w/in Hotel Louis, Viktualienmarkt 6 (Japanese)
Kaede, Sommerstr. 41 (Japanese)
L'Amar, Pestalozzistr. 28 (Italian)
Moritz, Oefelestr. 12 (co-located restaurant Miss Lilly's is open during the day)
Picnic, Barer Str. 48 (Indian)
Refettorio, Marstallplatz 3 (Italian) – replaced by The Spice Bazaar
Salon Rouge by Tohru, Speicherstr. 20, Werk 12, 4th floor (fine dining)
Schneeweinchen & Rosenbrot, Breisacher Str. 23 (partially organic gastro bar)
Shibuya Fried Chicken, Hohenzollernstr. 5 (Tohru Nakamura's covid-19 take away)
Werneckhof, Werneckstr. 11 (gourmet restaurant)
Wood, Occamstr. 6 (clean eating)
Zerwirk, Ledererstr. 3 (vegan, gourmet)
1912 Restaurant & Bar, Schwanthalerstr. 36 (partially organic hotel restaurant)
Munich, Haidhausen, Maxvorstadt, Sendling, Schwabing, Werksviertel, organic, lunch, dinner, market, deli, coffee, hotel, accommodation, restaurant, Asian, Bavarian, French, German, Italian, Japanese, Mediterranean, Mexican, Oriental, Sardinian, Vietnamese, vegan, vegetarian] Link