The Bohemian kitchen serves a lot of (conventional) meat, and vegetarian places usually do neither use organic ingredients -- eating out can be quite a challenge in beautiful and historical Prague. My favourite restaurant from many years ago unfortunately does no longer exist, so I had to start almost from scratch, and my time in the city was limited. The good news: You have no longer to be a strict follower of a wholefood diet if you prefer organic food. But compared with capitals of neighbouring countries there's still a gap to close.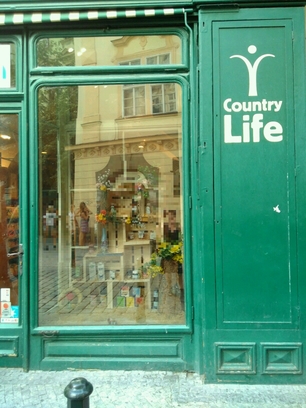 Daily necessities
Founded in the 1990-ies the organic grocery Country Life has developed into a small organic supermarket chain since. The shops still look like small health food shops and concentrate on wholefood, but provide you with a sufficient selection of fresh and dry organic food, dairy products as well as vegan alternatives. Bread, rolls and pastries bought by the piece as well as fruits and veges aren't pre-packaged, and there is a good selection of dry food available from zero-waste dispensers, so come with your own bags and containers. Note that, except for the one in the old town, all Country Life shops are closed both, on Saturdays and Sundays, and all of them close as early as between 6 and 7 pm.
While fully organic supermarkets haven't taken off so far there's a increasing number of package-free groceries. However, only a smaller part of the products at these "bezobalu" are organic, so even here you have to watch out for the "bio" labels. Since my stay in Prague has been limited to a weekend I don't have reviews to offer, just had a glimpse at the shop windows of Jelen next to the Organic Sushi restaurant in Nusle where you can find dry food, herbs and spices, natural body care and more in a pleasant location. There's also a small chain of zero-waste shops simply dubbed Bezobalu.
As in other parts of Czechia you will also find a number of franchises of the German DM chemist's chain which will provide you with a good selection of organic dry goods and natural bodycare. Their own brands "DM Bio" (food) and "Alverde" (body care) are affordable even if your budget is tight.
In a meat-loving place like this I hoped to find an artisanal butcher's shop offering high-quality organic meat from ethical husbandry. The nearest I came is Naše maso ("Our meat") in Josefov (in the same boring mall like My Raw Cafe) which indeed is an artisanal butchery sourcing the animals from Czech farms keeping traditional breeds and using them from nose to tail -- but whether the animals are kept and slaughtered according to organic and animal-welfare principles I can't say (the shop was closed when I was there).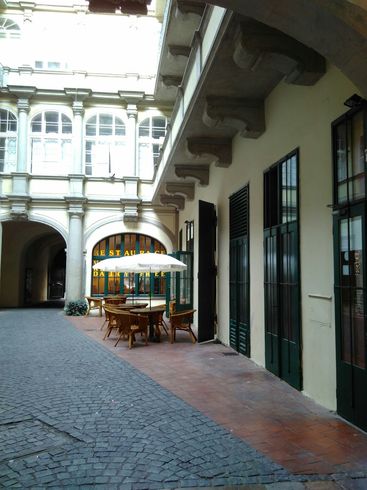 Eating out
If you found the Country Life grocery in the old town, Stare Mesto, head into the small alleyway to its left, where you find Prague's eldest still existing organic restaurant, the Restaurace Country Life. The interior resembles a typical Czech beer restaurant, and the place serves hearty Bohemian food indeed, however all vegetarian and dairy-free. Note that this self-service place -- just like the grocery -- is closed on Saturdays.
There is also an eatery on the premises of the Country life shop in Dejvice (Mind the quite restricted opening hours), and the convenience store in Jungmannova street will provide you with snacks.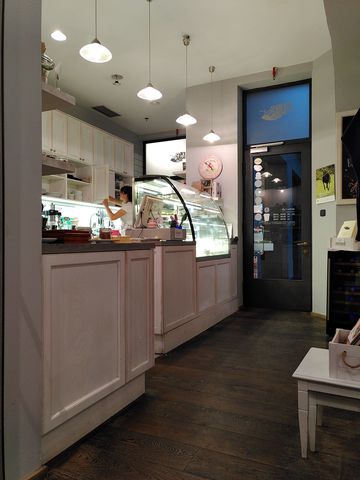 Maybe as a result of the meat-centric Czech cuisine Czechia has a thriving raw-vegan community, with successful producers in this niche sector. In Prague there's a number of raw vegan cafes, one of them My Raw Cafe in Josefov, located in a rather uninviting new mall. Don't be fooled -- despite the deserted feel of this mall on a Sunday it's open every day. While the personnel is kind service was extremely slow: All food is prepared while you wait and this can take a while even when the space isn't filled to the brim. The food was made with quality ingredients, some of them organic, but supporting the health food cliche of vegan raw: my Thai soup wasn't spiced at all tasting like pure coconut milk with curcuma and a few veges. My favourite: the Bohemian-style avocado tartar with raw bread which was exactly as umami-sour as its properly made meat equivalent.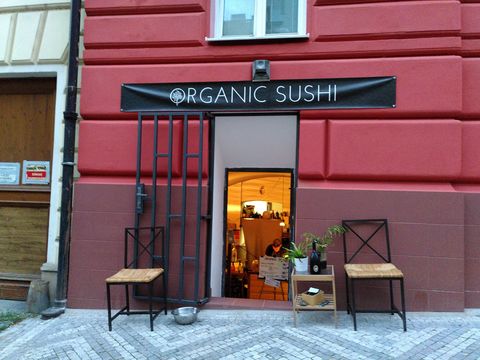 My favourite restaurant is located off the tourist tracks, in the neighbourhood of Nusle, east of the Vyšehrad viewpoint over both, the city and the Vitava river. In a street with nicely restored bourgeois houses and sett pavement you'll find Organic Sushi, run with love for pure, unadulterated food. The comforting sushi comes nicely arranged on granite plates and is of highest quality, perfectly accompanied by the home-made matcha lemonade. The place is located in the basement and pleasantly decorated in lounge-style, perfect for unagitated conversation with friends or a romantic evening out.
Restaurants in the Jewish quarter naturally cater towards the culturally interested touristic clientele, and among the finer dining restaurants I'd expect a certain usage of organic ingredients. Promises for organic meat and pasta I found on the menu of established kosher restaurant King Solomon offering meat-centric traditional Ashkenazi food (which I haven't tried so far) and (for organic meat) at La Veranda. The Italian and French inspired kitchen here uses regional ingredients and serves good-quality, though neither exceptional nor exciting cuisine. The service was satisfiying, the staff nice (though not especially knowledgeable) and since the restaurant was quite empty in the covid-19 summer of 2020 we had a generally pleasant dining experience. Unfortunately there were no organic drinks available.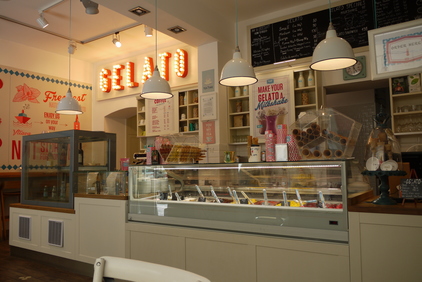 Coffee and ice-cream
For the hip coffee bar cum ice-cream parlour head for one of the Puro shops in town who decidedly do not sell "zmrzlina" (ice-cream in Czech) but Italian-style "gelato". The one nearest to tourist tracks is located two street corners from tube stop Staromestska, where you almost cannot miss the red-white checkered window front which hides a pastell-coloured self-service cafe. Queue, order, pay and pick up your certified kosher ice-cream made from organic milk. A small scoop (one flavour) comes at 50 crowns, a medium one (two flavours) at 90 crowns. If you ordered coffee drinks, milk shakes made with organic milk or cakes they will be served later on the seat you choose. Coffee and chocolate unfortunately aren't organic, only certified by the Rainforest alliance, and it is not quite clear whether the shop also uses the organic brown sugar which is on sale as the sugar served with the coffee is not organic.
Fair&Bio obchod in Florenc for a fairly traded, organic coffee drink. The place is a classical fair-trace shop offering dry food, sweets, coffee, tea and spices as well as handicraft made by co-operatives.
A small selection of organic ice-cream flavours can also be had from a franchise of the upmarket French ice-cream company Amorino in Malá Strana, e.g. after you decent from the castle.
Restaurace Country Life, Melantrichova 15 (backyard), Mon–Thu(Fri) 10:30–19:30(18), Sun 12–18, during covid-19 restrictions take-away only Mon–Fri 10:30–15
My Raw Cafe, Dlouhá 39, Mon–Sat(Sun) 9-21(18) during covid-19 restrictions take away only Mon–Sat(Sun) 9–20(18)
Organic Sushi. Mečislavova 223/8, Mon–Fri(Sat–Sun) 11(16)–22, during covid-19 restrictions take-away/delivery daily 12–22
La Veranda, U Svatého ducha 10/1, Mon–Sat 12–23
Country Life, Melantrichova 463/15, Mon–Thu(Fri) 8:30–19(18), Sun 11–18
Country Life, Jungmannova 1, Mon–Fri 8:30–18
Country Life Letna, Korunovační 310/2, Mon–Thu(Fri) 7:30–18:30(18)
Country Life Francouzska, Francouzská 835/29, Mon–Thu(Fri) 8:30–18:30(18)
Country Life Vinohrady, Vinohradská 2022/125, Mon–Thu(Fri) 8:30–18:30(18)
Country Life Brevnov, Bělohorská 1685/80, Mon–Thu(Fri) 8–18:30(18)
Country Life Dejvice, Čs. armády 30, Mon–Thu(Fri) 8:30–18:30(18), bistro open Mon–Thu(Fri) 10–18(16)
Country Life Karlin, Sokolovská 93, Mon–Thu(Fri) 8–18:30(18)
Jelen besoba, Mečislavova 225/10, Mon–Fri(Sun) 9(15)–19
Puro, Kaprova 15/11, Mon–Sat(Sun) 10–22(21), Oct through Apr daily 9–21
Puro Vyton, Na Hrobci 410/1, Sun–Thu(Fri) 10–21(22), Sat 9–22 (May through Sep), daily 9–20 (Oct through Apr)
Puro Vrsovice, Rybalkova 182/29, May through September Mon–Fri(Sat–Sun) 13(11)–21(20), Oct through Apr Mon–Fri(Sat–Sun) 12(11)–19
Fair&Bio obchod, Sokolovská 29, Mon–Fri 12–18
Amorino Malostranské náměstí 38/24, Mon–Fri(Sat–Sun) 8:30(9)–22
More to try
During my research I found the following places that seemed likely to sell or serve at least partially organic food and drinks, but I did not have the time to check them out myself. If you do I'd appreciate if you let me know whether they actually do so!
Biostyle, Svatoslavova 27, Mon–Wed(Fri) 11–18(17), Thu 9–20 (organic grocery in Nusle)
Bezobalu Radhošťská, Radhošťská 2278/1, Mon—Fri(Sat) 8(10)–20(18), Sun 11–17
Bezobalu Florenc, Sokolovská 351/25, Mon—Fri(Sat) 8(10)–20(18), Sun 11–17
Bezobalu Hradčanská, Pod Kaštany 5 (Dejvice), Mon—Fri(Sat) 8(10)–20(18), Sun 11–17
King Solomon, Široká 8, during covid-19 restrictions take-away and delivery Tue–Fri,Sun 12–17
Cafe Sicily, Senovážné namesti 2, Mon–Fri 8:30–22, Sat(Sun) 10(11)–21, during covid-19 restrictions from Dec, 18th 2020 Mon–Fri 10:30–20
La Farma, Čáslavská 2027/5 (no longer at Korunovační 17), Mon–Sat(Sun) 11–23(22)
BeMakroBio, Moravska 34, Mon–Fri 11:30am–3:00pm (partially organic macrobiotic and vegan lunch cafe; bring your own containers for take-away)
Where to stay
Want to stay in an eco-conscious place and wake up to an organic breakfast? I have to disappoint you -- so far I haven't been able to spot a hotel or hostel that I full-heatedly can recommend. However, here are my learnings: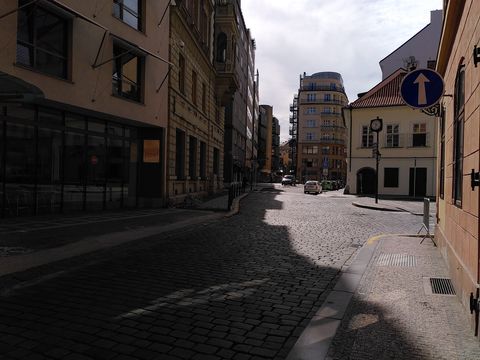 On their website the design hotel Josef in the city centre announces partially organic breakfast, but since I stayed there while covid-19 hygienic restrictions were in place I cannot report whether the regular breakfast buffet in the impersonal business breakfast room usually contains organic items. Breakfast was served instead at their newly renovated sister hotel Maximilian. Here nothing was organic, not even the eggs. When I asked for my cappucchino with organic milk I got one probably made with oat drink, but since I wasn't able to spot the package I cannot say for sure whether it actually was an organic variety -- for most people in Czechia the word "organic" seems to include conventional vegan. At the Josef hotel bar The Duke organic dry gin was the only organic option.
If you prefer to stay a little out of town Hotel Adalbert located in a former baroque monastery claims to be an eco hotel but confirmed not to serve any organic breakfast items. Ask for it in the hope that customer demand may have the power for change.
Ceased to exist
The following places are temporarily closed, shut down or were replaced by other, not organic ones, and are listed here as you still find them on the web:

Prague, Praha, Prag, organic, vegetarian, vegan, kosher, zero_waste, cafe, grocery, supermarkets, coffee, ice-cream, snacks, lunch, bodycare, household, hotel, accommodation, eatery, covid, corona] Link