Going wild in the maze of Venice in search for organic food, drinks, or the forgotten natural sun screen can be a real downer, so it's best to know where to head.
Fortunately the odd Coop supermarket has a reasonable selection of organic (though usually pre-packaged) fruit and veges, drinks, cookies and food. This may save your life, especially since they usually keep open on Sundays.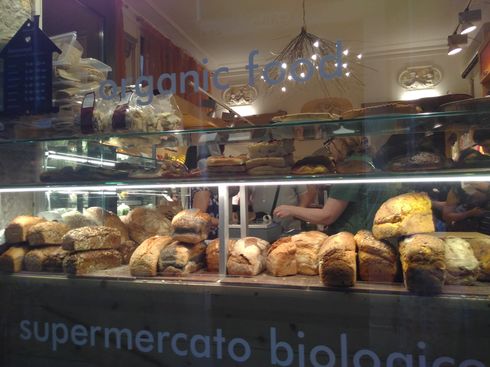 To spot one of the three long-established independent organic convenience stores in the maze of the city's beautiful old houses may be more difficult. Two of them are now affiliated under the Cuore Bio label of Italian organic supermarkets, and the one formerly known as Rialto Biocenter is now a NaturaSi branch. Here you will also find organic bodycare, sun blockers, eco-friendly detergents and more. The NaturaSi near Rialto also stocks fresh bread and other sweet and savoury bakery items as well as unpackaged fruit and veges, sufficient to provide you with a decent picnic supply. On the other hand the Naturalia shop in Dorsoduro not far from the train station isn't suitable if you really are in the need for food.
If you're looking for an eatable or drinkable souvenir pay a visit to Pantagruelica, a crammed delicatessen at the western end of Campo San Barnaba. It stocks mainly certified organic items and food at least partially produced adhering to organic principles. If departing the waterbus at Ca' Rezzonico stop you can't miss it when following the only way into the open of the square and keep an eye on the left side. The shopkeeper can be a little annoying with his ever almost identical rants on the quality of his products, but he doesn't mind being cut short, and instead being drawn into a real chat.
Coop, Cannaregio, 3660 Mon-Sat(Sun) 8:30(9)-22
Coop, Castello, 6576d, Mon-Sat(Sun) 8:30(9)-20(13)
Naturalia, Sestiere, 3525, Dorsoduro, Mon-Sat 9:30-19:30
La Serenissima, Calle dei Fuseri, 4328 / Corte Coppo, 4350 , San Marco, Mon-Sat 9-19:30
NaturaSi Rialto, Calle della Regina, 2264, S. Croce, Mon-Sat 9-20
Pantagruelica, Campo San Barnaba, 2844, Mon-Sat 10-20
More to try
Venice, Venezia, biologico, organic, deli, supermarkets, grocery] Link