Apart from the omnipresent fast fashion stores of H&M and C&A where it is, according to Greenpeace's Detox Catwalk, morally acceptable to buy cheap organic clothes, Nuremberg offers a selection of concept stores of smaller independent fashion labels with sustainable approaches. Although very different they have something in common: awareness for the environmental and social impact of fashion right from the start, durable products eco-consciously made in Europe, and slower fashion cycles. Of course, all of them sell online as well.
For streetware and young designer labels opt for Glore north of Weißer Turm, on your way downhill to the river Pegnitz. This is the place to look for fresh, exciting styles and vegan fashion, both, for men and women. All items on sale are certified, bearing trustworthy organic and fair-trade labels. They also have a small range of organic bodycare on sale.
Colourful ethno-inspired clothes for women, predominantly made from organic materials can be found at Gudrun Sjödén at the eastern end of Josephsplatz. The Swedish designer is an eco fashion pioneer, and presents her collections on models of all ages. Apart from clothes you will also find home textiles.
A few steps away in north-eastern direction, south of Karlsbrücke you'll find Deerberg, a concept store of a family-run business which started as a mail order firm for sustainably produced shoewear. Since they have been extending into clothes for women sustainably made in Europe which is the focus of the store. Unfortunately there are few organically produced textiles, and the styles are comparatively boring, but the shoes are worth a look as long as you do not shun leather.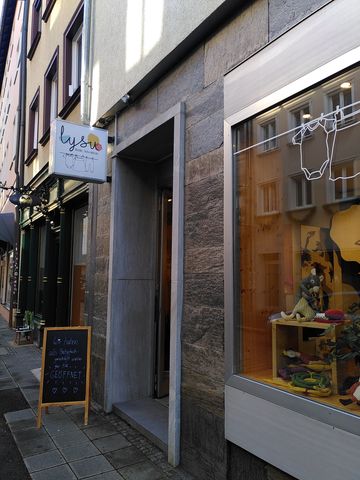 For children step by Lysu, a cosy specialised shop offering fairly traded clothes, toys and accessories made from organic and natural materials for babies, toddlers, pre-school and elementary school kids. The shop is tucked away in Obere Wörthstraße, on the southern shore of the river Pegnitz, opposite the Trödelmarkt island. Like many other small shops also this one is closed on Mondays.
Closed for covid-19 pandemic
Nuremberg, organic, fashion, shoes, fair, vegan, bodycare, shopping, covid, corona] Link