Organic wholesale in the capital of Saxony (which is governed by a red-red-green coalition) used to be dominated by the local economy, but since the oldest organic supermarket in town, Biosphäre, became part of the nation-wide Denn's chain in 2018, the picture has been resembling the one in other German metropolises: The market is devided between two local actors, a regional one and two of the nation-wide operating grocery chains, with a hand-full of smaller corner shops filling niches.
The largest density of organic supermarkets can naturally be found in the vibrant Wilhelminian style quarter of Neustadt north of the river Elbe with its -- gentrification aside -- still predominantly left-wing population of artists, students, activists, tourists, hipsters and bourgeois green-party voters.
Neustadt
It hasn't been always this way, but walking the old streets of Innere Neustadt with open eyes will present you with an abundance of shops and eateries boosting of vegetarian and vegan products. Many of them use organic produce, but won't advertise it -- partially because they blend with conventional products, and use of organic ingredients will vary, partially in fear of being prejudged as expensive. Fortunately it is nowadays easier to find an organic supermarket in this neighbourhood than a conventional one, so if you're tired of asking just walk to the next crossroad, and there you are.
The former Biosphäre markets are located here: the older one on Königsbrücker Landstraße opposite Schauburg theatre, and an even larger one in Alaunstraße a few metres from Albertplatz which replaced a conventional supermarket. Both have a self-service area where you can have coffee, cakes, pastry, sandwiches at any time of the day, and soups for lunch. Students are entitled a 10 percent discount on Wednesdays.
Berlin-based organic supermarket chain Bio Company has a branch a little south along the tramway tracks on Königsbrücker Landstraße. Just like the Denn's branches it closes at liberal 9 pm.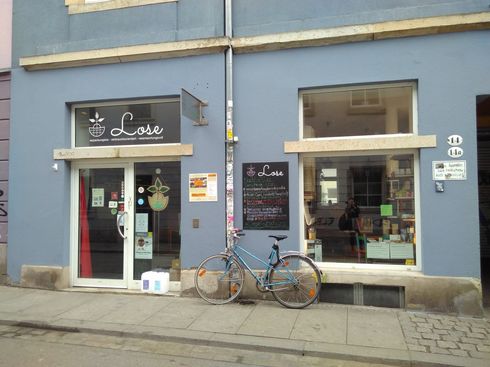 If you despair in face of the piles of plastics and paper wrappings you've been collecting while doing your regular shopping, re-use your glasses, containers and bags and refill them at Lose, a cosy zero-waste corner store in Böhmische Straße. You will be charged by weight. They do not limit themselves to selling dry food but offer veges and have a cheese counter as well. Since not everything is organic be careful to check the labels on the suspenders for the bio keyword or ask. The coffee corner is a nice place to recreate while your kids are busy in the playing corner. Mind you: like other zero waste shops they do not illuminate their window front, so be brave to try the door handle -- the place looks quite dark even during opening hours.
Altstadt
With the train stations as landmarks you can't miss your way to the next organic supermarket in the heart of the city: The Vorwerk Podemus grocery beneath track 3 in the eastern aisle of the central train station, Hauptbahnhof, is the only Sunday-open organic supermarket in town, with early and late opening hours. They will also sell you a coffee drink and sandwich to eat on the spot or to take away.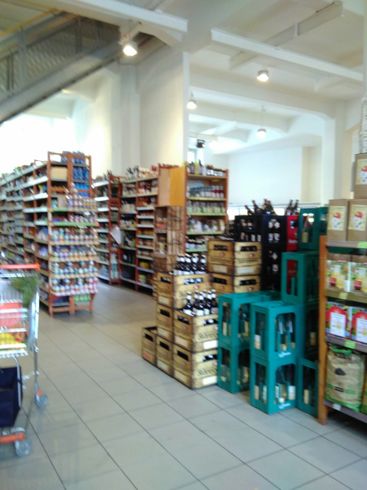 Bahnhof Mitte train station is your second chance: Here the VG Biomarkt, an organic cooperative opened an entire organic warehouse on the premises of a former newspaper printing plant. Standing back from the main street the first floor is occupied by an organic convenience store supporting your zero-waste efforts: Apart from buying pre-packaged items, fruits and veges you can also fill dry goods into your own jars. On the second floor there's a well assorted organic fashion store mainly for babies, children and women, with a section offering organic body care, household chemicals, sustainably produced toys, stationary and more. For members prices are lower, but the warehouse is open to everyone.
On weekdays the bistrot directly facing the street offers delicious lunch (only snacks on Saturdays), and there's a cafe cum bakery shop featuring young local artists which (except on Mondays) opens half an hour before the supermarket itself, and closes at 7 pm on weekdays. Watch out on Mondays: The shop including its bistrot opens at 1 pm this day. Opening hours on Saturdays before Christmas are extended to 4 pm.
The Denn's Biomarkt chain not only took over the two former Biosphäre markets in the Neustadt but also opened a new supermarket within the Altmarktgalerie shopping mall.
Striesen, Blasewitz, Loschwitz, Johannstadt
VG Biomarkt also has branches in the neighbourhoods of Neustadt (Hechtviertel), Striesen, and Loschwitz, of which the one in Hechtviertel including its bistrot is members only.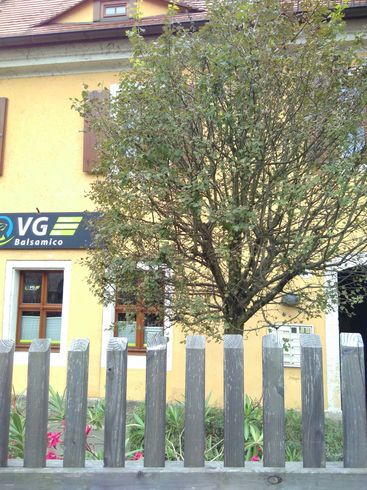 The Loschwitz branch dubbed VG Balsamico is conveniently located opposite the downhill station of the cable-run suspension railway ("Schwebebahn") next to Körnerplatz at the northern end of Blaues Wunder ("blue wonder") bridge.
On the other side of the bridge, south of the river Elbe, local butcher's chain Vorwerk Podemus has one of its pleasant wholesale supermarkets. First address for shortly travelled organic meat of animals which had a decent life. They also have branches in the neighbourhoods of Gruna, Neustadt, Alttolkewitz as well as a farmshop.
Another option in the neighbourhood of Blasewitz is the second Bio Company branch in town. Just like in the Neustadt branch the bakery disk caters for the early bird from 7:30 am.
The only branch of a nation-wide operating organic grocery chain so far is Alnatura on tram hub Straßburger Platz which many locals still refer to by its old name from GDR times, "Fucikplatz".
Bühlau, Weißer Hirsch
To find fully organic groceries on top of the hillside North of the Blaues Wunder bridge, in the elegant residential area of Weißer Hirsch and adjacent Bühlau interestingly proves to be more difficult. What I found instead was the shop of a small-scale vegan manufacturer, Vegannett (a pun made of the words "vegan" and "nice", while the second part of the name also refers to the name of the owner-founder, Annett). On the premises of a former partially organic butcher's shop she prepares vegetable spreads which you can buy in many of the aforementioned supermarkets. But if you happen to be there on a Wednesday afternoon, pay a visit, taste and shop. In addition to the spreads you can also buy local honey.
Klotzsche
If you fancy a stroll in the woods of Dresdner Heide or are on the way from or to the airport make sure to have sufficient time to visit the beautifully restored historical train station Klotzsche with its Vorwerk Podemus supermarket and the organic station restaurant, both catering for the early bird.
Closed down
The following (partially) organic supermarkets do no longer exist although you will still find references to them on the web:

Dresden, Neustadt, organic, supermarkets, grocery, eatery, lunch, snacks, coffee, zero_waste, vegan, trainstation] Link