The epicentre of co-operative organic agriculture in Bavaria is surely the small town of Dorfen in the municipality of Erding, within half an hour easily reachable by local train from Munich. Departing from Ostbahnhof train station you can take your bike with you once per hour to reach a small Bavarian town that has been the home of the organic Tagwerk co-operative of local organic farmers since 1984 and prides itself to be a bee-friendly municipality. Though finally in vain a significant part of the population had been standing united against the environmentally harmful federal state infrastructure project of the A94 Isentalautobahn for about 40 years and is currently opposing the plans for the new B15 highway of the Bavarian state government.
The train station in Dorfen is the starting point of the Veldenbahn bicycle route (as part of the Vilstal bicycle route) on the rail trail of the historic line linking Dorfen with Velden (Vils).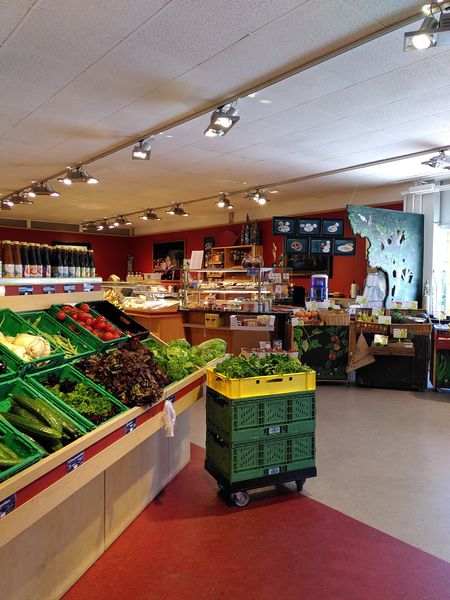 To get from the train station into the beautiful town you have to surpass the hell of highly frequented Jahnstraße, and right before the nice and pedestrian-friendly bicycle route starts you may stop by the Tagwerk-Laden supermarket which demonstrates how a faceless interchangeable supermarket building in a car-centric environment may be turned into a human-friendly place. Usually this spacious organic supermarket with friendly employees and a relaxed atmosphere not only offers a lot of organic products from the region but also coffee drinks, snacks and cakes in its self-service cafe area, but unfortunately not during covid-19 restrictions. From mid of September 2020 they plan to offer lunch again each Thursday from 12 pm.
From here follow by all means the bicycle route through the beautiful alley of Bahnweg where you'll come by an art&crafts shops offering all kind of things made from the exceptionally aromatic wood of the Swiss pine ("Zirbe"): Das Aromaholz Zirbe keeps open on Thursdays, Fridays and the first Saturday of each month.
When you arrive in town on one of these weekdays pay a visit to Power Plant Ape for music, skateboards, and fair and organic fashion. The shop also used to stock the emission-free organic chocolate delivered by the Schokofahrt cyclists.
The shop is located in baker's lane, and there is in fact an organically certified artisanal baker just around the corner: The flour used by Martins Backstube is daily ground from the corn of Tagwerk farmers. As for most modern bakeries there's a day cafe where you can have a coffee, cake or snack, and if you cannot make it here do not dispair: As many other Tagwerk products you can buy their bread from all Vollcorner supermarkets.
For fairly traded food, sweets and drinks, natural body care as well as colourful fashion accessoiries, gifts and household items pay a visit to the Fair-Weltladen in the very town centre. As most of its kind it's run by local volonteers which makes it the perfect place for a chat with locals.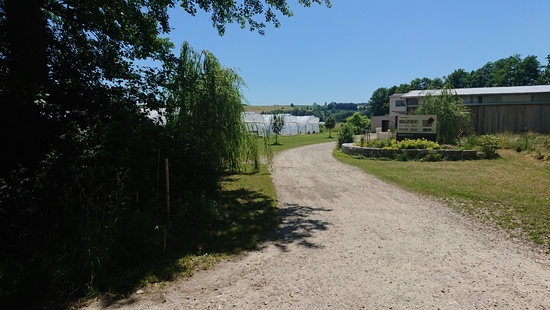 Bypassing the very town centre for a bicyle tour on the Skulptour II bicycle route which links seven wood sculptures commissioned by local artists in 2015, you'll reach Biogärtnerei an der Isen, a beautiful organic market garden. The place doesn't have a farm shop but in June and early July you can come here to harvest yummy organic strawberries from their strawberry field (the official 2021 season unfortunately is over, but if you have time to harvest some late berries, ring in advance). To buy their produce step by the Bauernmarkt farmers' market which is being held every Friday in Dorfen town - or find their market booth in Munich, at Mariahilfplatz on Saturdays and at Rotkreuzplatz on Thursdays.
Tagwerk-Laden, Rosenstr. 1, Mon–Thu(Fri) 8–19(16)
Biogärtnerei an der Isen, Watzling 21, Mon–Sat in June 10–16
Bauernmarkt, Forsterstadl, Flutkanal, Fri 11:30–16
Power Plant Ape, Bäckergasse 1, Thu(Fri–Sat) 15(10)–18
Das Aromaholz Zirbe, Bahnweg 4, Thu(Fri + 1st Sat of month) 15(9)–18(12)
Martins Backstube, Haager Str. 2, Mon–Fri(Sat) 6–18(13), cafe closes at 3 pm during covid-19 restrictions
Fair-Weltladen Duka, Rathausplatz 7, Mon–Fri(Sat) 9–18(12:30)
Closed
The Tagwerk co-operative run a low-budget family and bicycle friendly hotel just a few steps from the train station but since they re-organized and moved the Tagwerk wholesale activities to a bigger location in Garching it does no longer exist although you still find the place mentioned on the web.

Munich, Dorfen, Tagwerk, organic, fair, market, fashion, cycling, farms, accommodation, supermarkets, bakeries, coffee, lunch, snacks, Skulptour, Skulptour_cycle_route, Vilstalradweg, Vilstal_cycle_route, Veldenbahnradweg, Veldenbahn_cycle_route, covid, corona, fair] Link