For an organic or at least partially organic lunch you have far more options than full-fledged restaurants or cafes with lunch options: There are a lot of eateries mainly catering for people working or studying nearby, shopping or travelling. You order your food and drinks at the counter, pay and find a place to sit down with your tray. However, if you come off the peak hours you will often be served, or the staff will offer to bring your coffee to your table after you finished your meal.
Just a few years ago this type of eating opportunity was almost exclusively offered by owner-run organic groceries, usually taking the form of hearty vegetarian wholefood and sandwiches. Nowadays it's a much more volatile market -- hip places come and go more frequent than in other categories. Many of them have opening hours matching those of the cornershops – closed on Sundays, in the evening, and often also on Saturday afternoons.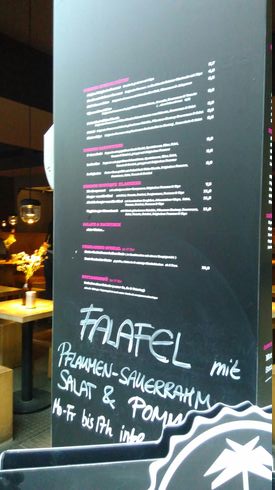 Near the university (Maxvorstadt)
The streets near the university buildings in Maxvorstadt are a natural place to look for places offering organic food, and they've seen a lot of shops popping up and closing down. Two long-established, though very different eateries are worth a try, both located in Amalienstraße: the Mutter Erde grocery offering vegan meals and the Pommesboutique grill. The latter was one of the first places in town to take no compromises with regard to meat, but it is following a more laissez-faire approach when it comes to the veges and condiments. So you have to ask about the origin of the latter if you care. All the sausages, burger patties, köfte and other (minced) meat come from an organic farm in the vicinity, and you can choose from a huge range of sauces. If you prefer your fries chewy – this is the place for you. Sometimes the tables are a bit too greasy for my liking, but with a little luck you come along when they have live music.
If you prefer your meat the Mexican way walk around the corner into Schellingstraße for Pureburrito, the second branch of a small climate-neutrally cooking local fast food chain serving burritos, tacos, and quesadillas. Unfortunately only pork and beef are organic, not the chicken, and you will find organic softdrinks of the Bionade brand in the fridge. There's another branch (much) farther up the street, near tube station Theresienstraße. All Pureburrito branches are closed on Sundays.
City centre
To find organic food late on an evening out is a challenge in itself – night birds usually do not tend to be picky about the origin of calories at this hour. But if you enter the party zone Sonnenstraße (or spend an evening in one of the cinemas) the Bikini Mitte deli and bar comes to the rescue, conveniently located opposite a petrol station. During the day it's a decent, partially organic eatery offering bowls and sandwiches, usually made with organic veges, alongside organic soft drinks of the Proviant and Charitea brands. Bread and meat (apart from the occasional pulled pork) are not organic. Apart from Sunday the place keeps open until midnight, catering until the early hours Thursday through Sunday, and since the bar stocks locally produced organic gin, wodka and amaro (alongside a wide range of conventional spirits) your drinking can always be responsible. The place may be known as "Bon Valeur" to locals as this is its former name (and the name of the company running it).
Just a few steps away, you'll also find the newest Pureburrito branch in the basement of the Stachus-Passagen mall.
The multi-cultural quarter in the vicinity of the central train station with its special mixture of electronic and immigrant shops should be the natural place to find organic food from the Levant, but only in 2020 a happy crowd of young Bavarian chefs with different roots opened Servus Habibi, a pita, hummus and falafel place cum (outside corona) bar serving organic meat and home-made pickles. Unfortunately none of the drinks are organic. Note that the place is closed on Wednesdays. If you are in the mood for falafel on this weekday try Beirut Beirut in Sendling.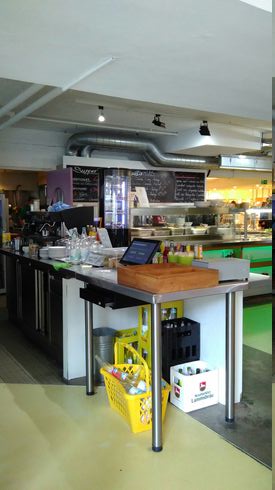 Another organic institution of old is Leo's Organic Kitchen near Isartor. It started as "Basic Bistro" in 2010, changed its name to "Byoo" when the organic supermarket on the first floor opened its own self-service eatery and changed it once again following its 10th anniversary, but the general the concept has not changed much since. So climb the stairs to this 100 percent organic place run by a friendly Vietnamese family, their extremely tasty, perfectly spiced (vegan) Saigon soup is worth it! Vegans, vegetarians and omnivores are all catered for with a happy fusion cuisine, often with an oriental touch. If you can't decide for one of the usually two soups and six main courses on the daily changing menu you can still pick from the antipasti and salads bar. A family-friendly place they will happily heap a helping of a side dish on your plate if you ask. They usually do not offer dessert, but you can have a freshly squeezed smoothie or an Italian-style coffee and cake, or simply a freshly brewed mint tea made from fresh herbs. Bring along your own jars if you you wish to take your food with you.
When taking a stroll through the Viktualienmarkt market gourmet restaurants like the Tian aren't your only lunch option: A few steps away (opposite Schrannenhalle) you'll find Yum 2 Take, an (evening open) Thai eatery and take-away serving organic meat.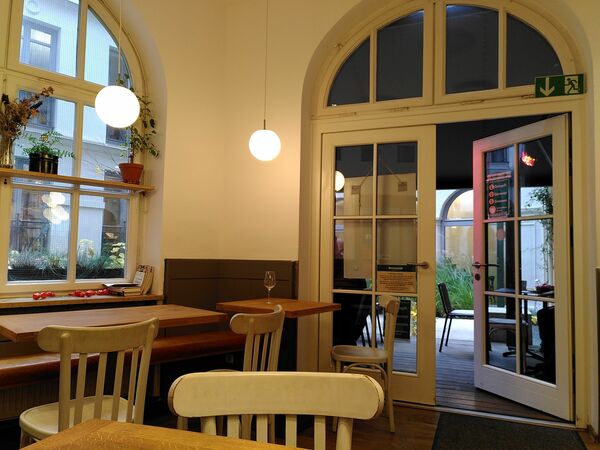 Hearty, fully organic German lunch is being served at the Bistro ÖQ in the back of the Virtualienmarkt branch of the Herrmannsdorfer Landwerkstätten organic butcher's. Usually you will be waited but better keep your eyes open whether it seems more appropriate to order directly from the open kitchen and at the end go and pay there. Naturally this is a place for omnivores and meat-lovers but there's always a tasty vegetarian dish available. The kitchen draws both, from German and Italian countryside kitchen traditions, serving mouth-watering risotti and pasta dishes as well as a piece of meat or fish with side-dishes, following seasonal availability and properly prepared. For the real Munich experience do not miss their potato salad (not suitable for strict vegetarians, though)!
Carnivores and beer-lovers are also catered for a few steps away, in the mumble-jumble of Viktualienmarkt: The market stall of Kleiner Ochs'nbrater ("little ox grill") serves Munich fast food specialities, which naturally means beer and meat. Have a Leberkäs (meat loaf), sausage or pork roast (Schweinebraten) – (except for the beef and some side dishes) it's all organic, locally sourced and tasty – as are the Brezn (pretzel) and the drinks (beer, wine, softdrinks). It can be difficult to find a place to sit down, so watch out before you order a dish on a plate. Even though the Viktualienmarkt is a tourist hot spot, it's one where tourists and locals mingle (opposed to e.g. the legendary Hofbräuhaus). On nice weather days the grill may keep open a little longer than 6 pm. Note that it is closed both, on Mondays and Sundays.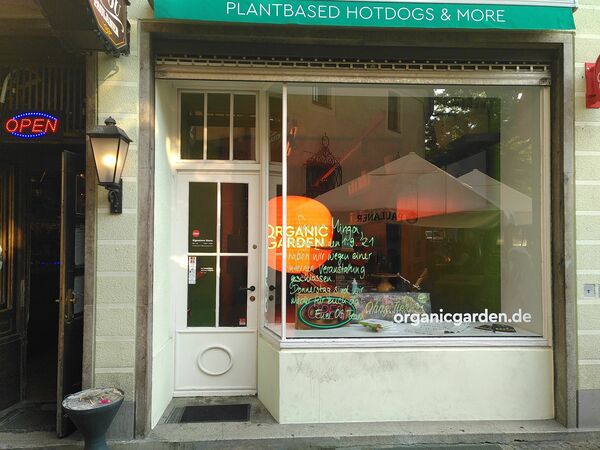 Vegan hotdogs you'll find a few steps off Viktualienmarkt, in the small lane behind Heiliggeist church: At the Organic Garden you can choose between three different spelt-based buns – a green one containing spinach, a yellow one with curcuma and one inspired by the Bavarian soft pretzel which was dipped in lye before baking. For the plant-based sausages there are classic organic tofu Vienna-style "sausages" made from European organic soy, a smoked version and the "planted chicken" made from pea-protein. The shop masterminded by the former chef of the male German football national team does not accept cash.
In January 2022 the venture opened a second venue, the Organic Garden Eatery inside the Mercedes Benz showroom at Odeonsplatz, also offering breakfast, coffee and (during the cold season) mulled wine. Enjoy the greenwashing approach of the automotive industry if you don't mind the split brain.
Near Ostbahnhof station
On the East side of the railway tracks, inside the developing Werksviertel party, start-up, and cultural area there's a Pureburrito branch serving Mexican style street food with organic pork and beef (see here). Unfortunately party-goers will be disappointed since it offers only lunch – on weekdays.
Haidhausen with its majority vote for the Green Party has several organic hotspots, and one of them is Elsässer Straße East of Bordeauxplatz. A few steps from Haidhauser Oase, next to an organic bakery and opposite the organic neighbourhood grocery Lebascha you'll find Erbil's, the only vegan doner kebap shop in town. Instead of meat you'll get organic seitan, and some (but not all) of the vegetables also are organic. Choose an organic softdrink or beer from the fridge, but have an eye on organic labels since not everything is organic. They also serve organic tea and tisanes and use organic oat drink for coffee drinks. Unfortunately they do not sell baklava for dessert during covid-19 restrictions, instead you can choose from a number of home-made cakes for take away.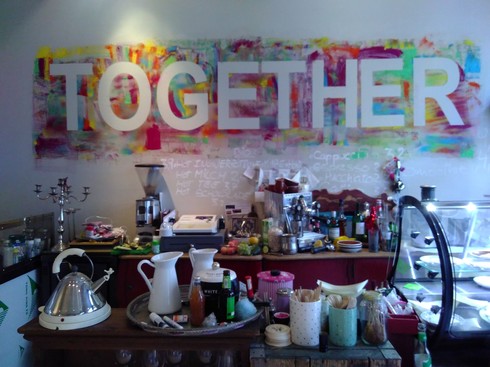 More vegan lunch in the form of Israelian-style vegan mezze can be had just a few steps away at Oliver offering an all-you-can-eat lunch buffet at the very competitive price of 10 EUR. The friendly owner assured me that all of the ingredients except herbs and spices were organic. You can also borrow a blanket and picnic basket and take your lunch to the park at Bordeauxplatz. Lunch time stops when everything is sold, and you may of course use your own jars and boxes for take-away. In the afternoon and evenings step by for hand-rolled vegan ice-cream, freshly prepared while you wait: A plant-drink based "batter" is poured onto a freezer plate, stirred with fruit, berries, home-made cookies, nuts and other flavourings you specify, frozen to a thin sheet of ice-cream, rolled up and served in a bowl. When the weather is nice and warm the shop keeps open until 10 pm on weekdays except on Mondays when it is closed.
If you proceed in direction Max-Weber-/Wiener Platz (coming from Rosenheimer Platz or Ostbahnhof you may take the tram) to the tram stop Wörthstraße (and can resist beautiful, fully organic Cafe Reichshof on your way) you'll reach Würzbar. The name of this pleasant ayurvedic vegetarian eatery, cafe and spice shop is a pun derived from the verb "würzen" (to spice up) and "bar" (as bar) and the homonymous suffix "-bar" meaning "to be capable of something". The food is all organic (as are the drinks), but not all of the products for sale are certified. As of July 2022, there's unfortunately no gastro service, but let's hope the eatery will be back soon.
Build-your-own bowls and rolls with predominantly organic ingredients can be had at (and ordered from) Greens & Grains on Max-Weber-Platz. Even if the concept can become a little boring after a while it's an easy way to bring vegans, vegetarians and omnivores together for a quick and healthy lunch. Established early in 2022 this self-service place is co-located with Munich's finest vegan and raw patisserie – so finish your meal with a coffee and a slice of vegan tart. There's a second branch in the Maxvorstadt university quarter.
On busy Rosenheimer Straße, a few steps from the Ohne zero-waste shop the Heartbeet salad bar serves salads and bowls. All veges, the ice-cream and some (non-alcoholic) drinks are organic, and at an extra price you can get organic eggs on top of your bowl. It's a heaven for clean-eating lovers, but if you love spices this isn't a place for you. The concept has been a success story during corona delivery and take-away, leading to the opening of a second shop in Neuhausen, and there's a third shop w/in the Feinkost Käfer deli near Münchner Freiheit. Although they had been participating in a deposit scheme for the dishes they seem to face issues with it lately, so you may be forced to use one-way packaging. If you cannot fetch you order by bicycle yourself their delivery service will pedal it to you.
Located directly at Weißenburger Platz Spoon Up offers hearty soups and stews for lunch and promises to use regional, often organic produce. Unfortunately the only organic ingredient visible on the daily menu is meat which is marked as 'bio'.
Bogenhausen and Englischer Garten
There's a second Herrmannsdorfer Bistro ÖQ near Effner-Platz (also see here), and the Basic supermarket near tube-stop Richard-Strauss-Straße offers sandwiches, bowls, salads and hearty (though often quite boring) stews for lunch.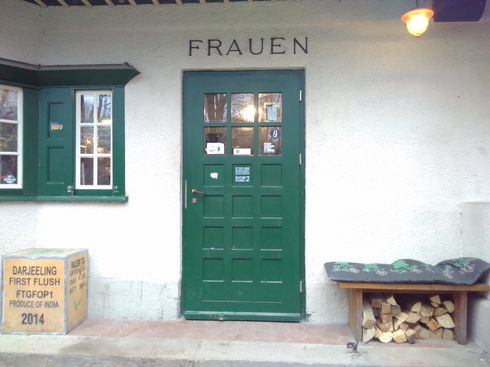 On the opposite shore of the river Isar, on the Eisbach not far from the famous surf wave near Haus der Kunst you'll find a former public convenience turned into a tiny cafe: Fräulein Grüneis offers no more than a handful indoor seats, during the cold season heated by a small wood oven, but as long as the weather allows for it you may prefer to have your lunch or coffee outside anyway, under the trees of the Englischer Garten park. For lunch you can have a soup, one-pot dish or curry, vegetarian or omnivore. The meat is always organic as is the beer, for soft drinks stick to the charitea brand. Apart from this the owners promise to use as much local and organic produce as possible, but if you want to be certain you have to ask. Avoid the ice-cream, the (small-scale local) Eizbach lemonade and the sweets by the piece, all of them without doubt conventionally produced.
Schwabing
The Yum 2 take Thai restaurant has a second branch on Hohenzollernplatz.
If you are near Hohenzollernplatz anyway (a tube stop of the U2 line) you may also take some extra steps along Herzogstraße in Eastern direction to get a 100 percent bio-organic breakfast, lunch, snack or even dinner as reward: The Basic Biobuffet on the corner of busy Schleißheimer Straße offers a daily changing fully organic menu including both, vegan, vegetarian, fish and meat options, salads, antipasti, soups and cake. Not a place for the early bird, but leisurely open until 9 pm including Saturdays, but not Sundays.
Ludwigsvorstadt and Sendling
A few meters from tube station Goetheplatz you'll find the mother branch of the Pureburrito chain.
Tube stop Implerstraße is the right direction for the best (and partially organic) falafel in town: The Beirut Beirut is not only a great place for take away, but also offers sufficient seating inside since they moved away from their old shop in Valleystr. While the Lebanese wine unfortunately isn't organic there's a choice of organic spritzers ("Schorle") from local producers. For more Lebanese food you may also pay a visit to their sister restaurant Manouche, now a few street corners away offering Levantine "pizza", coffee, sweets and other delicious snacks.
The Neulinger bakery also runs self-services lunch cafes on their two locations near the Großmarkthalle (Munich's biggest market hall offering fruits and veges for retail) and in the meat packing district.
Hadern
A short walk from tube stop Großhadern you'll find a Vollcorner supermarket with a work day open, 100 percent organic breakfast and lunch restaurant, before the covid-19 pandemic known as Cucina, now dubbed Vollcorner Deli. Here you can choose between soups, stews, salads, bowls and sandwiches and of course have a coffee drink with a piece of cake.
Westend
The Vollcorner supermarket on Schwanthalerhöhe (next to Theresienwiese and hence good to know if you attend the annual Oktoberfest beerfest) has a deli cum cafe which invites for a small meal or snack.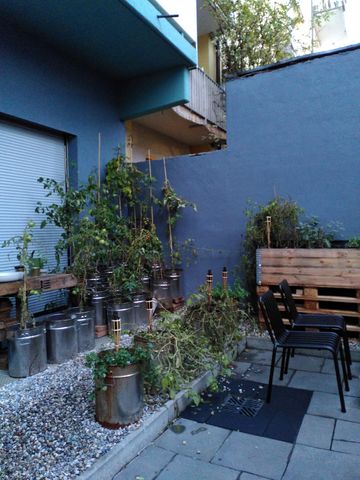 For a more elaborated breakfast or lunch follow Schwanthalerstraße into the Westend neighbourhood and stop by Das Kulinariat. Whether you'll opt for a vegetarian course, a traditional Bavarian organic Weißwurst breakfast or their speciality – Eggs Benedict – chances are high that some of the greens on your plate have been grown right in the surprisingly spacious backyard. Additional veges come from a local organic farmer, and almost everything is organic here in this culinary gem with its light and modern, predominantly wooden interior.
Pasing
A second Vollcorner Deli opened 5th September, 2019 in the former "Erdgarten" organic supermarket near Pasinger Marktplatz.
Pureburrito 1, Lindwurmstr. 57, Mon–Sat 11–21
Pureburrito 2, Schellingstr. 104, Mon–Sat(Sun,PH) 11(12)–22(21)
Pureburrito 3, Schellingstr. 16, Mon–Sat 11–21
Pureburrito 4, Atelierstr. 14 (Werk 3), Mon–Fri(Sat) 11(12)–21
Pureburrito 5, Stachus-Passagen, Karlsplatz 11 (basement), Mon–Sat 10–20
Herrmannsdorfer Bistro ÖQ am Viktualienmarkt, Frauenstr. 6, Mon–Sat 11:30–16
Kleiner Ochsenbrater, Viktualienmarkt 11, Tue–Sat 10–18
Organic Garden Signature Store, Heiliggeiststr. 1, Mon–Sat 11–19
Organic Garden Eatery inside Mercedes Benz Studio Odeonsplatz, Brienner Str. 1, Mon–Thu(Fri,Sat) 9(10)–19
Herrmannsdorfer Bistro ÖQ am Herkomerplatz, Bülowstr. 3, Mon–Fri 11:30–15
Fräulein Grüneis, Lerchenfeldstr 1a, Mon-Fri(Sat-Sun) 8(10) until darkness falls
Yum2Take, Sebastianspl. 8, Mon–Sat 11–22, PH closed
Yum2Take, Hohenzollernpl. 1, Mon–Sat(Sun) 11(16)–22, PH closed
Basic Biobuffet, Herzogstr. 129, Mon–Sat 9–21
Bikini Mitte, Sonnenstr. 17 (entrance Josephspitalstr.), Mon–Wed(Tue–Sat) 10–24(3)
Servus Habibi, Schillerstr. 20, Tue–Fri 11:30–14:30, Tue–Fri(Sat–Sun) 18(17)–21(21:30)
Leo's Organic Kitchen (formerly: Byoo), Westenrieder Str. 35 (1st floor), Mon–Sat 10–17
Erbil's, Breisacher Str. 13, daily 10–20
Oliver, Breisacher Str. 4, Tue–Fri(Sat) 11:30(9)–20(15)
Würzbar, Wörthstr. 11, Wed–Fri(Sat) 11(10:30)–18(15)
Heartbeet, Rosenheimer Str. 109, Mon–Fri(Sat,Sun,PH) 11(17)–21
Heartbeet, Nymphenburger Str. 84, Mon–Fri(Sat,Sun,PH) 11(17)–21
Heartbeet w/in Feinkost Käfer, Leopoldstr. 57, Mon–Sat 11–20
Greens & Grains, Max-Weber-Pl. 11, Mon–Fri(Sat) 11(12)–20
Greens & Grains University, Schellingstr. 23, Mon–Fri(Sat) 11(12)–20
Spoon Up, Weißenburger Pl. 5, Mon–Fri 9–16
Beirut Beirut, Lindenschmittstr. 18, Mon–Sat 11:30–20
Vollcorner Deli, Würmtalstr. 95, Mon–Sat 8–16 or until empty
Das Kulinariat, Schwanthalerstr. 143, Wed–Fri(Sat) 11:30(10)–16(17), closed July 27 through 30, 2022)
Closed for covid-19 pandemic
Shut down
The following (partially) organic eateries are closed for good:
Buxs, Frauenstr. 9 (city centre)
Greeny's, Tal 42 near Isartor (city centre)
Soupmama, Frauenstr. 2 opposite Viktualienmarkt (city centre)
near Viktualienmarkt (city centre)
Brotzeit bei Herrmannsdorfer, Holzstr. 24 (Glockenbachviertel)
Annapurna (former Ganesh), Wörthstr. 7 (Haidhausen)
Grilly's, Rosenheimer Str. 117 (Haidhausen)
Iss dich glücklich, Preysingstr. 42 (replaced by the Sorry Johnny coffee bar)
Lecker-Bissen, Theresienstr. 27 (Maxvorstadt)
So Ham inside Jivamukti Yoga studio, Buttermelcherstr. 11–15
Sweekies, Wendl-Dietrich-Str.4 near Rotkreuzplatz (Neuhausen)
Bio-Brüder, Ottostr. 67 (Ottobrunn)
Munich] Link