One of the oldest cities in Germany, with roots back in Roman history, a rich medieval history -- including the world's oldest intact social housing project, the Fuggerei --, and the birthplace of Bertolt Brecht, one of the most influential writers in modern theatre, Augsburg is without doubt worth a visit. Conveniently located on the railway tracks between Munich and Nuremberg, urban trains ("Regionalbahn"/"Regionalexpress") from Munich central station depart twice an hour (at day time) and can be used with the Bayernticket flat-rate ticket for Bavaria which is the budget option if you plan to travel from and to Munich on one day (one way takes about 45 minutes). Augsburg is also an ICE/IC train stop: These high velocity trains will save you about a quarter of an hour on this route, but tickets usually come at a significantly higher price.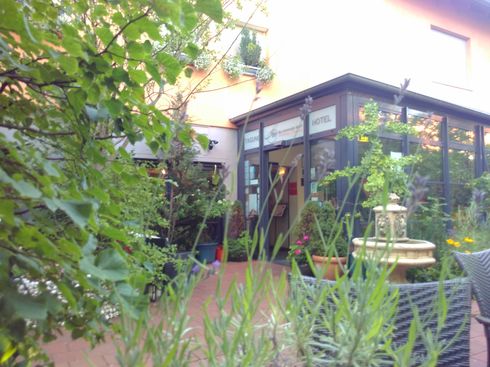 If you plan to stay overnight there's a pleasant fully organic hotel about three kilometers from the main train station, the Bayerischer Wirt, a certified Bio Hotel in the suburb of Lechhausen, yet easily accessible by tram and bus or bike. Although the hotel is located directly at a noisy main road, the outdoor seating area in the backyard is a peaceful oasis. The hotel restaurant serves Bavarian meat and fish dishes as well as internationally inspired vegetarian ones -- with varying results: While the roasted meat was perfectly done (rare as requested, caramelized yet melting), and served with the most delicate onion crisps I've ever tasted, the strips of veal in mustard cream were quite bland and uninspired -- health food with boringly blanched veges and saltless (though home-made) spaetzle. Instead of ordering bottled mineral water you may fetch tap water from the water dispenser at no cost. Needless to say that all drinks are organic, too, and the aperitifs were a pleasant refreshment in the summer heat. The dessert menu is quite limited -- prefab organic ice-cream, home-made cakes and a parfait when I visited.
If a healthy local kitchen with liberal opening hours does not satisfy your expectations of a city vacation, there are two promising day cafes easily reachable for cyclists on the way from the main station to Lechhausen: Café Himmelgrün near the banks of the river Lech in Berliner Allee serves fully organic breakfast, lunch, coffee and cakes, and you can also find sustainable gifts and nice things. The cafe is run by Augsburg-based organic bakery Schubert -- you may have come across the name at the bakery counters of organic supermarkets, both in Munich, Nuremberg and elsewhere in Bavaria.
In front of the cafe's outdoor area the bakery has installed a mobile sales booth for bread, snacks and cakes of yesterday's production, from the quality control desks, with short best-before date or small blemishes, all sold at low fixed prices: A kilogram of bread for example comes at 3 EUR, yesterday's savoury snacks at 1 EUR the piece, and six pieces of cake at 7 EUR. Customers are encouraged to reduce waste and take home their purchase in their own bags or boxes. Unfortunately the booth dubbed Grünfux deluxe is closed in the afternoon as well as on Mondays and on weekends.
Augsburg's long history of textile fabric production, print and trade is reflected in the Bavarian State Textile and Industry Museum, less than 10 minutes from the inner city hotspot Königsplatz by tram no. 6. The museum's cafe dubbed nunó (from the Japanese word for "cloth") is not only a charming spot in an impressive industrial building of a former spinning mill, but also predominantly and certified organic, serving light and internationally inspired lunch, breakfast and Sunday brunch, and of course a recreational coffee. Meat, bread, veges, and eggs are reliably organic and of regional origin if possible while drinks at the bar are still predominantly conventional. As most museums the place is closed on Mondays and -- except for special occasions -- in the evenings.
If you are so unfortunate to strand before closed doors the next organic supermarket with a small bistro -- a branch of the Denn's Biomarkt chain -- is located in walking distance.
Inner city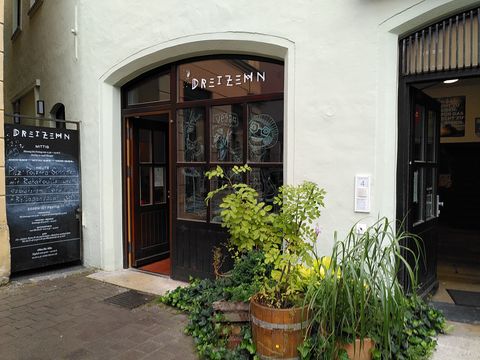 My absolute favourite for meeting friends or family is the cosy day cafe and bar Dreizehn within the Kresslesmühle cultural centre. The food is 100 percent vegan, properly seasoned and absolutely delicious. There's a daily changing special meal (a marvellously filling mushroom-spiced polenta with ratatouille, fried organic tofu crumbles and salad when I was there) in addition to the small standard menu. Unfortunately it's not possible to have breakfast yet, and when you cannot sit outside next to the old mill stream due to weather conditions it's advisable to book a table.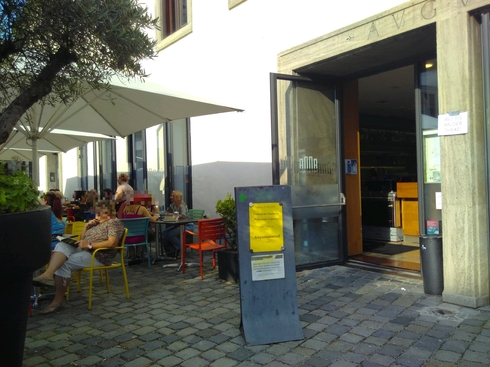 In the backyard of St. Anne's church, the Annahof next to the fenced city market, the church parish gives host to a lively all-day cafe restaurant cum bar dubbed Anna with a great outdoor area, which is open in the evenings, too. The place serves lunch, dinner and Sunday brunch inspired by international kitchens. Once it was certified organic, but since it no longer is the restaurant is not allowed to advertise with organic ingredients. Nevertheless the managing director assured me that they were still using as much organic produce as before: both eggs, milk and most fruit come from organic farms and distributors in the vicinity. On the menu you'll find organic beer (Lammsbräu), on occasions organic wine (ask for it), lemonade (charitea) and ice-tea. For breakfast you can have organic crunchy cereals, and the bread comes from the Schubert bakery. Unfortunately meat products usually aren't organic. During the warm season the cafe sells organic ice-cream to take away in a biscuit cone, delivered by the Cramer's confectioner's. Only plain flavours like vanilla, chocolate, plan hazelnut and lemon were available in July 2019, the scoop at 1.50 EUR.
For a light vegan lunch bowl or a smoothie stop by 100 percent organic ice-cream shop Juice 'n Cream in the Ulrichsviertel neighbourhood.
For both, cooked and raw vegan lunch or dinner or a wrap, soup or salad in between head a little south to Mom's Table, a fully organic vegan restaurant cum cafe. They also offer raw and no-bake cakes, freshly made juices, smoothies and plant-based shakes, coffee and tea as well as vegan organic wines. The kitchen closes an hour before the restaurant.
If you are in the mood for a pizza there's a branch of the partially organic NineOFive chain at Fuggerplatz.
For a no-frills coffee, snack or lunch you may also head for the self-service cafe at the city branch of the Basic organic supermarket chain between the state theater and the cathedral.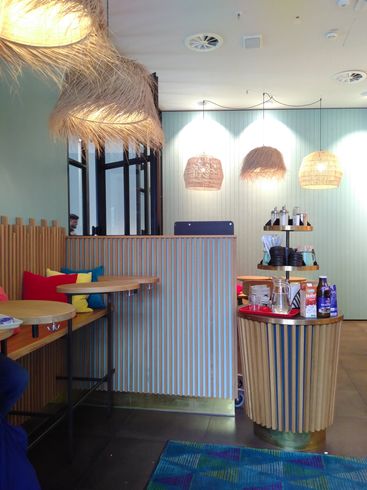 Around the main train station -- bakeries and package-free
For last minute travel provisions you can buy an organic snack or sandwich at the Hofpfisterei bakery branch five minutes from the main train station. Unfortunately it's closed both on Saturdays and Sundays.
If you have some more time the city's package-free supermarket Ruta Natur is located no more than 10 minutes from the train station, directly on the way to the Stadtmarkt market place.
Alternatively you may proceed to the Schubert branch at the tram hub of Königsplatz. There used to be a serviced day cafe but after some reconstruction work the area of the bakery shop has diminished to the sales counter and a small self-service area where you may sit down with a sandwich or snack. When the weather is nice there are also chairs and tables outside. The coffee drinks from the automatic machine could taste better, but everything is organic.
There's another Schubert branch inside the city market, around the corner from St. Anne's church (and you'll find another Hofpfisterei branch there, too).
Bayerischer Wirt, Neuburger Str. 122, Mon–Sat(Sun, PH) 7–23(15), warm kitchen Thu–Mon, PH 11:30–14, Mon-Sat 18–21:30
Himmelgrün, Am alten Schlachthof 9, Mon–Fri(Sat–Sun) 7(8)–18(17)
Schuberts Grünfux deluxe, Berliner Allee 40, Tue–Fri 9–13
nunó, Provinostr. 46, Tue–Sun 10–17
Denn's Biomarkt, Oberbürgermeister-Hohner-Str. 1a, Mon–Sat 8–20
Dreizehn, Barfüßerstr. 4, daily 11-22, during soft lockdown Nov 2020 take-away and delivery only 11:30-21
Anna Café, Im Annahof 4 , Mon(Tue-Sat) 9–18(23), every first Sun of a month brunch 9–14
Juice 'n Cream, Judenberg 10, daily 12–21:30
Mom's Table, Maximilianstr. 77, Mon–Sat(Sun, PH) 11–23(22)
NineOFive, Fuggerpl. 9, daily 17–21:30
Basic, Ludwigstr. 2, Mon–Sat 8–20, bakery and bistro from 7 am
Ruta Natur, Prinzregentenstr. 7, Mon–Fri(Sat) 10–18:30(15)
Bäckerei Schubert, Am Königsplatz, Mon–Sat 7–19
Bäckerei Schubert im Stadtmarkt, baker row, Mon–Fri(Sat) 8(7:30)–18(14)
Hofpfisterei, Bahnhofstr. 24, Mon–Fri 8–18
Hofpfisterei Stadtmarkt, baker row, booth no. C4-C5, Mon–Thu(Fri) 8:30(7:45)–18, Sar 7:30–14
Closed
Augsburg, Augusta, organic, vegan, vegetarian, breakfast, lunch, dinner, Franconian, German, restaurant, eatery, hotel, accommodation, ice-cream, cafe, coffee, supermarkets, grocery, bakeries, zero_waste, unverpackt, corona, covid] Link