Forget about sushi, pizza, pasta, burgers, curries and other globalized commonplaces -- in Dresden it's much easier to find hearty home-cooked dishes made from locally sourced ingredients rooted in local and regional food traditions. This does not necessarily mean German -- mind you that the borders with Czechia and Poland are close, so many menus reflect influences rather from Eastern than Western or Southern European cuisines. Many dishes include meat, yes, but all the places I am covering here have a decent selection of tasty vegetarian options readily available.
Old town and university campus
The most sophisticated ones in town may be had at Lingner restaurant on the premises of the neoclassical German Hygiene Museum ("Deutsches Hygienemuseum") marking the Western end of the 1x2 kilometres spanning inner-city park areal of Großer Garten ("Great Garden"). While you can step by for an Italian-style coffee drink (made with organic milk) and organic cake or a snack after a visit to the medical museum this is ways from the usual low quality self-service refectory to be found in many museums. They serve simple but decent lunch, all meat and meat products come from a local organic butcher's, the bread (though not the ice-cream which isn't organic) from an organic bakery in town, and many veges are also locally sourced and organic. Dinner starting at 5:30 pm is more sophisticated, and often thematically extending a current exhibition at the museum. While the outdoor terrace is popular during the warm season, dinner time during the winter season featuring a stylishly presented all-you-can-it buffet is perfect if you prefer it less crowded. When it comes to drinks both tea, milk, juices and some soft drinks as well as all spirits printed in dark-green font on the menu are organic. There's however no organic wine on offer (although a good selection of local ones). Due to the somewhat remote location call in advance if you plan to arrive after 9 pm.
About ten minutes brisk walking from Hygiene-Museum will lead you to Cafe Aha (just across Kreuzkirche) which is covered here. Even longer west, facing the modern building of the University of Music in Schützengasse you may be surprised to find a small island of baroque buildings with a wild garden, housing the city's environmental centre, and a great disappointment: The cosy rustic wholefood restaurant on ground flour dubbed Brennnessel ("stinging nettle") once used organic ingredients and still can be found listed as an organic restaurant, but alas! -- no more.
South of the main train station however, on the campus of the Technical University the fully organic students' refectory Biomensa U-Boot ("submarine") offers one vegetarian and one omnivore meal at a very competitive price -- as a guest you pay 3.20 € on top of the student's price which -- depending on the dish -- ranges from 3.50 to 6.50 EUR. All food and drinks are also certified organic. During the warm season outdoor seating is available. The bad news: The place is closed on weekends.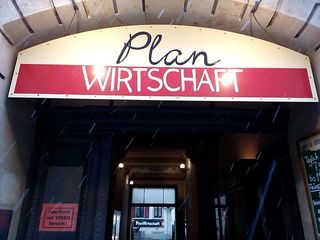 Neustadt
For rustic food and surroundings head for one of the oldest independent pubs in town, the Planwirtschaft ("planned economy") in the Neustadt neighbourhood, popular since its beginnings as an illegal pub in the late GDR. On mezzanine level they serve breakfast, lunch and dinner as well as coffee and cake while the basement houses a pub which opens in the evening. When it comes to their supplies they focus on buying from local farms and enterprises as the (unfortunately not organic) independent butcher's directly across the street or a tea shop next door from which they also source the organic teas on offer. The goat cheese is always organic. They used to have an organic meat dish (which was marked as "bio" on the menu), but unfortunately no longer. Have a tasty organic apple cider (no more organic beers at my last stay), and ask about organic ingredients.
Young German kitchen is the promise of the Lila Soße ("purple sauce") gastro bar within the eccentric Kunsthofpassage with its small boutiques and lovely places. Apart from daily changing main courses (most of them meat or fish) you can order German "tapas" to your liking -- warm, cold and sweet -- served in a glass as well as dips and bread. None of the courses are fully organic, but many ingredients are, and chances are high that you can combine cleverly if you ask.
Out of town
If you take the urban train number 2 from the Neustadt train station, either on the way to the airport or to a stroll in the woods of Dresdner Heide, get off Bahnhof Klotzsche (one stop before the airport) and have breakfast, lunch, tea or a snack in its 110 years old railway station. Since the folks of Vorwerk Podemus took over and restored the historical building in 2015 it has been home to a bicycle shop, an artist's studio, an organic supermarket, and the now fully organic station restaurant dubbed Bio-Bahnhofswirtschaft with its pleasant beergarden. On Friday evenings from 5 pm the place also serves dinner or, May through September, a barbecue. Make sure to arrive well before 9pm as the kitchen keeps closing at this time. Travellers and ramblers may be glad to hear that they can fetch an organic breakfast or packed lunch on the go, though unfortunately not on Sundays as the restaurant is closed that day.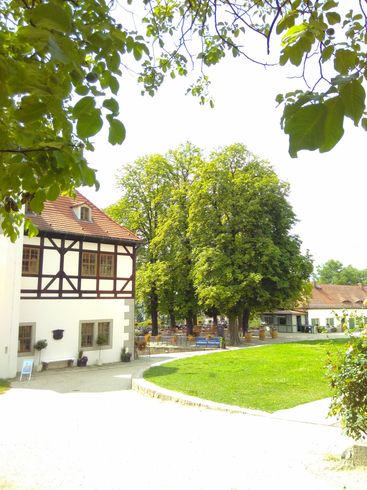 The vineyards on the slopes of the river Elbe around Dresden form Europe's smallest, most northern wine region, and fortunately the Saxon state winery of Hoflößnitz in Radebeul turned organic. The small town located west of Dresden on the northern shore of the river is famous for the writer of travel fiction, Karl May and its Museum of North American Indian Culture and can be reached easily, both by urban train, tram no. 4 and bicycle. Follow the Elberadweg cycle route on the southern shore, cross the bridge at Niederwartha and turn back east on the northern shore cycle route through Radebeul until you find signposts pointing to the vineyards on the hill.
The Hoflößnitz winery has a small self-service restaurant, the Hoflößnitzer Weinschänke, with an outdoor seating area shaded by horsechestnut trees from where you have a great view over the grapewines and the valley while tasting the local wines. All wines, but not all the food are organic: Your best choice is the "Winzerplatte" -- home-made white bread with pickles, a little salad and a number of spreads of your choice of which the bread and the vegan spreads are organic. There's also a small museum with information on all Saxon wineries and a wine shop where you can buy their products, mainly white and sparkling wines. Stick to Hoflößnitz for organic ones.
Lingner, Lingnerpl. 1, Tue–Thu(Fri–Sat) 10:30–22:30(23), Sun 10–20:30
Biomensa U-Boot, Potthoff building basement, Hettnerstr. 3, Mon–Thu(Fri) 8:30–16(15), lunch 10:45–14:45, during semester breaks (15/07–11/10 in 2019) Mon–Fri 8:30–15
Planwirtschaft, Louisenstr. 20, daily 7:30–late night (the kitchen closes at 10 pm Sun–Thu, and 11 pm Fri/Sat)
Lila Soße, Alaunstr. 70, Mon–Fri(Sat–Sun,PH) 16(12)–23:30
Bio-Bahnhofswirtschaft Bahnhof Klotzsche, Zur Neuen Brücke 4a, Mon–Thu(Fri) 7–19(22), Sat 8–16
Hoflößnitzer Weinschenke, Knohllweg 37, Radebeul, Apr–Dec Tue–Sun,PH 12-18 or longer depending on the weather
Closed
The following places ceased to exist, although you still may find references to them on the web:
Lilisou, Louisenstr. 58 (vegetarian, burgers, soups, curries)
ElectricLotus, Louisenstr. 58 (vegetarian, ayurvedic, Indian)
Abutheke, Alaunstr. 68a (Middle-Eastern)
roots, Hauptstr. 35 (vegan fast food)
Dresden, Radebeul, Elbe_cycle_route, Elberadweg, Neustadt, organic, coffee, lunch, dinner, snacks, restaurant, pub, wine, beergarden] Link