If you are looking for pioneers in the German zero waste movement you'll find one of them in Dresden's Neustadt neighbourhood: Pack a selection of glasses, containers and bags and stop by Lose ("loose-weight"), a cosy zero-waste corner store in Böhmische Straße. Unlike other package-free supermarkets this one does not only sell dry food but also offers veges and has a cheese counter. Since not everything is organic be careful to check the labels on the suspenders for the bio keyword or ask.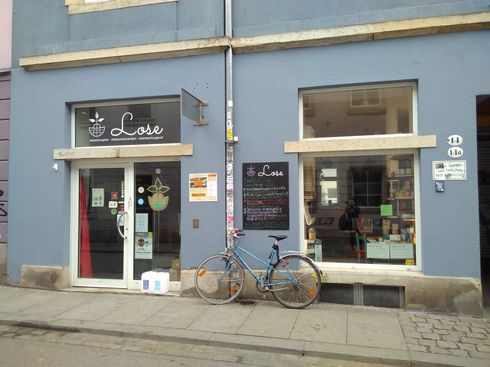 The coffee corner is a nice place to recreate while your kids are busy in the playing corner. Mind you: like other package-free shops Lose does not have an illuminated window front, so be brave to try the door handle -- the place looks quite dark even during opening hours.
In April 2019 a second zero waste supermarket opened its doors in the neighbourhood of Pieschen: crowd-funded Quäntchen (the name of an old weight unit, denoting about 4 grams). Unfortunately I have not had the opportunity to step by yet, but I'm sure it's a friendly and inviting place.
Supermarkets with zero-waste stations
Moreover all shops of the co-operatively organised local wholesale chain VG Biomarkt offer a good selection of loose-weight organic dry goods (in addition to an abundance of often locally produced fruit and veges and dairy products and drinks of all kinds in returnable glass bottles).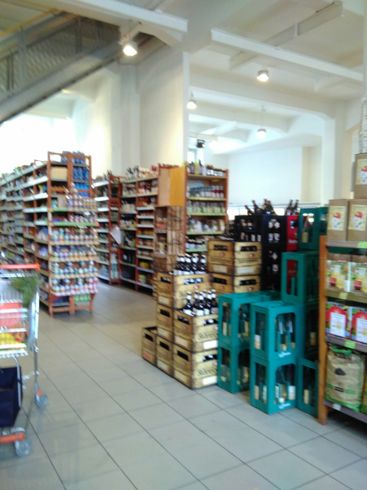 Their main shop is located near Bahnhof Mitte train station, an entire organic warehouse on the premises of a former newspaper printing plant. Standing back from the main street the first floor is occupied by an organic convenience store supporting your zero-waste efforts. On the second floor there's a well assorted organic fashion store mainly for babies, children and women, with a section offering organic body care, household chemicals, sustainably produced toys, stationary and more. For members prices are lower, but the warehouse is open to everyone.
On weekdays the self-service bistro directly facing the street offers delicious lunch (only snacks on Saturdays), and there's a cafe cum bakery shop featuring young local artists which (except on Mondays) opens half an hour before the supermarket itself, and closes at 7 pm on weekdays. Watch out on Mondays: The shop including its bistro opens at 1 pm this day. Opening hours on Saturdays before Christmas are extended to 4 pm.
VG Biomarkt also has branches in the neighbourhoods of Neustadt (Hechtviertel), Striesen, and Loschwitz, of which the one in Hechtviertel including its bistrot is members only.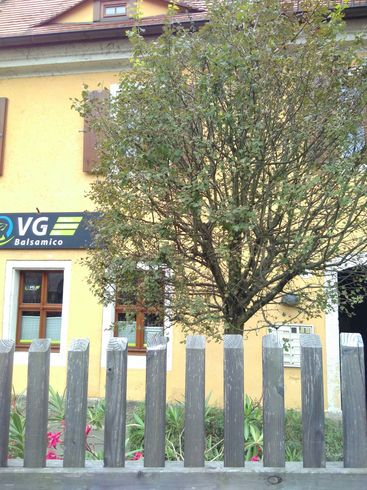 The Loschwitz branch dubbed VG Balsamico is conveniently located opposite the downhill station of the cable-run suspension railway ("Schwebebahn") next to Körnerplatz at the northern end of Blaues Wunder ("blue wonder") bridge.
While these local groceries were early adopters a number of nation-wide operating organic supermarket chains have been following. In Dresden all branches of the Berlin-based supermarket chain Bio Company introduced dry food suspenders for use with your own jars.
Farmshops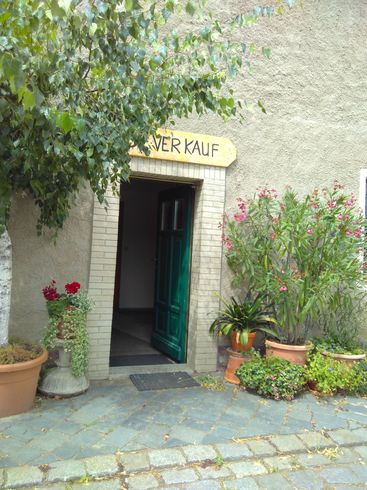 When you take the Elberadweg bicycle route on the southern shore in direction Niederwartha you'll pass a nice old farmyard, the organic Bauernhof Franz in Niedergohlis. It runs a subscription scheme -- phone or e-mail your order until Wednesday and collect it from the farmshop on Fridays and Saturdays, but if you happen to step by on one of these days and there's someone around you may be able to buy vegetable oil and perhaps also potatoes or other produce from the farm.
Lose, Böhmische Str. 14, Mon-Fri 10-13:30 and 14:30-19
Quäntchen, Oschatzer Str. 16-18, Mon-Fri 10-13,14-18:30, Sat 10-14
VG Biomarkt Dresden Mitte, Jahnstr. 5, Tue-Fri(Sat) 9-20(14), Mon 13-20
VG Biomarkt Striesen, Schandauer Str. 34, Tue-Fri(Sat) 9-20(14), Mon 13-20
VG Balsamico, Pillnitzer Landstr. 8, Mon-Fri(Sat) 9:30-19(13)
Bauernhof Franz, Dorfstr. 11, Fri-Sat 9-21 (when staff is around)
Dresden, Neustadt, organic, coffee, vegan, zero_waste, unverpackt, cafe, grocery, market, supermarkets, bodycare, household] Link