If you fancy a freshly made organic ice-cream in Bremen be prepared to work out -- hope for good weather, rent a bicycle and do as many locals do: Set out on a 15 kilometers ride, first in direction University, and then on the dyke safeguarding the land against the river Wümme to a dairy farm run by friendly family Kaemena in Niederblockland.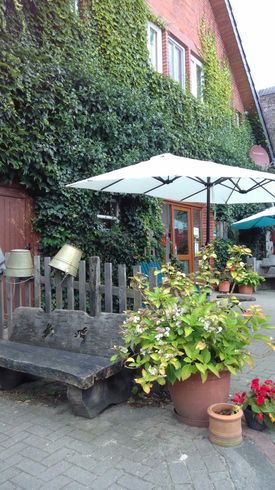 On the embankment cars are allowed with a special permit only, but an astonishing number of locals come here by bicycle, foot or skating to enjoy an organic ice-cream (the scoop goes for 1.50 EUR), filtered coffee or cold organic drink and enjoy the farm and the countryside. There's a nice playground for children, and if you want to stay longer (minimum one week) the family rents out several pleasant holiday apartments (but make sure to book well in advance for holiday seasons). Opening hours on pleasant summer days may be longer than announced. Don't miss the poppy seed ice-cream and the varieties based on buttermilk.
On the farm you can also tap raw or pasteurized milk into your own bottle, the liter for 1.20 EUR. If you did not bring one you can buy a returnable 1 l milk bottle for the price of 80 cent. While the milk vending machine is serviced throughout the year the ice-cream parlour is closed in winter.
When Markthalle Acht at Domshof square opened in 2017, the Kaemenas started to offer their ice-cream from a mobile ice-cream booth placed inside the market hall, a few meters away from the Schlüsselkorb tram stop in the city center. The booth has disappeared since, but the ice-cream has not: Two or three flavours are now available from the Lütt Köök Huus day cafe which offers modern local lunch from noon to 3 pm, both vegan, vegetarian and omnivore, using organic milk and eggs.
2018-07-16 19:00:00 [Bremen, organic, ice-cream, cafe, accommodation, farms, zero_waste] link

This work by trish is licensed under a Creative Commons Attribution-NonCommercial-ShareAlike 4.0 International License. For commercial use contact the author.