Cities with major universities have had organic shops long before the arrival of the big organic supermarkets, and Göttingen doesn't make an exception: Probably the eldest still existing organic cafe in town is Café Inti, serving tapas, sandwiches and small dishes with a Bolivian touch to it, or at least what a students' cafe is offering as such: good and filling due to proper organic ingredients, but far from any ambition for authenticity. The "Inti-Tasche" for example isn't a corn tortilla wrap but a plain white ciabatta-type roll filled with Italian-style antipasti. Needless to say that they offer Italian-style fairly traded coffee drinks and yummy cakes, and what's even better: They serve breakfast until 2pm. A welcoming place all day around if you like places with a liberal collegiate atmosphere whereof there are quite a number in the city.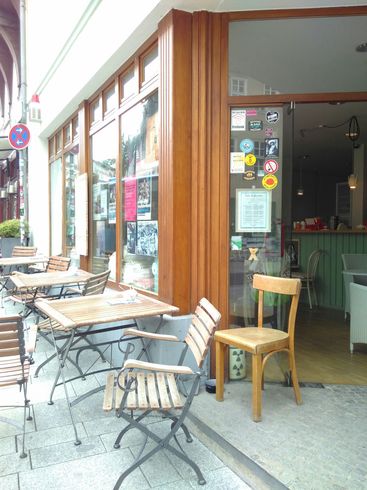 Another one of them is Dabis Kaffeestube, an alternative cultural hotspot and meeting place a few steps longer East. Among others, this cafe cum tea room serves organic cakes from Das Backhaus.
If all you want is a coffee shot head for the city's only organic coffee roasters', the Contigo. This fair-trade shop cum cafe also sells colourful gifts, fashion items, organic coffee and chocolates.
A fully organic dinner restaurant I wasn't able to spot during my shorter than one-day stay, but lokal neun, directly located at the market place Am Wochenmarkt serves organic burgers and steaks, and is a pleasant place to enjoy a summer evening outside.
2018-06-30 13:00:02 [Goettingen, organic, fair, coffee, tea, breakfast, lunch, dinner, cafe, restaurant, gifts] link

This work by trish is licensed under a Creative Commons Attribution-NonCommercial-ShareAlike 4.0 International License. For commercial use contact the author.